KUALITAS SEMEN SEGAR DAN SEMEN CAIR BABI LANDRACE ASAL NAIONI KABUPATEN KUPANG DENGAN SISTEM PEMELIHARAAN INTENSIF
Nancy Foeh

Laboratorium Klinik, Reproduksi, Patologi dan Nutrisi, Fakultas Kedokteran dan Kedokteran Hewan, Universitas Nusa Cendana

Cynthia Gaina

Laboratorium Klinik, Reproduksi, Patologi dan Nutrisi, Fakultas Kedokteran dan Kedokteran Hewan, Universitas Nusa Cendana

Tarsisius Tophianong

Laboratorium Klinik, Reproduksi, Patologi dan Nutrisi, Fakultas Kedokteran dan Kedokteran Hewan, Universitas Nusa Cendana
Keywords:
coconut water, Landrace pig, semen
Abstract
The aims of this study is to determine the quality of fresh cement of Landrace pigs diluted with natural diluent of green coconut water. The research was conducted at the Veterinary Reproduction Laboratory of FKKH Undana. Fresh semen of Landrace pigs was collected from male pigs that less than 3 years sexually mature and in healthy condition, then the semen quality was examined by macroscopic and microscopic evaluation. Only cement met the requirements, the proportion of spermatozoa motility not less than 70%, spermatozoa concentration not less than 200 million cells/ml and spermatozoa abnormality not more than 20%. After that, the semen was diluted by adding green coconut water and antibiotics according to the dilution formula. The results showed that semen diluted with natural green coconut was better and could be used as an alternative diluent with a higher of spermatozoa viability and motility (48.2% & 41.25%) compared to fresh semen with a shelf life of 20 hours.
Downloads
Download data is not yet available.
References
Arifiantini RI. 2012. Teknik Koleksi dan Evaluasi Semen pada Hewan. IPB press: Bogor. Pp 69-71.
Arifiantini RI, Ferdian F. 2006. Tinjauan aspek morfologi dan morfometri spermatozoa kerbau rawa (Bubalus bubalis) yang dikoleksi dengan teknik Mesase. J Vet. 7(1) : 83-91.
Ax, R.L., Dally, M., Didion, B.A., Lenz, R.W., Love, C.C., Varner, D.D., Hafez, B. and Bellin, M.E. 2000a. Semen Evaluation. In: Hafez ESE, Hafez B, editor. Reproduction in farm Animals.7th Ed. USA: Williams & Wilkins.
Cardoso Rde C, Silva AR, Uchoa DC, dan da Silv LD, 2003. Cryopreservation of nine semen using a coconut water extender with egg yolk and three different glycerol concentrations.Theriogenology. 59(1):743-751
Garner DL, Hafez ESE. 2000. Spermatozoa and Seminal Plasma. In: Hafez ESE, Hafez B, editor. Reproduction in farm Animals.7th Ed. USA: Williams & Wilkins.
Gadea, J. 2003. Semen Extenders Used In The Artificial Insemination Of Swine. Spanish Journal of Agricultural Research 1(2): 17-27.
Johnson, L.A., Weitze, K.F., Fiser, P. and Maxwell, W.M.C. 2000. Storage of boar semen. Journal Animals Reproduction Science. 629(1): 143-172.
Rasna NMA. 2018. Bahan Pengencer Sari Buah Dapat Mempertahankan Kualitas Semen Babi Hampshire. Fakultas Peternakan Universitas Udayana. Denpasar
Solihati, N., R. Idi, R. Setiawan, I.Y. Asmara, dan B.I. Sujana. 2006. Pengaruh lama penyimpanan semen cair ayam buras pada suhu 5C terhadap periode fertil dan fertilitas spermatozoa. Jurnal Ilmu Ternak. 6 (1):7-10.
Sihombing, D.T.H. 2006. Ilmu Ternak Babi. Yogyakarta: Gadjah Mada University Press.
Sulmartiwi, L., E. Ainurrohmah, dan A. S. Mubarak. 2011. Pengaruh Konsentrasi Air Kelapa Muda dan Madu dalam NaCl Fisiologis terhadap Motilitas dan Lama Hidup Spermatozoa Ikan Patin (Pangasius pangasius). Jurnal Ilmiah Perikanan dan Kelautan. 3(1): 21-27.
Yulnawati MA, Setiadi, Herdis. 2005. Pemanfaatan sari buah melon dan sari wortel sebagai media pengencer alternatif semen cair domba garut. J Protein 1(2):151-160.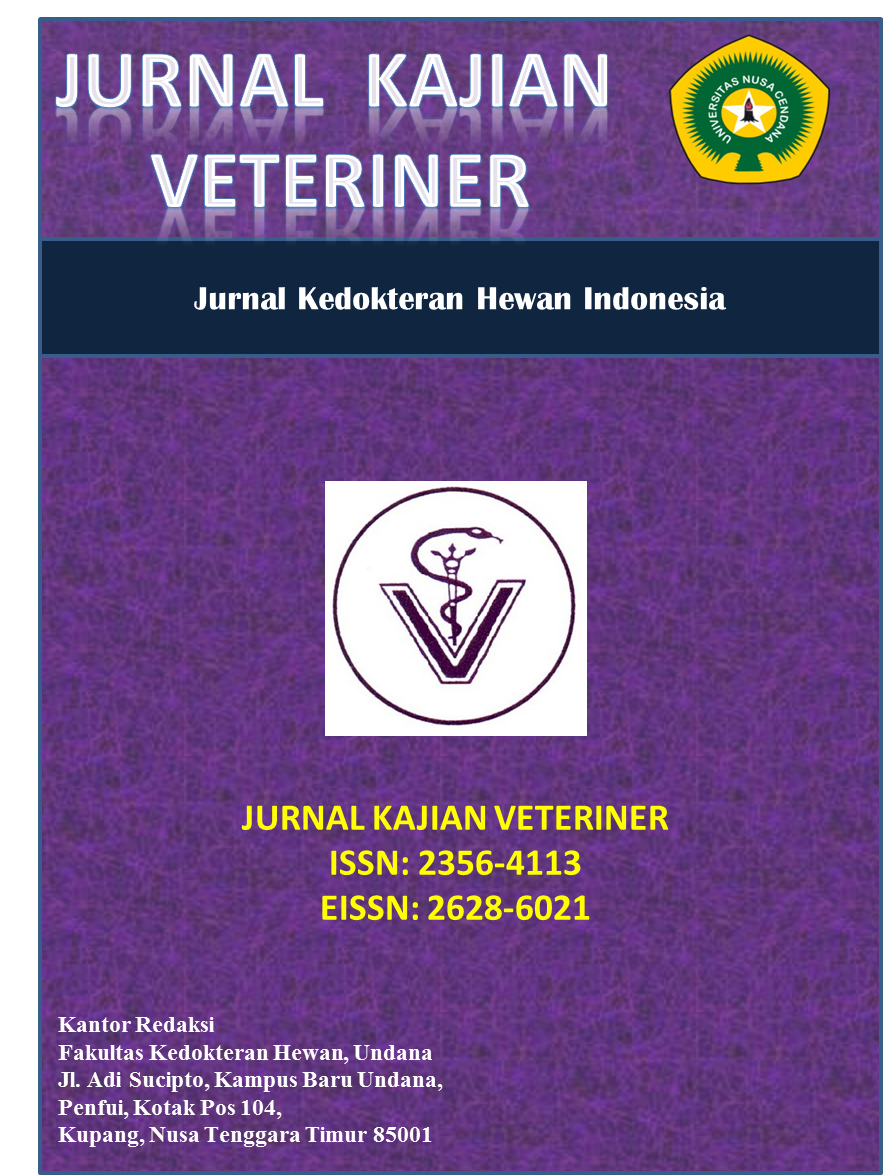 How to Cite
Foeh, N., Gaina, C., & Tophianong, T. (2022). KUALITAS SEMEN SEGAR DAN SEMEN CAIR BABI LANDRACE ASAL NAIONI KABUPATEN KUPANG DENGAN SISTEM PEMELIHARAAN INTENSIF. JURNAL KAJIAN VETERINER, 10(1), 61-66. https://doi.org/10.35508/jkv.v10i1.6701
Copyright (c) 2022 JURNAL KAJIAN VETERINER
This work is licensed under a Creative Commons Attribution-NonCommercial-NoDerivatives 4.0 International License.