Identification and Characterization of Fat Compositions Contained within Hexane Extracts of Canarium Seed Oils (Canarium Indicum L)
Rosalina Y. Kurang(1*)


University of Tribuana Kalabahi

Risnawati I. Sakurang(2)


University of Tribuana Kalabahi

(*) Corresponding Author

Keywords:
canary, fatty acids, GC-MS
Abstract
One of the plants producing fatty acids is a canary plant which is found everywhere in Alor Island, NTT province, Indonesia. This study aimed to determine the content and types of fatty acids of Canary seed oil (Canarium indicum L). The method used was extraction and continued by the GC-MS for fatty acid characterization. Results of the analysis showed that Canary seed oil contains saturated fatty acids and unsaturated fatty acids. The saturated fatty acids are palmitic acid and stearic acid while the unsaturated fatty acid is oleic acid.

Keywords: canary, fatty acids, GC-MS
Downloads
Download data is not yet available.
References
Mogana R, Wiart C, Canarium L. : A Phytochemical and Pharmacological Review, Journal of Pharmacy Research. 2011, 4(8), 2482-2489.

Djarkasi G S S, Nurali E J N, Sumual M F, Lalujan, LE. Analysis Of Bioactive Compound In Canarium Nut (Canarium indicum L), Tropical Plant Curriculum Project In Cooperation With Usaid – Texas A&M University Sam Ratulangi University. 2011.

Rahman H, Tursino, Sitompul J P, Anggadiredja K, Gusdinar T. The Nutritional Fatty Acids Profile and Physicochemical Properties of Canarium indicum Nut Oil, International Journal
of Pharmacognosy and Phytochemical Research, 2015, 7(6); 1222-1226.

Sitompul JP, Gusdinar T, Anggadiredja K, Rahman H, Tursino. Synthesis of Structured Triglycerides Based on Canarium Oil for Food Application, J. Eng. Technol. Sci., 2018, Vol. 50 No. 1, 87-98. DOI: https://doi.org/10.5614/j.eng.technol.sci.2018.50.1.6

Mailoa M. Kajian Senyawa Bioaktif Buah Kenari Segar (Canarium Vulgare Leenh), Prosiding Seminar Agroindustri dan Lokakarya Nasional FKPT-TPI. 2015.

Shakirin F H, Prasad K, Ismail A, Yuon LC. Antioxidant capacity ofunderutilized Malaysia: Canarium odontophyllum (dabai) miq. fruit. J. Food Comp. Anal. 2010. 23, 777–781. DOI: https://doi.org/10.1016/j.jfca.2010.04.008

Thomson L AJ and Evans B. Canarium indicum var. indicum and C. harveyi (canarium nut) Burseraceae (torchwood family). SpeciesProfiles for Pacific Island Agroforestry. 2006.

Winarti S. Makanan Fungsional. Graha Ilmu, Surabaya. 2010.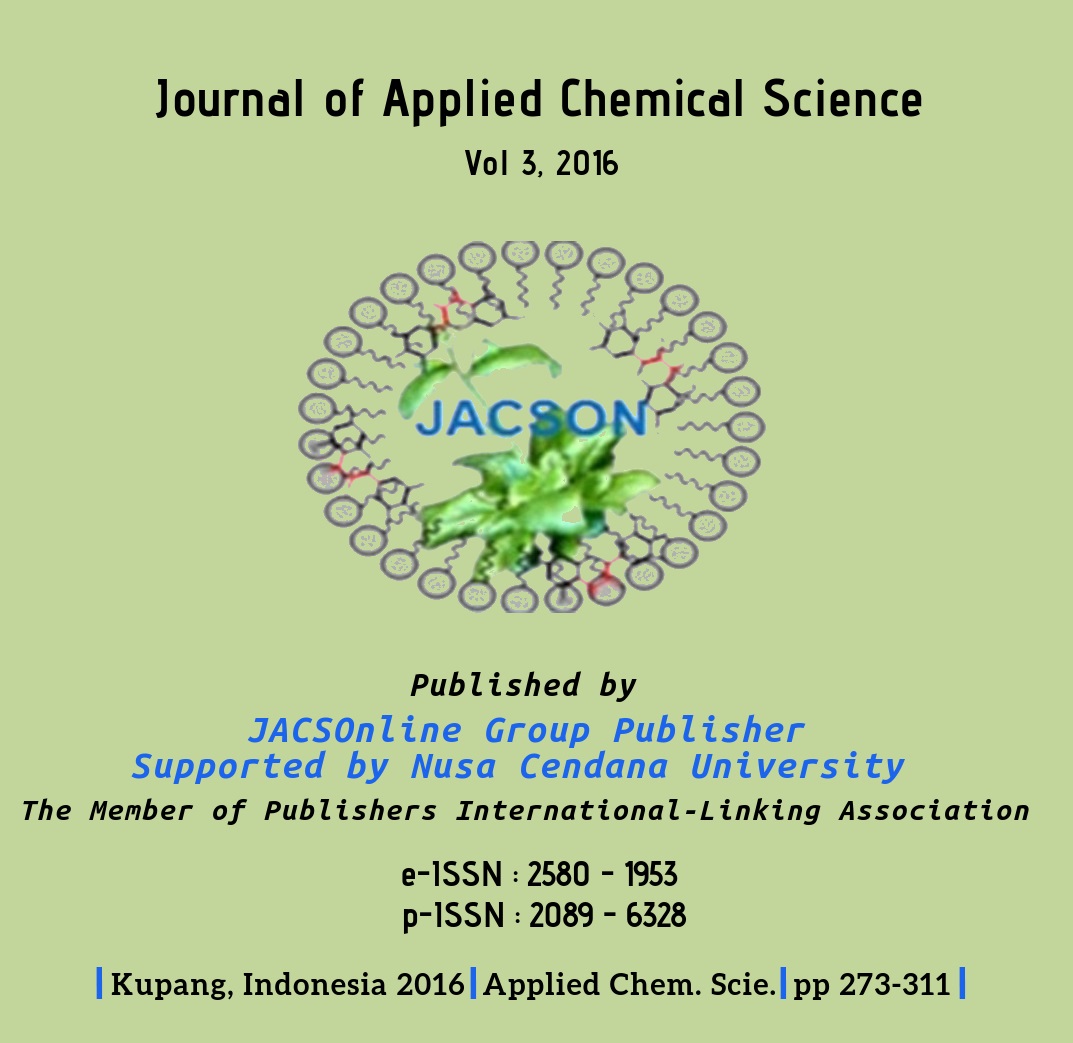 How to Cite
Kurang, R., & Sakurang, R. (2018). Identification and Characterization of Fat Compositions Contained within Hexane Extracts of Canarium Seed Oils (Canarium Indicum L). Journal of Applied Chemical Sciences, 5(2), 473-476. Retrieved from https://ejurnal.undana.ac.id/index.php/jacs/article/view/1992
Copyright (c) 2018 Universitas Nusa Cendana
This work is licensed under a Creative Commons Attribution-NonCommercial-ShareAlike 4.0 International License.