Characterization of Cinnamadehyde Compound Isolated from Cinnamon Oil and Its Salmonella Typhy Antibacterial Activity
Budiana I Gusti M. Ngurah(1*)


Nusa Cendana University

Moses K. Tokan(2)


Nusa Cendana University

Agus Saputra(3)


Nusa Cendana University

(*) Corresponding Author

Abstract
Today many infectious diseases are common. All of the diseases are caused by agents such as viruses or bacteria which are pathogenic and Salmonella typhi is one of the pathogenic bacteria. In addition, many antibiotics are not able to work properly because of the resistance of bacteria against the exciting antibiotics. Therefore, research to discover the new anti-bacterial compounds derived from natural materials is important to do. This research was conducted in several stages, that involved: (1) Isolation of cinnamaldehyde from cinnamon oil by two methods: thin layer chromatography using n-hexane: ethanol eluent at a ratio of 5 : 95 and bisulfate additional, (2) Identification of cinnamaldehyde by UV-Vis Spectrophotometer and GC-MS to define its purity, (3) The various concentrations of the cinnamaldehyde extracts were incubated with Salmonella typhi bacteria to evaluate the antibacterial activities of the extracts, (4) The growth of the tested bacteria was
observed using a colony counter to see the diameter of the resistance which was caused by the test solution. Analysis result of Gas Chromatography – Mass Spectrophotometer showed that cinnamon oil (Cassia oil) contains cinnamaldehyde as the main component of 88.33 %. The isolation of cinnamaldehyde by bisulfate addition method obtained cinnamaldehyde as yellow fluid with a yield of 86.79 %. The antibacterial activity test indicated that cinnamaldehyde had the potential as an antibacterialagainst the Salmonella typhi which was known from its inhibition zone. At the concentration of 100 ppm, cinnamaldehyde solution showed an inhibitory diameter of 15.4 mm and amoxicillin antibiotic showed of 16.6 mm.

Keywords: activity, antibacterial, cinnamaldehyde, isolation, characterization, inbihitory zone
Downloads
Download data is not yet available.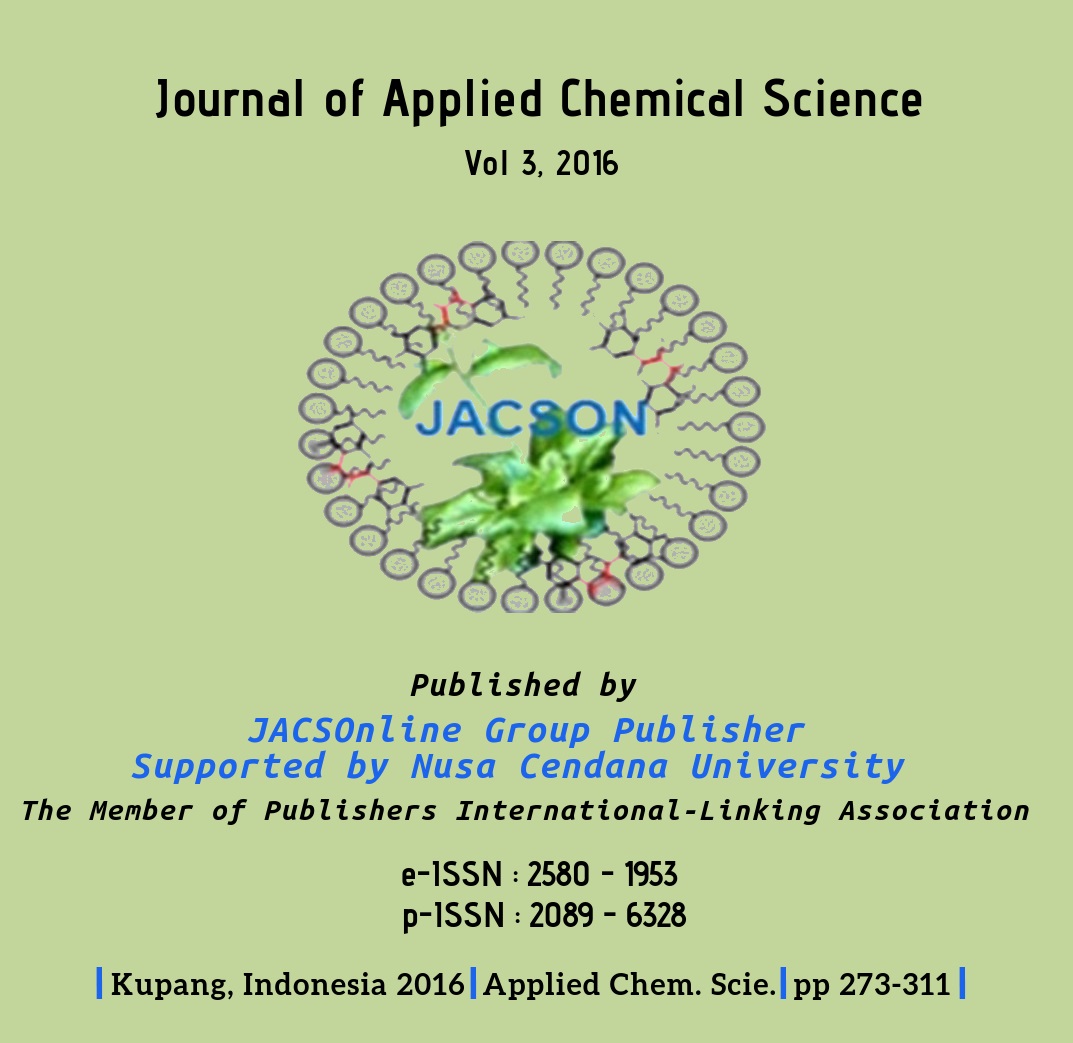 How to Cite
Ngurah, B., Tokan, M., & Saputra, A. (2020). Characterization of Cinnamadehyde Compound Isolated from Cinnamon Oil and Its Salmonella Typhy Antibacterial Activity. Journal of Applied Chemical Sciences, 5(2), 469-472. Retrieved from https://ejurnal.undana.ac.id/index.php/jacs/article/view/1993
Copyright (c) 2018 Universitas Nusa Cendana
This work is licensed under a Creative Commons Attribution-NonCommercial-ShareAlike 4.0 International License.