PENGARUH PEMBERIAN LARVA FESES SAPI TERHADAP KONSUMSI RANSUM, PERTAMBAHAN BOBOT BADAN DAN KONVERSI RANSUM AYAM BURAS
Aplianita Padi Lero

universitas Nusa Cendana

Ni Putu F. Suryatni

universitas Nusa Cendana

Markus Sinlae

universitas Nusa Cendana
Keywords:
ransum komersial, larva, ayam buras
Abstract
The purpose of this study was to determine the effect of Larvae supplementation on feed intake, body weight gain and feed conversion of native chicken. Sixty four- 4 weeks old native chicken were used in this study following a completely randomized design with four treatments and four replicates. The treatments offered were L0: Commercial diet 100%; L1: Commercial diet 75% + Larvae served ad libitum, L2: Commercial diet, 50% + larvae served ad libitum. L3: Commercial diet, 25% + larvae served ad libitum. Variables measured were feed intake, body weight gain and feed conversion. The results showed that inclusion of larvae to commercial diet (P <0,05) increased body weight gain of native chicken with the highest values for  L1 (13,04 gram/head/day) compared to the other of treatments. Feed intake was not affected by the treatments. However, feed conversion ratio of the native chicken became poorer as the level of commercial diet declined.
ABSTRAK
Penelitian ini bertujuan untuk mengetahui pengaruh pemberian larva yang berasal dari feses sapi terhadap konsumsi ransum, pertambahan bobot badan dan konversi ransum ayam buras. Penelitian ini digunakan 64 ekor ayam buras berumur 4 minggu. Rancangan percobaan yang digunakan adalah Rancangan Acak Lengkap (RAL) yang terdiri dari 4 perlakuan 4 ulangan sehingga terdapat 16 unit percobaan. Perlakuan yang dicobakan adalah L0:  Ransum komersial 100%, L1: Ransum Komersial 75% + Larva secara ad libitum, L2: Ransum komersial 50% + Larva secara ad libitum, L3: Ransum komersial 25% + Larva secara ad libitum. Variabel yang diukur antara lain konsumsi ransum, pertambahan bobot badan dan konversi ransum. Hasil penelitian menunjukkan penggunaan Larva segar secara ad libitum dan pakan komersial dari level 75%, 50% dan 25% memberikan pengaruh yang nyata (P<0,05) terhadap pertambahan bobot badan ayam buras dan paling tertinggi terdapat pada perlakuan L1 sebesar 13.04 gram/ekor/hari dari perlakuan L2 dan L3. Pemberian larva feses sapi dan pakan komersial memberikan pengaruh tidak nyata pada konsumsi ransum ayam buras. Pemberian larva feses sapi dengan level pemberian ransum komersial yang semakin menurun mengakibatkan konversi ransum meningkat secara nyata pada ayam buras.
Downloads
Download data is not yet available.
References
Anggorodi R. 1985. Ilmu Pakan Ternak Unggas. UI-Press, Jakarta.
Atteh JO, Ologbenla FD. 1993. Replacement of fishmeal with maggots in broiler diets: effects on performance and nutrient retention. Nigerian Journal of Animal Production. (2):44-49
Eka F, Kristoforus R, Nadia N. 2016. Penggunaan kadar protein berbeda pada ayam kampung terhadap penampilan produksi dan kecernaan protein. Jurnal Ilmu-Ilmu Peternakan 26(2): 73-83
Ezewudo BI, Monebi CO, Ugwumba A. 2015. Production and utilization of Musca domestica maggots in the diet of Oreochromis niloticus. Afr. J. Agric. Res. 10(23): 2363-2371
Husmaini. 2000. Pengaruh peningkatan level protein dan energi ransum saat refeeding terhadap performans ayam buras. Jurnal Peternakan dan Lingkungan .6(01): 107-115
Hwangbo J, Jang A, Kang HK, Oh JS, Kim BW, Taman BS. (2009). Pemanfaatan flymaggots rumah, suplemen pakan dalam roduksi ayam broiler. Jurnal Biologi Lingkungan. (4): 609-614
Kompiang IP, Supriyati, Togatorop MH, Jarmani SN. 2001. Performance of native chicken given free choice feed. Jurnal Ilmu Ternak dan Veteriner 6(2):94-99
Lacy M, Vest LR. 2000. Improving feed conversion in broiler: a guide for growers. http://www.ces.uga.edu/pubed/c:793-W.html. [6 Januari 2007].
Lucas DM, Fontenal JP, Webb Jr. 1975. Composition and digestibility of cattle fecal waste. Journal Animal Science. 41: 1480-1486
Maynard, Loosli. 1984. Animal Nutrition. Seventh edition. Mc. Graw-Hill Book Company, Philippine.
Ozkan S, Plavnik I, Yahav S. 2006. Effects of early feed restriction on performance and ascites development in broiler chickens subsequently raised at low ambient tem-perature. Journal Appl.Poult. 15: 9-19
Rasyaf. 1993. Mengelolah Itik Komersial. Kanisius. Yogyakarta.
Rasyid TG. 2002. Analisis perbandingan keuntungan peternak ayam buras dengan sistem pemeliharaan yang berbeda. Bulletin Nutrisi dan Makanan Ternak 3(1): 15−22
Sari ML, Sandi S, Mega O. 2004. Konsumsi dan konversi pakan ayam pedaging bibit periode pertumbuhan dengan perlakuan pembatasan pakan pada lantai kawat dan litter. Jurnal Indonesia Trop Anim Agric 29(2): 86-90
Suprio G, Wayan S. 2016. Combination of using cow feces powder and probiotic in feed for layer native chicken. Jurnal Biologi 20(2) : 47-52
Steel RG, Torrie JH. 1991. Prinsip Statistika suatu Pendekatan Biometrik. Terjemahan: B. Sumantri. Gramedia Pustaka Utama, Jakarta
Wihandoyo, Mulyadi H. 1986. Ayam Buras pada Kondisi Pedesaan (Tradisional) dan Pemeliharaan yang Memadai. Temu tugas sub-sektor Peternakan di Sub-Balai Penelitian Ternak Klepu, Bekerjasama dengan Balai Informasi Pertanian Ungaran Serat Dinas Peternakan Propinsi Jawa Tengah.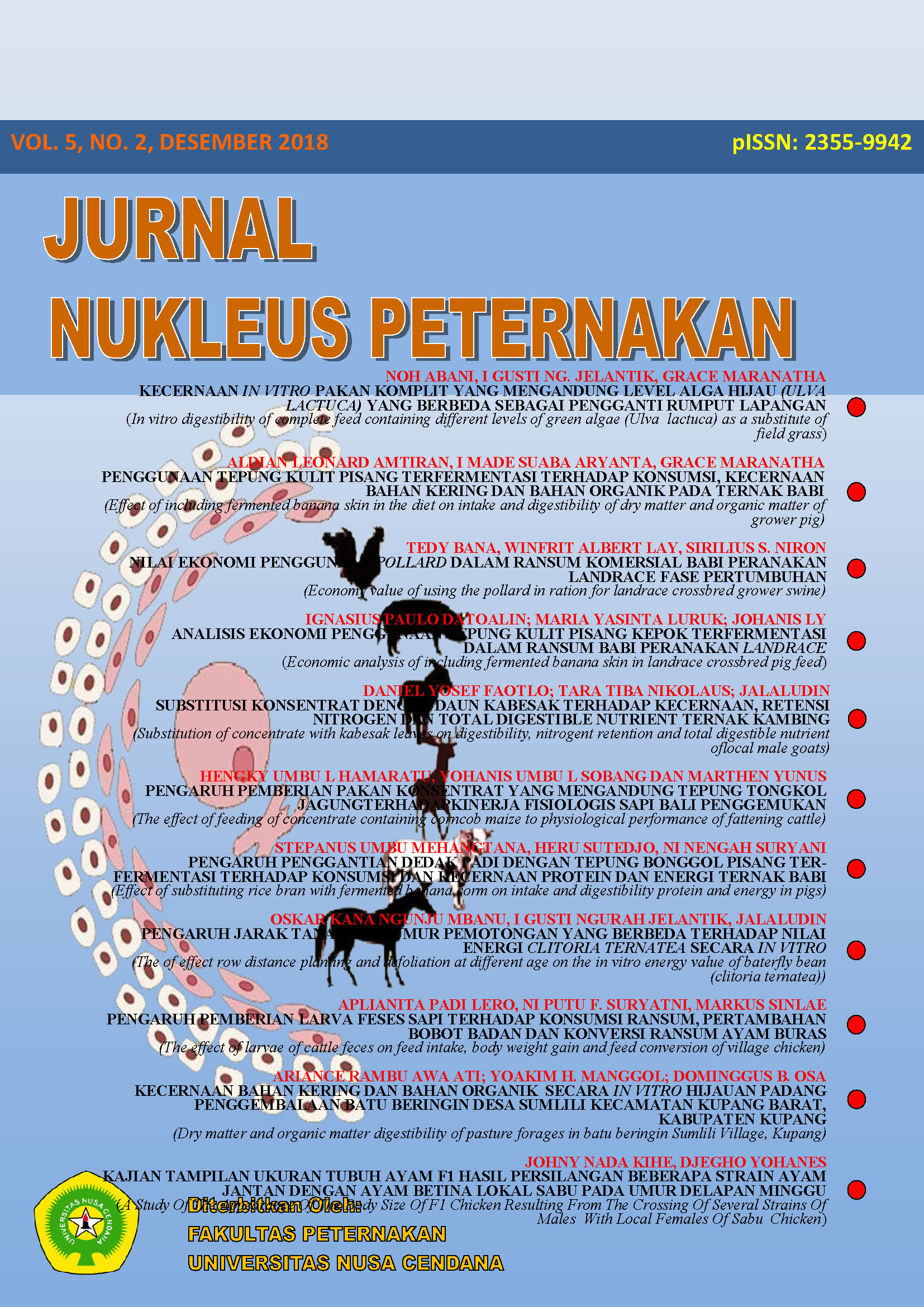 How to Cite
Lero, A., Suryatni, N. P., & Sinlae, M. (2018). PENGARUH PEMBERIAN LARVA FESES SAPI TERHADAP KONSUMSI RANSUM, PERTAMBAHAN BOBOT BADAN DAN KONVERSI RANSUM AYAM BURAS. JURNAL NUKLEUS PETERNAKAN, 5(2), 149-154. Retrieved from https://ejurnal.undana.ac.id/nukleus/article/view/848