KECERNAAN BAHAN KERING DAN BAHAN ORGANIK SECARA IN VITRO HIJAUAN PADANG PENGGEMBALAAN BATU BERINGIN DESA SUMLILI KECAMATAN KUPANG BARAT, KABUPATEN KUPANG
Ariance Rambu Awa Ati

universitas Nusa Cendana

Yoakim H. Manggol

universitas Nusa Cendana

Dominggus B. Osa

universitas Nusa Cendana
Keywords:
Kecernaan, Bahan Kering, Bahan Organik, in vitro, Hijauan Padang Penggembalaan
Abstract
This study was conducted at the pasture of Batu Beringin Sumlili, Kupang, aimed to know the dry matter and organic matter digestibility of forages in the pasture. The survey method and direct measurement by utilizing a 1m x 1m square frame at the site of study was conducted. Data obtained were tabulated and calculated for the percentage and the average of dry matter and organic matter digestible of forages. The dry matter and organic matter digestibility the first location were 42,13% and 44,26% respectively, and for the second location were 49,32 % and 50,39 %, respectively. Therefore it can be concluded that the dry matter and organic matter digestible forages at pasture of Batu Beringin Sumlili during rainy season were 45,72 % and 47,60%, respectively. 
ABSTRAK
Penelitian ini telah dilaksanakan di padang penggembalaan Batu Beringin Desa Sumlili Kecamatan Kupang Barat Kabupaten Kupang, dengan tujuan untuk mengetahui Kecernaan Bahan Kering dan Bahan Organik Secara in vitro Hijauan Padang Pengembalaan Musim Hujan. Metode yang digunakan dalam penelitian yaitu pengukuran dan pengamatan langsung dilapangan. Materi  penelitian  adalah  hijauan  berupa rumput, legume dan gulma  yang  tumbuh  di padang penggembalaan lokasi penelitian, Alat-alat yang digunakan berupa petak ukur/plot 1 x 1 m. Data yang diperoleh ditabulasi dan dihitung untuk mendapatkan persentase dan rata- rata kecernaan bahan kering dan bahan organik secara in vitro. Presentasi kecernaan bahan kering dan bahan organik secara in vitro berturut-turut pada lokasi pertama 42,13% dan 44,26 %, dan pada lokasi kedua diperoleh 49,32 % dan 50,39 %. Hasil penelitian disimpulkan bahwa kecernaan bahan kering dan bahan organik hijauan makanan ternak di padang penggembalaan Batu Beringin Desa Sumlili Kecamatan Kupang Barat Kabupaten Kupang masing-masing 45,72 % dan 47,60%.
Downloads
Download data is not yet available.
References
Badan Pusat Statistik. 2015. Kabupaten Kupang Dalam Angka, Badan Pusat Statistik Kabupaten Kupang.
Bahar S, Hardjosoewignjo S, Kismono I, Haridjaja O. 1999. "Perbaikan padang rumput alam dengan introduksi leguminosa dan beberapa cara pengolahan tanah". Jurnal Ilmu Ternak dan Veteriner. 4(3):185–190
Bamualim A. 1988. Peranan peternakan dalam usahatani di daerah Nusa Tenggara. Jurnal Penelitian dan Pengembangan Pertanian. 8(3):69-74.
Direktorat Perluasan Areal, 2009. Pedoman Teknis Perluasan Areal Pengembalaan. Direktorat Perluasan Areal. Direktorat Jenderal Pengelolaan Lahan Dan Air Dep artemen Pertanian.
Jelantik IGN. 2001. Improving Bali Cattle (Bibos banteng Wagner) Production through Protein Supplementation. PhD Thesis. The Royal Veterinary and Agricultural University, Copenhage, Denmark.
Junaidi M, Sawn D. 2010. Keragaman botanis dan kapasitas tampung padang penggembalaan alam di Kabupaten Yapen. Jurnal Ilmu Peternakan 5(2):92-97.
Krah, ANA. 1990. Availability And Use Of Fodder Shriba And Tress In
Shrubs And Free Fodder For Farm Animals. IDRC. Canada. 140-162.
Manu AE, Baliarti E, Keman S, Umbu Datta F. 2007. Effects of Local Feed Supplementation on the Performance of Bligon Goat Does at the End of Gestation Reared in West Timor Savanna. Jurnal Pastura. Anim. Proc. 9(1):1-8.
Manu AE. 2013. Produktivitas Padang Penggembalaan Sabana Timor Barat. Jurnal Pastura. (3)1:25-29.
Nulik J, Fernandez PT, Babys Z. 1990. Forage production from Natural Pastures in the village of Naibonat dan Camplong. Research Report, Sub Balai Penelitian Ternak, Lili, Kupang. Jurnal Pastura. Pp. 60-64.
Riswandi. 2014. evaluasi kecernaan silase rumput kumpai (hymenachne acutigluma) dengan penambahan legum turi mini (sesbania rostrata). jurnal peternakan sriwijaya 3 (2): 43-52
Saragih EW, Tero NK. 2009. Potensi tiga padang penggembalaan yang berbeda di Kabupaten Manokwari. Jurnal Ilmu Peternakan 4 (2):53-60.
Sawen Diana, M Junaidi 2010. Potency of natural pasture in two regency in west papua province. seminar nasional teknologi peternakan dan veteriner Jurnal Ilmu Peternakan 2011 ;835-840
Schneider PL, Beede DK, Wilcox CJ, Collier RJ. 1984. Influence of dietary sodium and potassium bicarbonate and total potassium on heat-stressed lactating dairy cows. Journal of Dairy Science, 67, 2546-2553.
Susetyo. 1980. Padang Penggembalaan. Departemen Ilmu Makanan Ternak Fakultas Peternakan Institut Pertanian Bogor, Bogor.
Tilley JMA, Terry RA. 1963. A Two Stage Technique for The in vitro Digestion of Forage Crops. Journal of the British Grassland Society 1 (8): 104-111.
Tillman AD. 2001. Ilmu Makanan Ternak Dasar. Cetakan Kedua. UGM-Press, Yogyakarta.
Whiteman PC, Humphreys LR, Monteith NH, Hoult AH, Bryand PM, Slater JC. 1974. A course manual in tropical pasture science. Journal Tropical Pasture 3 (7):71-75.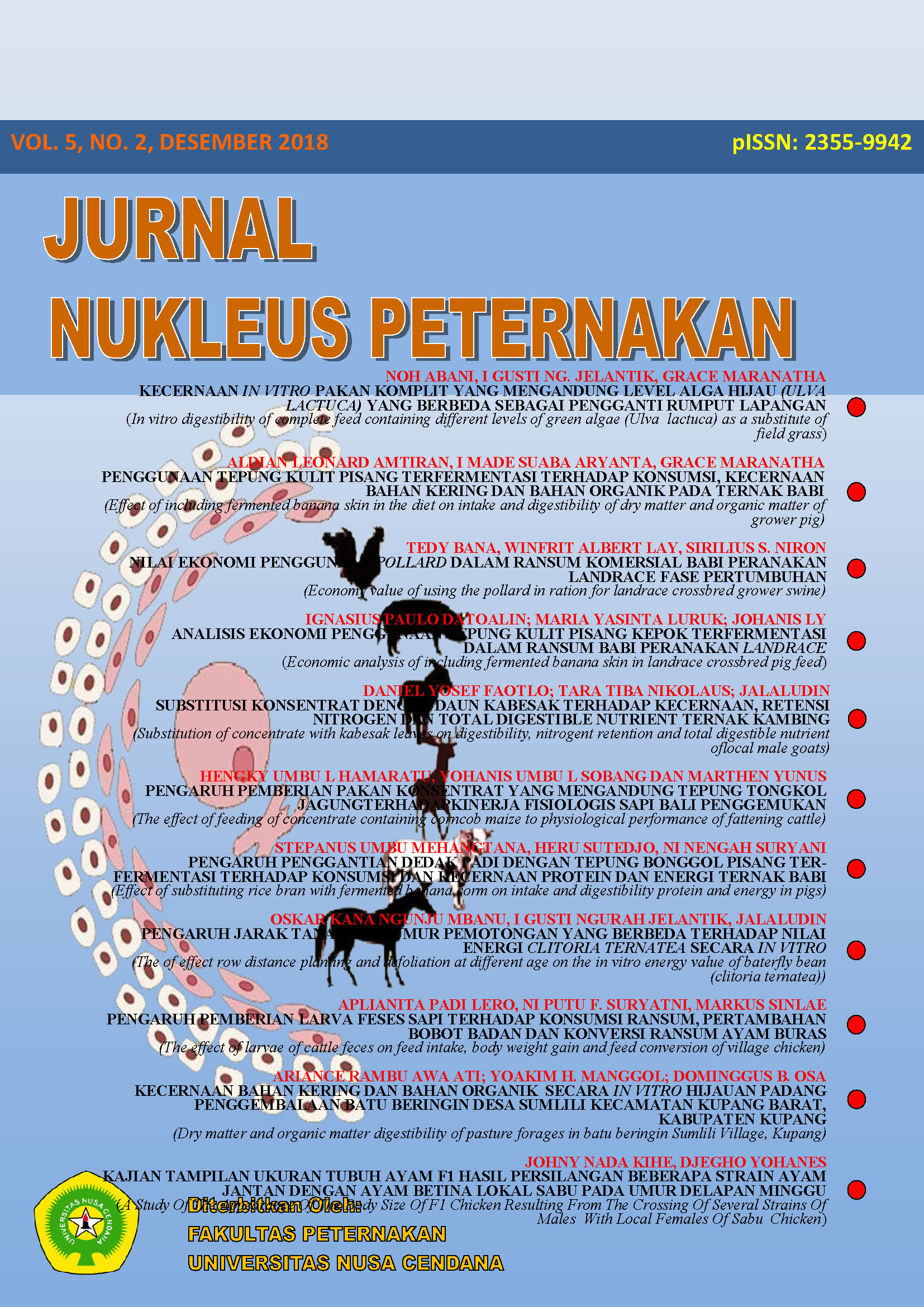 How to Cite
Ati, A., Manggol, Y., & Osa, D. (2018). KECERNAAN BAHAN KERING DAN BAHAN ORGANIK SECARA IN VITRO HIJAUAN PADANG PENGGEMBALAAN BATU BERINGIN DESA SUMLILI KECAMATAN KUPANG BARAT, KABUPATEN KUPANG. JURNAL NUKLEUS PETERNAKAN, 5(2), 155-162. Retrieved from https://ejurnal.undana.ac.id/nukleus/article/view/849