KINERJA MANAJEMEN KEUANGAN PADA BADAN USAHA MILIK DESA (BUMDes) NEKBAUN DI DESA BAUMATA TIMUR KECAMATAN TAEBENU KABUPATEN KUPANG
Juniarto Wijoyo Sairo

Program Studi Agribisnis, Fakultas Pertanian, Universitas Nusa Cendana

Charles Kapioru

Program Studi Agribisnis, Fakultas Pertanian, Universitas Nusa Cendana

Ignatius Sinu

Program Studi Agribisnis, Fakultas Pertanian, Universitas Nusa Cendana
Keywords:
management, financial performance, BUMDes
Abstract
In principle, regional autonomy provides opportunities for citizens to develop their creative power by paying attention to regional potential. Efforts must be made for village development in order to improve the quality of life of the community by using a strategy to increase the village's original income by running a business called BUMDes. Where BUMDes is able to be the motor of increasing the village economy. Managing BUMDes the most important aspects are in terms of management, finance and performance, which must be analyzed in as much detail as possible so that the business unit is run efficiently and effectively. The purpose of this study was to determine the decision-making factors of BUMDes Nekbaun management in determining the type of business unit run and the financial performance of BUMDes Nekbaun. This research was conducted in Baumata Timur Village, Taebenu District, Kupang Regency, with 9 informants who run BUMDes Nekbaun. Data were analyzed descriptively and analysis of financial ratios of liquidity, solvency and profitability .
The results showed that the four types of businesses run by BUMDes Nekbaun were agreed through deliberations with the people of East Baumata village and financial performance seen from the Liquidity ratio in 2019 of 7.88% due to the increase in current assets greater than current debt, the Solvency ratio in 2019 was 0 , 13% experienced a decrease this was due to the increase in the total value of debt which was smaller than total assets and the profitability ratio in 2019 was 0.22%, which means that the use of existing funds by utilizing the assets obtained is in good condition.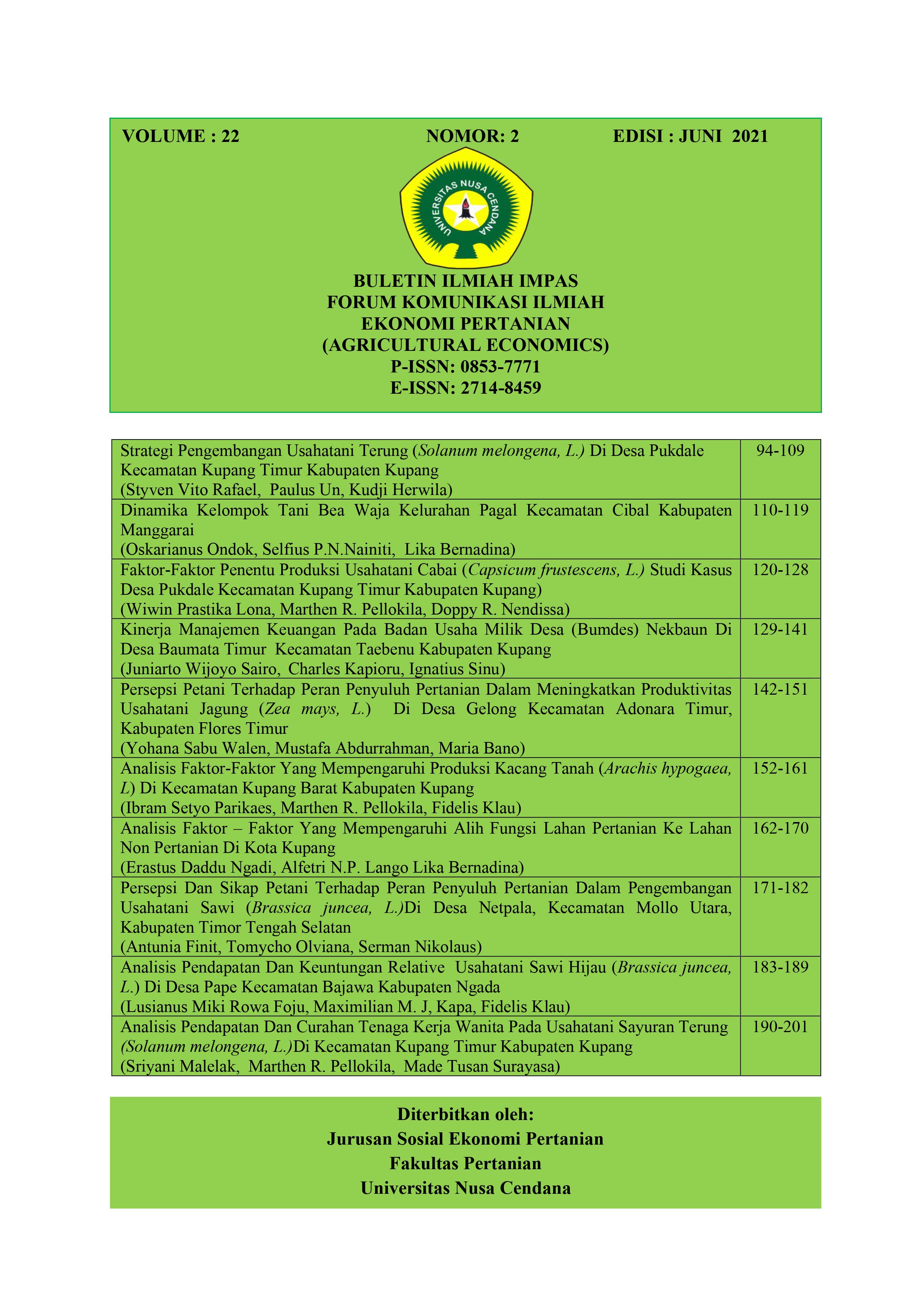 How to Cite
Sairo, J., Kapioru, C., & Sinu, I. (2021). KINERJA MANAJEMEN KEUANGAN PADA BADAN USAHA MILIK DESA (BUMDes) NEKBAUN DI DESA BAUMATA TIMUR KECAMATAN TAEBENU KABUPATEN KUPANG. Buletin Ilmiah IMPAS, 22(2), 129-141. https://doi.org/10.35508/impas.v22i2.4910