ANALISIS FAKTOR-FAKTOR YANG MEMPENGARUHI PRODUKSI KACANG TANAH (Arachis hypogaea L.) DI KECAMATAN KUPANG BARAT KABUPATEN KUPANG
Ibram S. Parikaes

Program Studi Agribisnis, Fakultas Pertanian, Universitas Nusa Cendana

Marthen R. Pellokila

Program Studi Agribisnis, Fakultas Pertanian, Universitas Nusa Cendana

Fidelis Klau

Program Studi Agribisnis, Fakultas Pertanian, Universitas Nusa Cendana
Keywords:
peanut, factors affecting production
Abstract
This research was conducted in West Kupang District, particularly in Oenesu Subdistric and Kuanheun Village in November 2019. This research aimed to determine the amount of peanut production and the factors that affect the production of peanut (Arachis hypogaea L.). The location of the research was purposively determined with respondents from 64 peanut farmers using the Slovenian formula.  The type of data collected was primary and secondary data. The collected data was then analyzed descriptively to find out the first object and using the analysis of the cobb-douglas function to find out the second object.
The results showed that: (1) The total peanut production of the respondents in West Kupang subdistrict was 76. 70 kg for a total area of ​​6.137 acres with the highest production at 2.200 kg and the lowest at 500 kg with a productivity of 1.2 tons/ha (2) Based on the results of Cobb-Douglas production function analysis, land area and seed had a significant effect on peanut production. While labour, the age, education level and agricultural experience of the farmer had no significant influence on peanut production.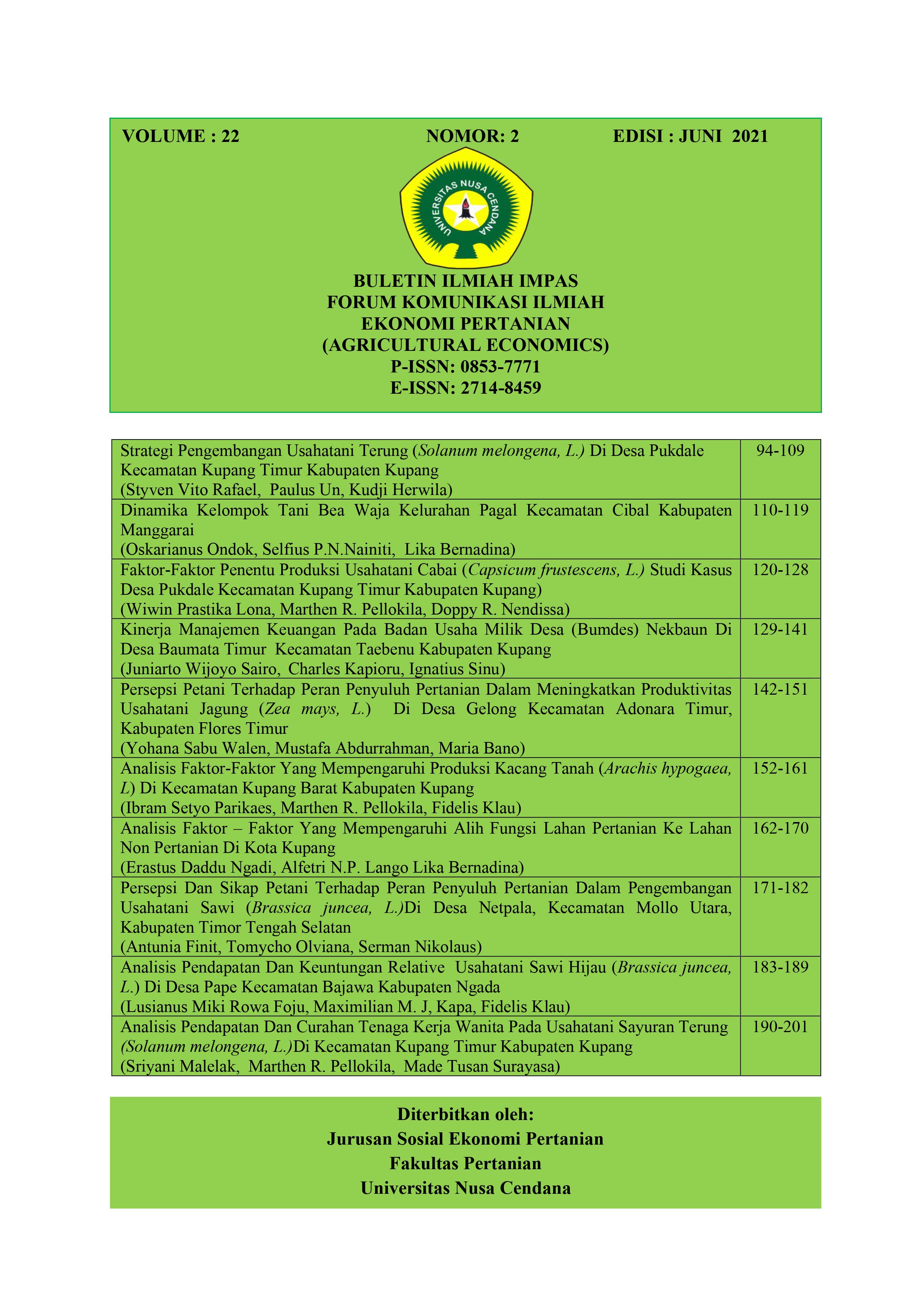 How to Cite
Parikaes, I., Pellokila, M., & Klau, F. (2021). ANALISIS FAKTOR-FAKTOR YANG MEMPENGARUHI PRODUKSI KACANG TANAH (Arachis hypogaea L.) DI KECAMATAN KUPANG BARAT KABUPATEN KUPANG. Buletin Ilmiah IMPAS, 22(2), 152-161. https://doi.org/10.35508/impas.v22i2.4912