PEMBERDAYAAN KELOMPOK TANI OLEH YAYASAN MITRA TANI MANDIRI MELALUI SISTEM PEMASARAN BERSAMA KOMODITI JAMBU METE DI DESA NAKU KECAMATAN BIBOKI FEOTLEU KABUPATEN TIMOR TENGAH UTARA
Obriadi F. Sioh

Program Studi Agribisnis, Fakultas Pertanian, Universitas Nusa Cendana

Maria Bano

Program Studi Agribisnis, Fakultas Pertanian, Universitas Nusa Cendana

Kudji Herewila

Program Studi Agribisnis, Fakultas Pertanian, Universitas Nusa Cendana
Keywords:
Pemberdayaan kelompok tani, sistem pemasaran bersama, efisiensi pemasaran
Abstract
ABSTRAK
                Penelitian ini bertujuan untuk mengetahui faktor pendukung, penghambat, dan proses pemberdayaan kelompok tani, pelaksanaan pemasaran bersama dan tingkat efisiensi yang terjadi melalui pemasaran bersama komoditi jambu mete. Sumber  dan teknik pengumpulan data yang digunakan dalam penelitian ini adalah wawancara untuk memperoleh data primer dengan menggunakan kuisioner, sedangkan data sekunder menggunakan literatur yang relevan dengan penelitian. Data yang terkumpul, disusun menurut tujuan yang ingin dicapai yaitu untuk mengetahui faktor pendukung dan penghambat dengan mengunakan skala likert sesuai tabel rujukan pencapaian skor rata-rata, sementara proses pemberdayaan kelompok tani dan pelaksanaan pemasaran bersama menggunakan analisis deskriptif kualitatif. Sedangkan untuk mengetahui pada tingkat mana efisiensi itu terjadi maka menggunakan rumus efisiensi pemasaran.
Dari hasil penelitian diketahui bahwa: 1) Yang termasuk Faktor pendukung adalah :Aksesibilitas Informasi, Akuntabilitas Informasi,Partisipasiyang termasuk dalam kategori "Sangat Tinggi" dengan nilai presentase pencapaian skor maksimumum 100%. Sedangkan yang termasuk faktor penghambat adalah: Pendidikan, luas penguasaan lahan,kapasitas organisasi lokal petani yang tergolong dalam kategori "Sangat Rendah" dan jumlah anggota keluarga tergolong "Cukup Banyak", 2) Proses pemberdayaan kelompok tani melalui pemasaran bersama meliputi kegiatan penyuluhan dan sekolah masyarakat, 3) pelaksanaan  kegiatan pemasaran bersama dimulai dari pengembangan strategi dan pengelolaan teknis pemasaran bersama dan 4) Efisiensi pemasaran komoditi jambu mete yang terjadi di Desa Naku sebesar 2,78 %.
Kata Kunci: Pemberdayaan Kelompok Tani, Sistem Pemasaran Bersama, Efisiensi Pemasaran,.
ABSTRACT
                This study aims to determine the supporting factors, obstacles, and the process of empowering farmer groups, the implementation of joint marketing and the level of efficiency that occurs through joint marketing of cashew commodity. Sources and data collection techniques used in this study were interviews to obtain primary data using questionnaires, while secondary data used literature that was relevant to the study. The collected data, arranged according to the objectives to be achieved, is to find out the supporting and inhibiting factors by using a Likert scale according to the reference table for achieving an average score, while the process of empowering farmer groups and implementing joint marketing using qualitative descriptive analysis. Meanwhile, to find out at what level of efficiency that occurs then using the marketing efficiency formula.
The results of the study shows taht: 1) Included in the supporting factors are: Information Accessibility, Information Accountability, Participation included in the category of "Very High" with a percentage of achieving a maximum score of 100%. While the inhibiting factors are: Education, land tenure area, the capacity of local farmer organizations that are classified as "Very Low" and the number of family members classified as "Quite a lot", 2) The process of empowering farmer groups through joint marketing includes extension activities and community schools, 3) The implementation of joint marketing activities begins with the development of strategies and technical management of joint marketing, and 4) The efficiency of marketing of cashew commodities occurs at Naku cost of 2,78 %.
Keywords: Empowerment of Farmer Groups, Collective Marketing Systems, Marketing Efficiency
Downloads
Download data is not yet available.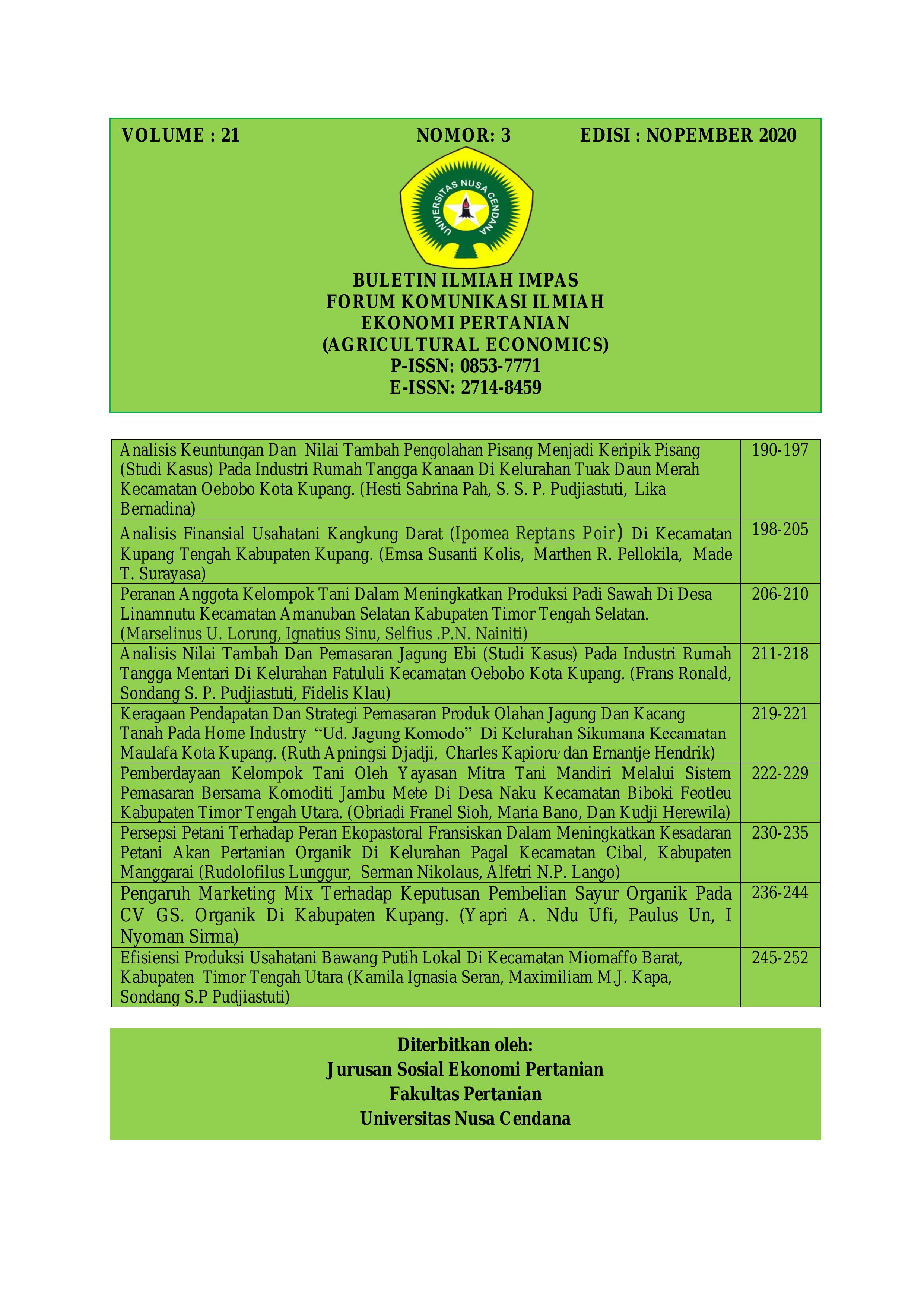 How to Cite
Sioh, O., Bano, M., & Herewila, K. (2020). PEMBERDAYAAN KELOMPOK TANI OLEH YAYASAN MITRA TANI MANDIRI MELALUI SISTEM PEMASARAN BERSAMA KOMODITI JAMBU METE DI DESA NAKU KECAMATAN BIBOKI FEOTLEU KABUPATEN TIMOR TENGAH UTARA. Buletin Ilmiah IMPAS, 21(3), 222-229. https://doi.org/10.35508/impas.v21i3.3320