PENGARUH MARKETING MIX TERHADAP KEPUTUSAN PEMBELIAN SAYUR ORGANIK PADA CV GS. ORGANIK DI KABUPATEN KUPANG
Yapri A Ndu Ufi

Program Studi Agribisnis, Fakultas Pertanian, Universitas Nusa Cendana

Paulus Un

Program Studi Agribisnis, Fakultas Pertanian, Universitas Nusa Cendana

I Nyoman Sirma

Program Studi Agribisnis, Fakultas Pertanian, Universitas Nusa Cendana
Keywords:
promosi, bauran pemasaran, keputusan membeli
Abstract
ABSTRAK
Penelitian ini telah dilakukan pada CV. GS Organik di Desa Penfui Timur, Kecamatan Kupang Tengah, Kabupaten Kupang pada bulan November – desember 2019 dengan tujuan untuk mengetahui pengaruh markting mix terhadap keputusan pembelian pada CV. GS Organik di Kabupaten Kupang. Penelitian ini menggunakan data primer yang bersumber dari kuisioner  yang disebarkan kepada 75 responden. Data yang diperoleh dianalisis dengan menggunakan regresi linear berganda, uji t, uji F dan koefisien determinasi.
Hasil  penelitian menunjukkan bahwa variabel produk dan promosi secara parsial mempunyai pengaruh signifikan terhadap variabel keputusan membeli sayur organic pada CV GS Oraganik, sementaravariabel harga dan tempat secara parsial tidak mempunyai pengaruh signifikan terhadap.
Kata Kunci: produk, harga, tempat, promosi, bauran pemasaran dan keputusan membeli.
ABSTRACT
This research has been carried out at CV. GS Organik I the village of East Penfui. Kupang Tengah District, Kupang Regency in November to December 2019 with the aim to determine the effect of markting mix on purchasing decisions on the CV. GS Organic in Kupang Regency. This study uses primary data sourced from questionnaires distributed to 75 respondents. The data obtained were analyzed using multiple linear regression, t test, F test and the coefficient of determination      The results showed that the product and promotion variables partially have a significant influence on the buying decision variable because it has a value of t arithmetic > t table so that Ho is rejected and accept Ha. While the price and place variables partially do not have a significant effect..
Keywords:  product, price, place, promotion, marketing mix and purchase decision.
Downloads
Download data is not yet available.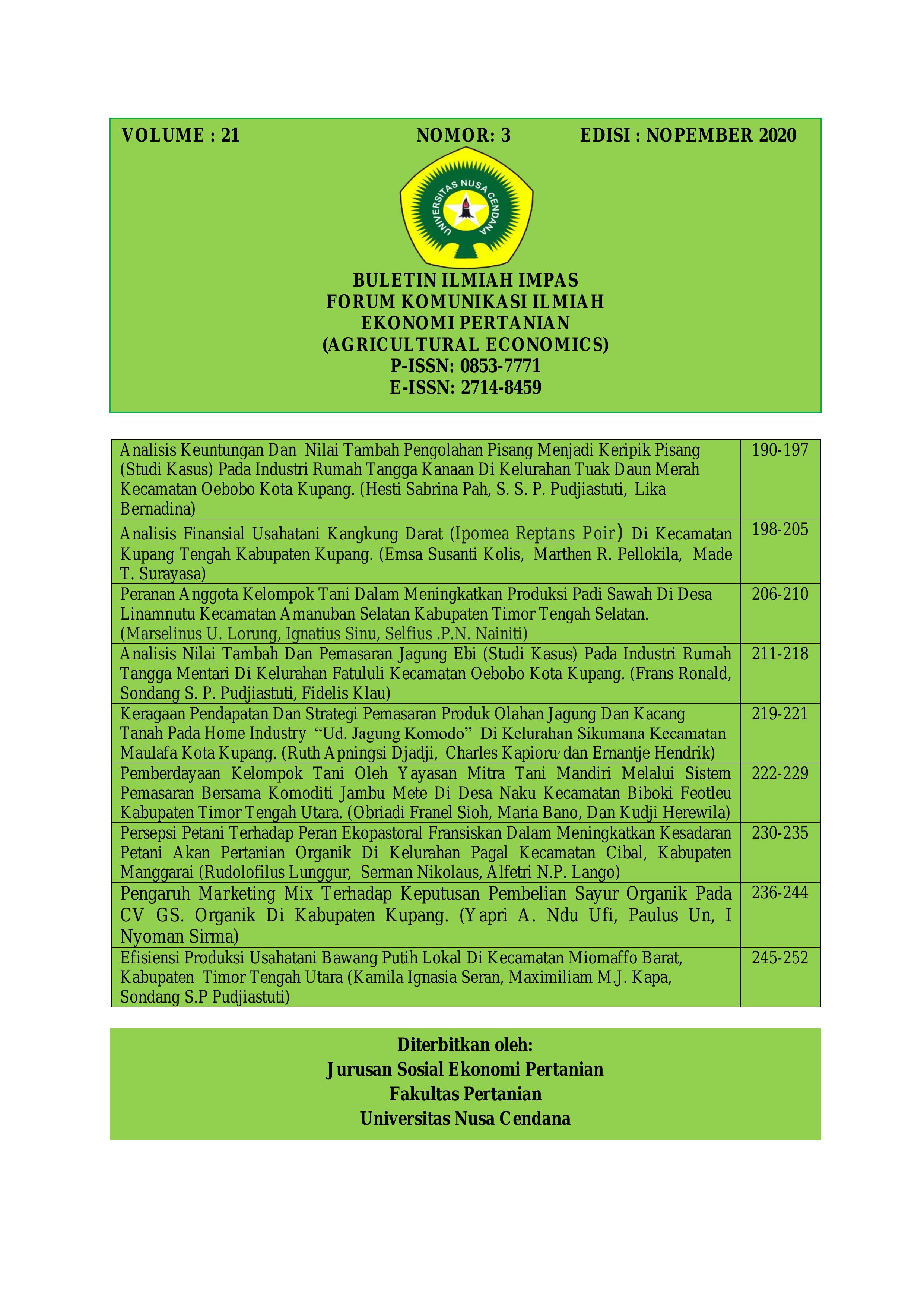 How to Cite
Ndu Ufi, Y., Un, P., & Sirma, I. (2020). PENGARUH MARKETING MIX TERHADAP KEPUTUSAN PEMBELIAN SAYUR ORGANIK PADA CV GS. ORGANIK DI KABUPATEN KUPANG. Buletin Ilmiah IMPAS, 21(3), 236-244. https://doi.org/10.35508/impas.v21i3.3322