PENGARUH GAME ONLINE TERHADAP MOTIVASI BELAJAR SISWA KELAS XI IPS SMA NEGERI 1 LOBALAIN
Liti Remildo Henukh(1*)


Universitas Nusa Cendana

Jacob Abolladaka(2)


Universitas Nusa Cendana

Erika Feronika Br Simanungkalit(3)


Universitas Nusa Cendana

(*) Corresponding Author

Keywords:
game online, Motivasi Belajar, Motivasi Intrinsik, Motivasi Ekstrinsik
Abstract
Penelitian ini di latar belakangi oleh rendahnya hasil belajar siswa Kelas XI IPS SMA Negeri 1 Lobalain. Rendahnya hasil belajar siswa dikarenakan beberapa faktor, salah satunya motivasi belajar siswa. Motivasi belajar merupakan dorongan atau penggerak siswa untuk belajar demi mencapai tujuan belajar yang diinginkan. Tujuan penelitian ini adalah untuk mengetahui pengaruh Game Online  terhadap motivasi belajar siswa Kelas XI IPS SMA Negeri 1 Lobalain. Teknik pengambilan sampel yang digunakan dalam penelitian ini adalah teknik quota sampling. Adapun jumlah sampel dalam penelitian ini adalah 40 siswa dari kelas XI IPS SMA Negeri 1 Lobalain. Penelitian ini berjenis korelasional dengan pendekatan kuantitatif. Instrumen penelitian menggunakan kuesioner. Teknik analisis data menggunakan analisis regresi liniear sederhana. Hasil penelitian menunjukan bahwa terdapat pengaruh game online terhadap motivasi belajar siswa Kelas XI IPS SMA Negeri 1 Lobalain. Berdasarkan analisis regresi linear sederhana menggunakan aplikasi statistik SPSS 21 diperoleh nilai taraf Sig = 0.000 < 0.05, dengan nilai t = 4.180 > 2.024.
Downloads
Download data is not yet available.
References
Adams, E., & Rollings, A. (2006). Fundamentals of game design (game design and development series). Prentice-Hall, Inc.
Akbar, A., & Ahmad, M. R. S. (2018). Pengaruh Game Online Terhadap Motivasi Belajar Siswa di Kelas X SMA Negeri 16 Makassar. Jurnal Sosialisasi: Jurnal Hasil Pemikiran, Penelitian dan Pengembangan Keilmuan Sosiologi Pendidikan, 8-11.
Bhardwaj, P. (2019). Types of sampling in research. Journal of the Practice of Cardiovascular Sciences, 5(3), 157.
Kumari, K., & Yadav, S. (2018). Linear regression analysis study. Journal of the practice of Cardiovascular Sciences, 4(1), 33.
Iaremenko, N. V. (2017). Enhancing English language learners' motivation through online games. Information Technologies and Learning Tools, 59 (3), 126-133.
Monika, M., & Adman, A. (2017). Peran Efikasi Diri dan Motivasi Belajar dalam Meningkatkan Hasil Belajar Siswa Sekolah Menengah Kejuruan. Jurnal Pendidikan Manajemen Perkantoran, 1(1), 110-117.
Montgomery, D. C., Peck, E. A., & Vining, G. G. (2021). Introduction to linear regression analysis. John Wiley & Sons.
Parwita, H. (2019). Pengaruh Game Online Terhadap Motivasi Belajar Siswa (Studi Pada SMAN 3 Malang) (Doctoral dissertation, Universitas Brawijaya).
Purba, L. S. L., Sormin, E., Harefa, N., & Sumiyati, S. (2019). Effectiveness of use of online games kahoot! chemical to improve student learning motivation. Jurnal Pendidikan Kimia, 11(2), 57-66.
Roopa, S., & Rani, M. S. (2012). Questionnaire designing for a survey. Journal of Indian Orthodontic Society, 46(4_suppl1), 273-277.
Simanungkalit, E. F. B., Manu, R. E. R., Bili, A. C. B., & Loe, A. P. (2021). Hubungan antara Motivasi dan Self-regulated Learning Siswa Selama Pembelajaran Jarak Jauh di Kota Kupang. Haumeni Journal of Education, 1(2), 44-48.
Sugiyono. 2009. Metode Penelitian Pendekatan Kuantitatif, Kualitatif, dan R &D. Bandung: Alfabeta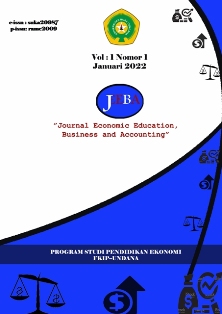 How to Cite
Henukh, L., Abolladaka, J., & Br Simanungkalit, E. (2022). PENGARUH GAME ONLINE TERHADAP MOTIVASI BELAJAR SISWA KELAS XI IPS SMA NEGERI 1 LOBALAIN. Journal Economic Education, Business and Accounting (JEEBA), 1(1), 1-6. https://doi.org/10.35508/jeeba.v1i1.6412