PERBAIKAN MANAJEMEN PAKAN DENGAN PENGGUNAAN LIMBAH PERTANIAN PADA PETERNAKAN BABI DI DESA BAUMATA TIMUR
Abstract
Masalah yang dihadapi kelompok Tani di Desa Baumata Timur, Kecamatan Taebenu, Kabupaten Kupang, Nusa Tenggara Timur (NTT) dalam memelihara ternak babi adalah produktivitas dan jumlah pemeliharaan sedikit (1-5 ekor), waktu pemeliharaan lama (>6bl). Penyebab permasalahan tersebut adalah biaya pakan tinggi akibat mengandalkan pakan komersial yang harganya relative mahal serta terus meningkat.  Manajemen pemeliharaan ternak babi belum optimal : pemanfaatan limbah pertanian belum optimal, bahan pakan alternative belum dilakukan dengan baik, dikarenakan pengetahuan dan teknologi (IPTEK) khususnya pengolahan bahan limbah ataupun bahan alternative belum diketahui secara benar dan tepat.  Mengolah bahan limbah pertanian secara fermentasi dapat meningkatkan kualitas (protein, kecernaan dan palatabilitas) dari bahan pakan tersebut.  Penggunaan bahan pakan limbah atau bahan pakan alternative yang telah diolah secara fermentasi dapat mengurangi penggunaan pakan konvensional sehingga lebih ekonomis.  Solusi yang ditawarkan adalah perbaikan manajemen pemeliharaan ternak babi : a) Cara mengolah limbah pertanian menjadi bahan pakan alternative; b) Cara mencampur bahan pakan terfermentasi sebagai  komponen pakan komplit, c). Cara pengelolaan kesehatan lingkungan kandang, cara melakukan perhitungan ekonomi usaha ternak babi.    Evaluasi dilakukan : tingkat ketrampilan dengan indikator: keberhasilan dalam membuat bahan pakan fermentasi, kebenaran membuat pakan campuran dengan komponen bahan pakan terfermentasi, cara pemberian pakan, pengelolaan kesehatan ternak dan lingkungan.  Hasil yang dicapai :  terjadi peningkatan ketrampilan dalam pemeliharaan ternak dalam pengelolaan penyediaan pakan berkualitas dan pakan yang dihasilkan lebih ekonomis.
Kata kunci: babi, limbah pertanian, kualitas pakan
ABSTRACT
 The problems faced by farmer groups in Baumata Timur Village, Taebenu District, Kupang Regency, East Nusa Tenggara (NTT) in raising pigs are productivity and low maintenance amounts (1-5 head), long maintenance time. The cause of this problem is the high cost of feed due to relying on commercial feed which is relatively expensive and continues to increase. Management of pig raising is not optimal: utilization of agricultural waste is not optimal, alternative feed ingredients have not been carried out properly, because the knowledge and technology (IPTEK), especially the processing of waste materials or alternative materials, are not known correctly and precisely. Processing agricultural waste by fermentation can improve the quality (protein, digestibility and palatability) of the feed ingredients. The use of waste feed ingredients or alternative feed ingredients that have been processed by fermentation can reduce the use of conventional feed so that it is more economical. The solution offered is to improve the management of pig raising: a) How to process agricultural waste into alternative feed ingredients; b) How to mix fermented feed ingredients as a complete feed component, c). How to manage the environmental health of the pen, how to carry out economic calculations for pig farming. Evaluation is carried out: skill level with indicators: success in making fermented feed ingredients, the truth of making mixed feed with fermented feed ingredients components, how to feed, livestock health management and the environment. The results achieved: there is an increase in skills in raising livestock in the management of providing quality feed and the resulting feed is more economical.
 Key words: pigs, agricultural waste, feed quality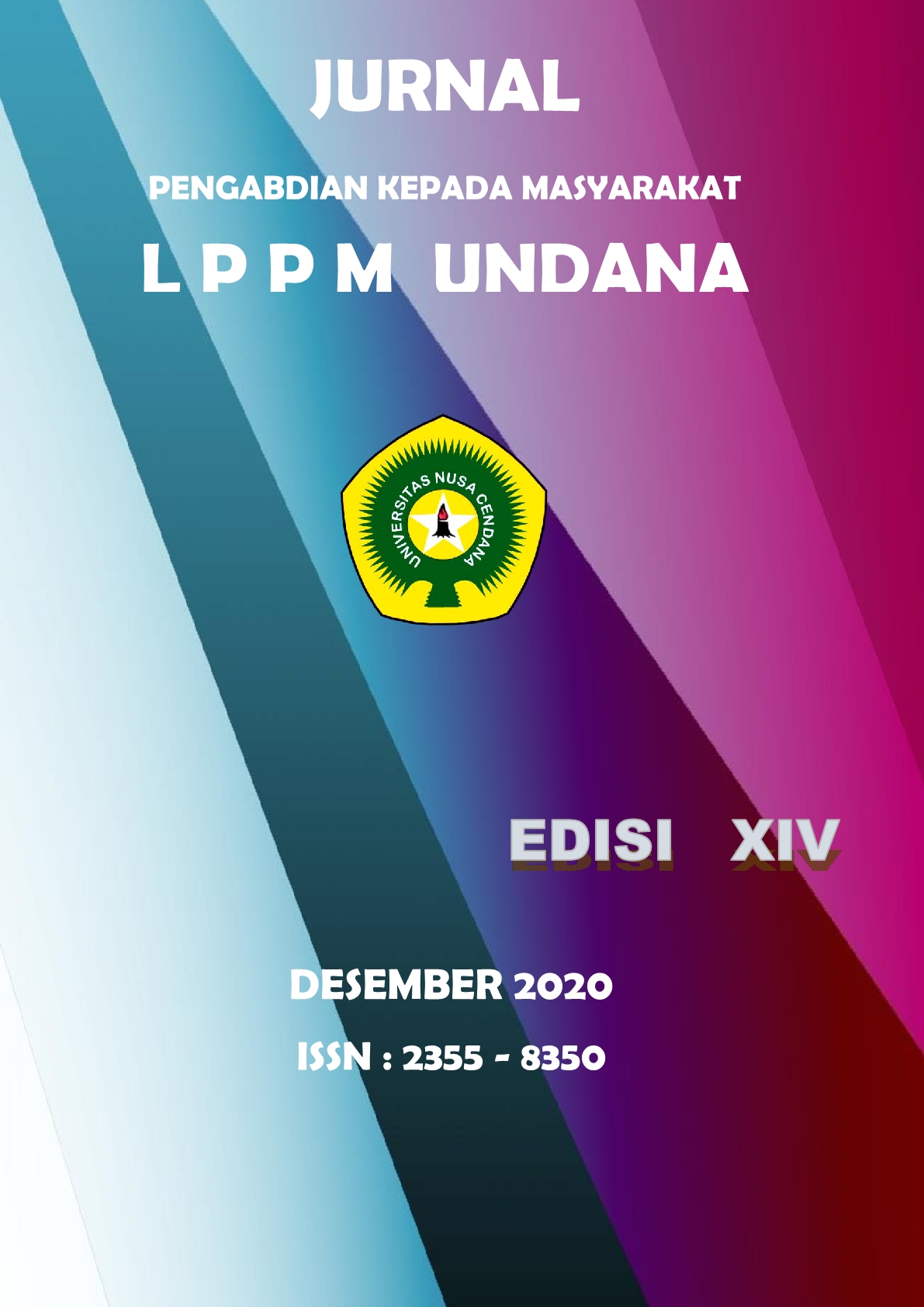 How to Cite
Suryani, N. N. (2020). PERBAIKAN MANAJEMEN PAKAN DENGAN PENGGUNAAN LIMBAH PERTANIAN PADA PETERNAKAN BABI DI DESA BAUMATA TIMUR. Jurnal Pengabdian Kepada Masyarakat Undana, 14(2), 92-101. Retrieved from https://ejurnal.undana.ac.id/index.php/jlppm/article/view/3464