Pelatihan Paving Block bagi Pemuda GMIT Tamariska Maulafa Kota Kupang
Evtaleny R. Mauboy

Universitas Nusa Cendana

Yermia Djefri Manafe

Universitas Nusa Cendana

Dantje Sina

Universitas Nusa Cendana
Keywords:
Youth empowerment, paving block, pemberdayaan pemuda
Abstract
Abstrak
Generasi muda merupakan bagian dari masyarakat sosial yang memegang peranan penting dalam meregensi banyak aspek kehidupan. Kelompok ini berpeluang untuk bertindak sebagai agent of change bagi bangsa dan negara melalui ide – ide yang kreatif dan inovatif. Berdasarkan survei yang dilakukan di Kelurahan Maulafa, masih banyak para pemuda menghabiskan waktunya hanya untuk nongkrong bersama teman dan melakukan hal-hal yang tidak produktif seperti bermain game online atau bahkan mabuk. Solusi yang ditawarkan dari program ini adalah memberikan pemahaman dan keterampilan dalam bentuk usaha kreatif serta menanamkan rasa peduli terhadap lingkungan kepada Pemuda Gereja yang bernilai ekonomi yaitu merangsang potensi Pemuda Gereja dalam kegiatan pemberdayaan melalui usaha kreatif ekonomis pembuatan paving block.
Abstract  
The younger generation is part of a social society that plays an important role in managing many aspects of life. This group has the opportunity to act as agents of change for the country through creative and innovative ideas. Based on a survey conducted in Maulafa, there are still many teenagers who spend their time just hanging out with friends and doing unproductive things such as playing online games or even getting drunk. The solution offered from this program is to provide understanding and skills in the form of creative businesses and instill a sense of care for the environment, which has economic value, stimulating the potential of the teenager in empowerment activities through economical creative business in making paving blocks.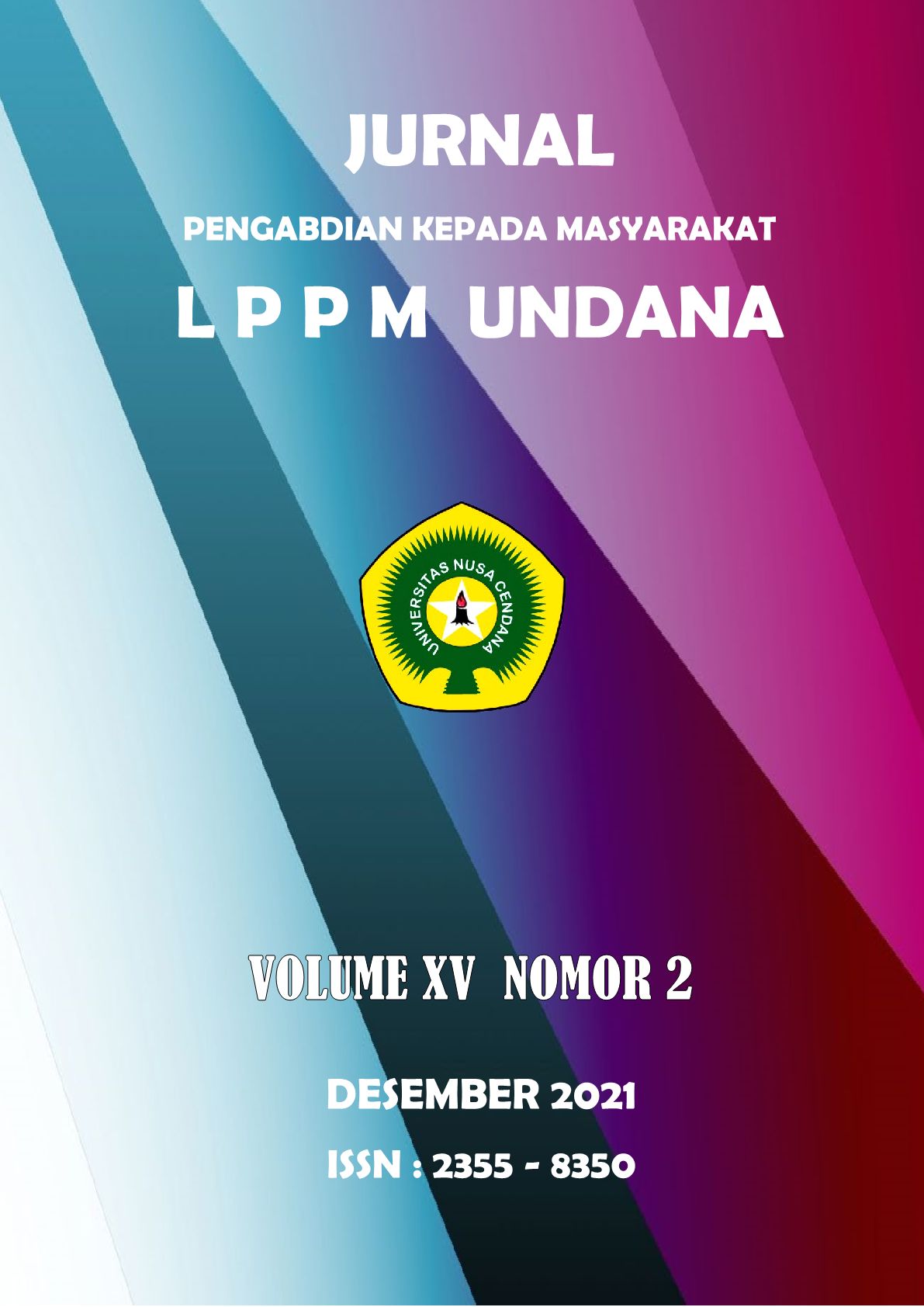 How to Cite
Mauboy, E., Manafe, Y., & Sina, D. (2021). Pelatihan Paving Block bagi Pemuda GMIT Tamariska Maulafa Kota Kupang. Jurnal Pengabdian Kepada Masyarakat Undana, 15(2), 52-55. Retrieved from https://ejurnal.undana.ac.id/index.php/jlppm/article/view/6055