ANALISIS KELAYAKAN USAHA TERNAK SAPI POTONG DI KECAMATAN RAIMANUK KABUPATEN BELU (Feasibility analysis of beef cattle business in Raimanuk Sub-District of Belu)
Theofila S.R. Taek

Universitas Nusa Cendana

Ulrikus Romsen Lole

Faculty of Animal Husbandry, University of Nusa Cendana

Arnoldus Keban

Universitas Nusa Cendana
Keywords:
beef cattle, income, business feasibility
Abstract
This study aims to were: 1) to know the amount of income farmers in the business of beef cattle in the District Raimanuk. 2) to know the feasibility of beef cattle business in Raimanuk District. Sampling is done through two stages. The first stage is the determination of sample villages conducted by purposive sampling and the second stage is the determination of the respondents who made a simple random. The data were collected using interview technique. The data collected includes primary and secondary data. Primary data obtained from observation and interview, while secondary data obtained from related institutions and literature related to research. The analysis is done by using income analysis and financial analysis. The results showed that the income earned by each cattle rancher amounted to Rp10.318.759/year and the financial investment criteria such as NPV Rp7. 561.847, Net B/C 1.96, IRR 23%, and PBP 2.96 years.
References
Anis SD, Wantasen E, Dalie S, Kaligis DA, Paputungan U. 2015. Beef cattle feasibility study of household farm in Bolmong Regency, North Sulawesi Province of Indonesia. International Journal of Agriculture Sciences and Natural Resources 2(2): 36-39.
BPS Belu. 2017. Belu dalam Angka 2017. Kantor BPS Kabupaten Belu, Atambua.
Choliq A, Wirasasmita R, Sofwan O. 1999. Evaluasi Proyek, Suatu Pengantar. Pioner Jaya. Bandung.
Darmawi D. 2011. Pendapatan usaha pemeliharaan sapi bali di Kabupaten Muaro Jambi. Jurnal Ilmiah Ilmu-Ilmu Peternakan 14(1):14−22.
Ekowati T, Darwanto DH, Nurtini S, Suryantini A. 2011. The analysis of beef cattle subsystem agribusiness implementation in Central Java Province, Indonesia. J. Indonesian Trop. Anim. Agric. 36(4): 281-289.
Elly FH, Sinaga BM, Kuntjoro SU, Kusnadi N. 2008. Pengembangan usaha ternak sapi rakyat melalui integrasi sapi tanaman di Sulawesi Utara. Jurnal Litbang Pertanian 27(2): 63−68.
Emawati S, Widiati R, Budisatria IGS. 2008. Analisis investasi usahatani pembibitan sapi peranakan limousine di Kabupaten Sleman. Jurnal Sains Peternakan 6(2): 22−30.
Handayanta E, Rahayu ET, Sumiyati M. 2016. Analisis finansial usaha peternakan pembibitan sapi potong rakyat di daerah pertanian lahan kering (Studi kasus di wilayah Kecamatan Semin, Kabupaten Gunung Kidul, Daerah Istimewa Yogyakarta). Sains Peternakan 14(1): 13-20.
Hastang, Asnawi A. 2014. Analisis keuntungan peternak sapi potong berbasis peternakan rakyat di Kabupaten Bone. Jurnal Ilmu-Ilmu Peternakan 1 (1) : 240-252.
Hoddi AH, Rombe MB, Fahrul. 2011. Analisis pendapatan peternakan sapi potong di Kecamatan Tanete Rilau, Kabupaten Barru. Fakultas Peternakan Universitas Hasanuddin. Jurnal Agribisnis 10(3): 98–109.
Husnan S, Suwarsono. 2005. Studi Kelayakan Proyek. Fakultas Ekonomi. Universitas Gadjah Mada. Yogyakarta.
Juhász J. 2011. Net present value versus internal rate of return. J. Economics and Sociology 4(1): 46-53.
Lestari RD, Baga LM, Nurmalita R. 2015. Analisis keuntungan finansial usaha penggemukan sapi potong di Kabupaten Bojonegoro. SEPA: Jurnal Sosial Ekonomi Pertanian dan Agribisnis 11(2), 207-2015.
Letuata PUM, Soepranianondo K, Soeharsono. 2015. Analisis finansial pada peternakan sapi potong dengan sistem manajemen amarasi di Kecamatan Amarasi Barat Kabupaten Kupang Nusa Tenggara Timur. Jurnal Agroveteriner Juni 2015 3(2): 65-70
Prasetyo E, Sunarso Santosa PB, Rianto E. 2012. The influence of agribusiness subsystem on beef cattle fattening farm's profit in Central Java. J. Indonesian Trop. Anim. Agric. 37(2): 121-126.
Rademarker A, Suryantini A, Mulyo JH. 2017. Financial feasibility of investing in smallholder cow-calf cooperatives in Baluran National Park. Agro Ekonomi 28(1): 126-141.
Rasyaf. 2003. Memasarkan Hasil Peternakan. Penebar Swadaya, Jakarta.
Riadi S, Nur S, Muatip K. 2014. Faktor-faktor yang berpengaruh terhadap pendapatan peternak sapi di Kabupaten Banyumas. Jurnal Ilmiah Peternakan. 2(1): 313-318.
Sahala J, Widiati R, Baliarti E. 2016. Analisis kelayakan finansial usaha penggemukan sapi simmental peranakan ongole dan faktor-faktor yang berpengaruh terhadap jumlah kepemilikan pada peternakan rakyat di Kabupaten Karanganyar. Buletin Peternakan. 40(1): 75−82.
Sarma PK, Raha SK, Jørgensen H. 2014. An economic analysis of beef cattle fattening in selected areas of Pabna and Sirajgonj Districts. J. Bangladesh Agril. Univ. 12(1), 127- 134.
Sitindaon SH, Zurriyati Y. 2012. Minat beberapa kelompok ternak terhadap pemanfaatan pelepah kelapa sawit sebagai pakan di Kecamatan Bangkinang Seberang Kabupaten Kampar Provinsi Riau. Prosiding Seminar Nasional Membangun Center of Excellent untuk Pengembangan Industri Peternakan Menuju Swasembada Daging Nasional. Mataram, 11 Desember 2012. pp: 411-425.
Soeharsono, Saptati RA, Diwyanto K. 2010. Kinerja reproduksi sapi potong lokal dan sapi persilangan hasil inseminasi buatan di Daerah Istimewa Yogyakarta. Prosiding.Semnas Teknologi Peternakan dan Veternier. Bogor 3-4 Agustus 2010. pp: 89−99.
Soekartawi. 2006. Teori Ekonomi Produksi Metode Perhitungan Pendapatan Bersih Usaha Tani Ternak. PT Radja Grafindo Persada, Jakarta.
Wirdahayati RB. 2010. Kajian kelayakan dan adopsi inovasi teknologi sapi potong mendukung program PSDS: Kasus Jawa Timur dan Jawa Barat. Prosiding. Seminar Nasional Peternakan dan Veteriner. Bogor 3−4 Agustus 2010. pp: 339−346.
Yusna SH, Fauzia L, Salmah. 2017. Analisis kelayakan finansial usaha ternak sapi potong (Studi kasus: Desa Medan Senembah Kecamatan Tanjung Morawa Kabupaten Deli Serdang). Jurnal on Social Economic of Agriculture and Agribusinee. 6(2) Feb 2017.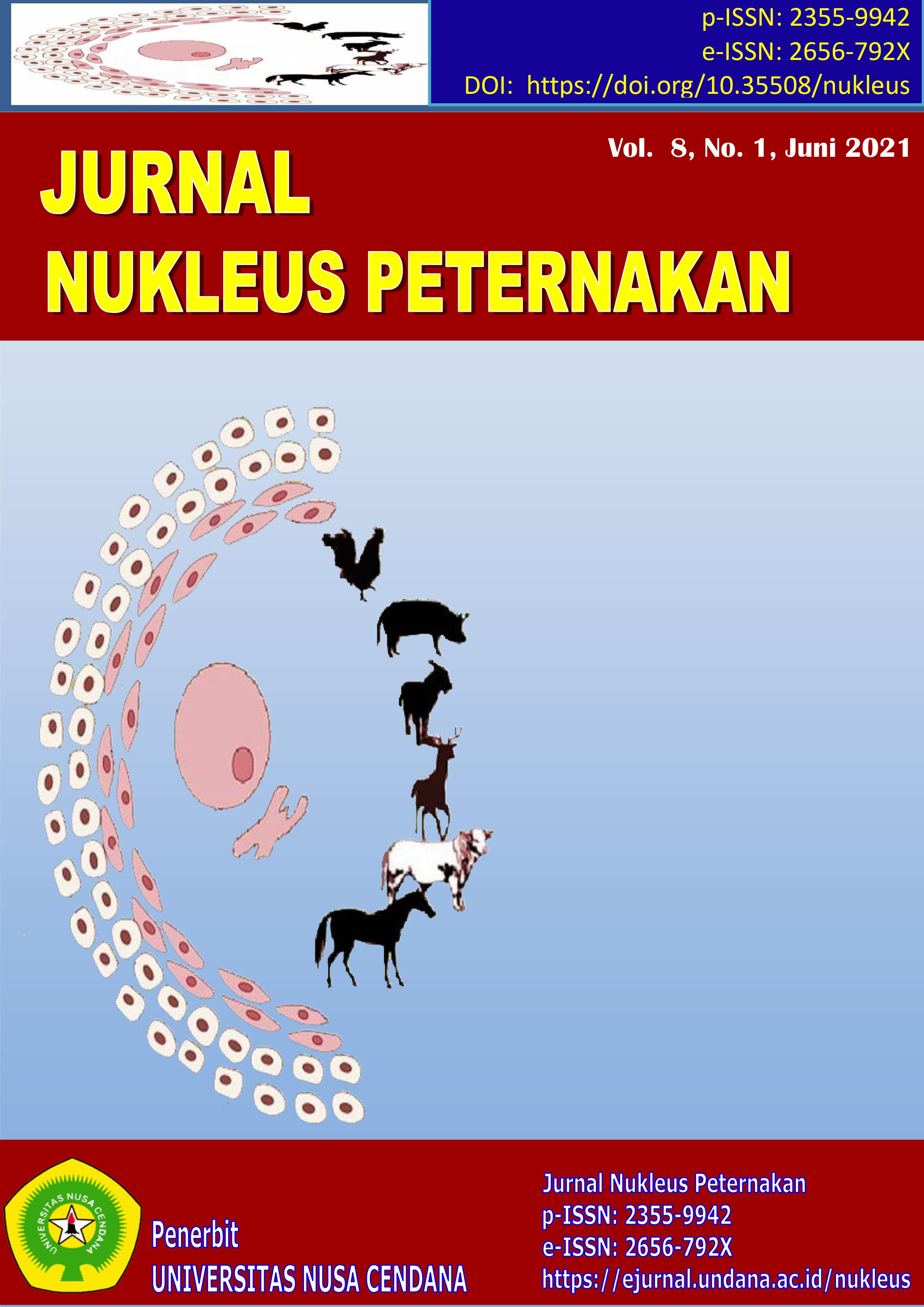 How to Cite
Taek, T., Lole, U., & Keban, A. (2021). ANALISIS KELAYAKAN USAHA TERNAK SAPI POTONG DI KECAMATAN RAIMANUK KABUPATEN BELU (Feasibility analysis of beef cattle business in Raimanuk Sub-District of Belu). JURNAL NUKLEUS PETERNAKAN, 8(1), 14-22. https://doi.org/10.35508/nukleus.v8i1.4222
Copyright (c) 2021 JURNAL NUKLEUS PETERNAKAN
This work is licensed under a Creative Commons Attribution-NonCommercial-NoDerivatives 4.0 International License.