EFISIENSI PAKAN DAN KUALITAS KARKAS BABI YANG MENDAPAT SUPLEMENTASI LARUTAN DAUN KELOR (Moringa oleifera Lam) DALAM "LIQUID FEEDING" (Feed eficiency and pigs carcass quality wich gets supplementation of moringa oleifera solution in liquid feeding)
Ni Nengah Suryani

Universitas Nusa Cendana

I Made S. Aryanta

Universitas Nusa Cendana

Tagu Dodu

Universitas Nusa Cendana
Keywords:
Pig, Moringa, Feed Efficiency, carcass quality
Abstract
The study aimed at evaluating the effect supplementation of moringa (Moringa oleifera. L) leaves solution into liquid feeding on feed efficiency and carcass quality in landrace crossbred  growing-finishing pig. There were 12 barrows with 18 – 45 (average 29.17) kg, CV 24,17% initial body weight used in the study. Trial method using block design 4 treaments with 3 replicates pocedures were applied in the study. The 4 treatment diets offered in the trial were: T0 = basal diet (control) T1 = basal diet + Moringa leaves colution 5%; T2 = basal diet + Moringa solution 10%; and T3 = basal diet + Moringa solution 15%. Variables evaluiated in the study were: Feed efficiency, carcass quality (carcass weight, carcass percentage, loin eye area and bact fat). Results this study shows the treatment of moringa leaf solution supplementation markedly into liquid feeding is not significant (P>0.05) increased on feed efficiency, carcass weight and loin eye area but significant increased (P>0.05) on carcass percentage and reduced back fat thickness. The conclusion: the treatment of moringa leaf solution has the tendency to increase feed efficiency and can improve the quality of the carcass by increasing the loin eye area and decreasing the thickness of back fat. It was concluded that moringa leaf supplementation in liquid feeding > 10% of the feed can improve carcass quality.
References
Alabi OJ, Malik AD, Ng'mbi JW, Obaje P, Ojo BK. 2017. Effect of aqueous moringa oleifera leaf extract on growth performance and carcass characteristic of bubbard broiler chickens. Brazilliann Journal of Poultry Sci. 19(2): 1-5.
Aminah S, Ramdhan T, Yanis M. 2015. Kandungan nutrisi dan sifat fungsional tanaman kelor (Moringa oleifera). Buletin Pertanian Perkotaan 5(2): 35-44.
Aryanta IMS, Suryani NN. 2014. Suplementasi tepung daun kelor dalam ransum rendah protein terhadap konsumsi ransum, pertambahan bobot badan dan efisiensi pakan babi fase pertumbuhan. Prosiding Seminar Nasional Peternakan Berkelanjutan Berbasis Lahan Kering. Lembaga Penelitian Undana. Pp 45-50.
Broin. 2010. Growing and processing moringa leaves. France: Imprimerie Horizon. 49-57.
Brooks PH. 2003. Liquid Feeding as a Means to Promote Pigs Health. Departement of Argiculture and Food Studies of University of Playmouth, United Kigdom. Pp. 83-103.
Eusibio JA. 1980. Pig production in the tropics. Longman Scientific Technical. England. Pp.96-100.
Gakuya DW, Mbugua PN, Kavoi B, Kiama SG. 2014. Effect of Supplementation of moringa oleifera leaf meal in broiler chicken feed. International Journal of Poultry Science 13 (4): 208-213.
Ichwan. 2003. Membuat pakan ras pedaging. Agro Media Pustaka. Tangerang. Hal.10-15.
Istri Putri TJ. 2015. Pengaruh lama pemberian bungkil inti sawit (BIS) dalam ransum terhadap kualitas karkas babi landrace. Prosiding Seminar Nasional Ternak Babi dan kongres I AITBI 4-5 Agustus 2015: 218-225. Fakultas Peternakan Udayana. Denpasar Bali.
Maeda K, Yamanaka K, Masanaritoyoshi and Irea M. 2018. Effects of dietary protein and fat levels on growth performance and meat quality in finishing pigs while maintaining sufficient lysine. International Journal of Animal Science. 2(3):1-8.
Mukumbo FE, Maphosa1 V, Hugo A, Nkukwana TT, Mabusela TP, Muchenje. 2014. Effect of moringa oleifera leaf meal on finisher pig growth performance, meat quality, shelf life and fatty acid composition of pork. Journal of Animal Science 44(4): 388-400.
Nduku XP, Thobela T Nkukwana, Voster Muchenje. 2014. Effects of dietary inclusion of moringa oleifera leaf meal on feed conversion ratio and physico-chemical characteristics of pork from large white and kolbroek pigs. Proseding 60th International Congress of Meat Science and Technology, 17-22rd August 2014, Punta Del Este, Uruguay.
National Research Council. 1988. Nutrient Requirements of Swine. Ninth Reseved Edition. National Academy Press, Washington, D.C Pp 54-62.
Nugroho E. 2014. Beternak Babi. Eka Offiset. Semarang. Pp.29-36.
Oliver P, de los Santos FS, Fernández F, Ramos I, and Abukarma B. 2015. Effect of a liquid extract of moringa oleifera on body weight gain and overall body weight of weaning pigs. International Journal of Livestock Production 6(5):69-73.
Rohman F, Handarini R dan Nur H. 2018. Performa burung puyuh (Coturnix- coturnix japonica) periode pertumbuhan yang diberi larutan daun kelor. Jurnal Peternakan Nusantara. 4(2):75-82.
Setiyawan DI, Bidura INGN, Putra Wibawa AAP. 2014. Pengaruh pemberian ekstrak daun kelor (Moringa oleifera Lam) dan daun bawang putih (Allium sativum) melalui air minum terhadap berat karkas broiler umur 2-6 minggu. E-jurnal Tropika 2(3): 404-414.
Siti NW, Bidura IGNG. 2017. Pemanfaatan ekstrak air daun kelor (Moringa oleifera) melalui air minum untuk meningkatkan produksi dan menurunkan kolesterol telur ayam. Prosiding. Seminar Nasional Sains dan Teknologi IV th 2017 "Hilirisasi Inovasi Humaniora, Sains dan Teknologi untuk Pembangunan Berkelanjutan". 14-15 Desember 2017 di The Patra Bali Resort dan Villas Kuta Badung Bali.
Sriyani, Ariana. 2014. Studi karakteristik karkas babi bali asli dan babi peranakan landrace yang digunakan sebagai bahan baku babi guling. Majalah Ilmiah Peternakan. 21(2) :56-59.
Statistik Peternakan dan Kesehatan Hewan. 2015. Dirjen Peternakan dan Kesehatan Hewan Kementerian Pertanian. http://ditjennak.pertanian.go.id
Steel RGD dan Torrie JH. 1991. Prinsip dan Prosedur Statistika. Penerbit PT. Gramedia Pustaka Utama, Jakarta. Hal. 33-45.
Suranjaya IG, Ariana INT, Lindawati SA, Sukanata IW. 2016. Korelasi ukuran linear tubuh dengan bobot karkas dan recahan komersial karkas babi persilangan landrace jantan. Majalah Ilmiah Peternakan. 19(1):1-5.
Suratma AN, Hapsari Mahatmi, Ardana IBK, Kertha Besung IN. 2014. Daun kelor (Moringa oleifera Lam) sebagai feed suplemen untuk meningkatkan daya tahan babi terhadap infeksi parasit intestinal. Prosiding. Seminar Nasional Ternak Babi. Universitas Udayana. Denpasar.
The Pig Site. 2004. Loin eye size and what factors drive it? https://thepigsite.com/ articles/loin-eye-size-and-what-factors-drive-it (Diakses 18/6/2020).
Tonga Y, Mardewi NK, Suwitari NKE, Rukmini NKS, Astiti NMGR, dan Rejeki IGADS. 2016. Suplementasi tepung daun kelor (Moringa oliefera Lam) pada ransum untuk meningkatkan kualitas daging ayam broiler. Prosiding. Seminar Nasional Peternakan 2, Fakultas Peternakan Universitas Hasanuddin Makassar, 25 Agustus 2016.
Yingying L, Xiangfeng K. 2015. Effects of dietary protein/energy ratio on growth performance, carcass trait, meat quality, and plasma metabolites in pigs of different genotypes. Journal of Animal Science and Biotechnology. 6(1):36-46.
Zhang T, Bingwen Si, Yan Tu, Kai Cui, Chaolong Zhou, Qiyu Diao. 2019. Effect of including different levels of moringa (Moringa oleifera Lam) leaf meal in the diet of finishing pigs: Performance, pork quality, fatty acid composition, and amino acid profile. Czech Journal of Animal Science 64(3): 141-149.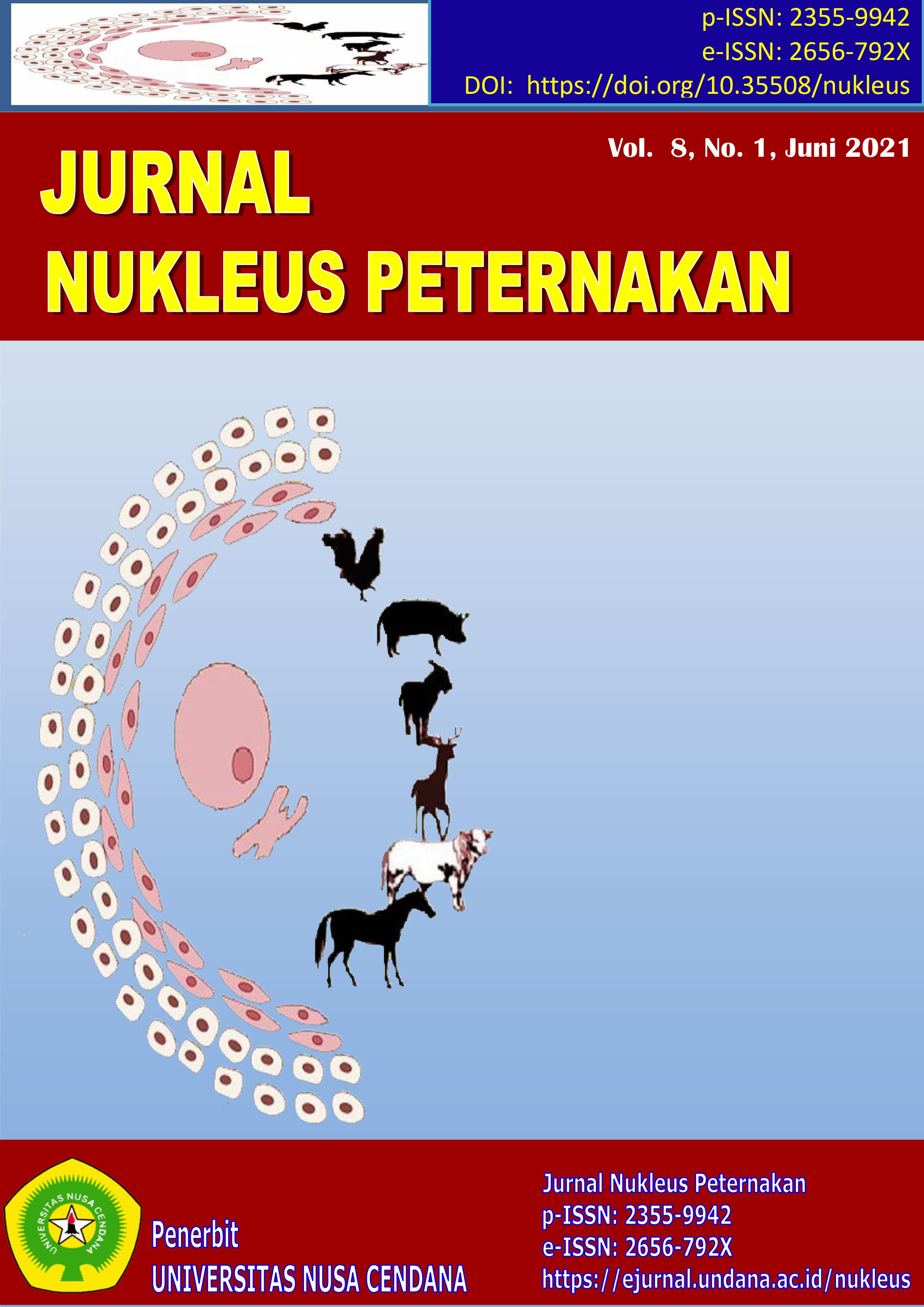 How to Cite
Suryani, N. N., Aryanta, I. M., & Dodu, T. (2021). EFISIENSI PAKAN DAN KUALITAS KARKAS BABI YANG MENDAPAT SUPLEMENTASI LARUTAN DAUN KELOR (Moringa oleifera Lam) DALAM "LIQUID FEEDING" (Feed eficiency and pigs carcass quality wich gets supplementation of moringa oleifera solution in liquid feeding). JURNAL NUKLEUS PETERNAKAN, 8(1), 6-13. https://doi.org/10.35508/nukleus.v8i1.4235
Copyright (c) 2021 JURNAL NUKLEUS PETERNAKAN
This work is licensed under a Creative Commons Attribution-NonCommercial-NoDerivatives 4.0 International License.