AN ANALYSIS OF FIGURATIVE LANGUAGE IN KAY RALA XANANA GUSMÃO'S LITERARY WORKS
Adelina Aparício(1*)


Graduate English Education Program, Nusa Cendana University

Josua Bire(2)


Graduate English Education Program, Nusa Cendana University

Feliks Tans(3)


Graduate English Education Program, Nusa Cendana University

(*) Corresponding Author

Keywords:
Figurative language, Xanana Gusmão, literary works
Abstract
Figurative language in its function as an artwork is to persuade readers for self-reflection and society as well. This study aims at identifying types of figurative language such as (anaphora, allegory, symbol, apostrophe, personification, metaphor and paradox) employed in three poems entitled "My Sea of Timor", "I am at War", and "Oh! Freedom!" of Kay Rala Xanana Gusmão by analyzing meaning, interpreting values pedagogically and giving of vision in terms of community contributions to nation building. "Content Analysis Approach" is utilized, through a documentary research. It was found that the poems portray poet's hardship experience in the struggle for freedom in the past with his people; and is appealing for a continuous fighting for the enhancement of social and cultural values, and for their sustainability by means of education. It concludes that, to ensure the sustainability of this scientific cultural patrimony it is necessary to preserve and develop the literary works of Kay Rala Xanana Gusmão through educational process i.e his poetries in English language teaching at all school levels in Timor Leste.
Downloads
Download data is not yet available.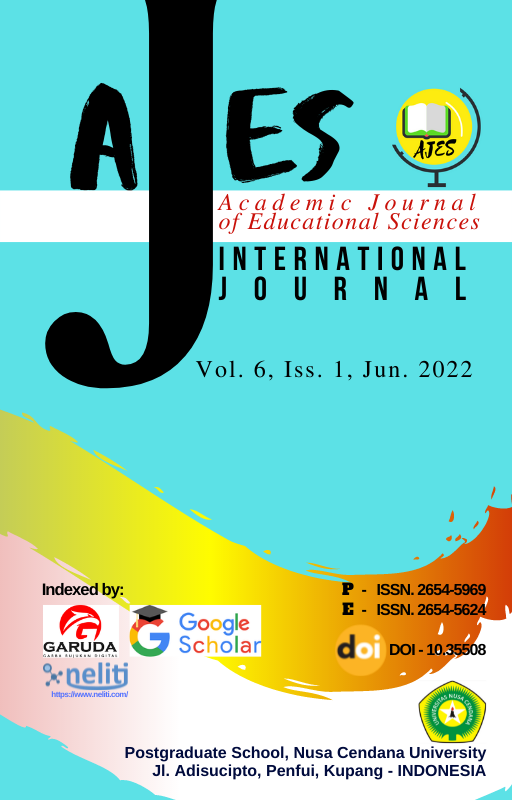 How to Cite
Aparício, A., Bire, J., & Tans, F. (2022). AN ANALYSIS OF FIGURATIVE LANGUAGE IN KAY RALA XANANA GUSMÃO'S LITERARY WORKS. Academic Journal of Educational Sciences, 6(1), 1-8. https://doi.org/10.35508/ajes.v6i1.7570