AN ANALYSIS OF FIGURATIVE LANGUAGE FOUND IN UAB METO SONGS
Jufrianti M. Taneo(1*)


English Education Study Program, Faculty of Teacher Training and Education Artha Wacana Christian University

Naniana N. Benu(2)


eng

Norci Beeh(3)


English Education Study Program, Faculty of Teacher Training and Education Artha Wacana Christian University

(*) Corresponding Author

Keywords:
Analysis, figurative language, Uab Meto songs
Abstract
This thesis is under the title " An analysis on Figurative Language Found in " Uab Meto Song" . The problem is conducted with the aim to find out the types of figurative language and the dominant types found in Uab Meto song . The method used in this study was descriptive qualitative method, the data was taken from videos on channel YouTube Imanuel Production. In analyzing the data , the writer used the theory about figurative language stated by Keraf (2009) . From the data analysis, the writer find out some figurative language used in Uab Meto song, here the writer analyzed five song, and the writer find out dominant types are found in uab meto songs, there are ; Simile 7.7%  Metaphor 7.7%  Hyperbole 7.7% Personification 11.53%   Synecdoche 11.53%  Paradox 7.7% Parallelism 11.53% Irony 7.7%   Metonymy 11.53%  Repetition 15.38% .  After making the analysis on the figurative language in" Uab Meto song". The writer expects this research could give some information or knowledge about figurative language used in Uab Meto song, the writer also excepts that young generation of South Central Timor Regency have to care of local language as one of the wealth of their culture must be preserved.
Downloads
Download data is not yet available.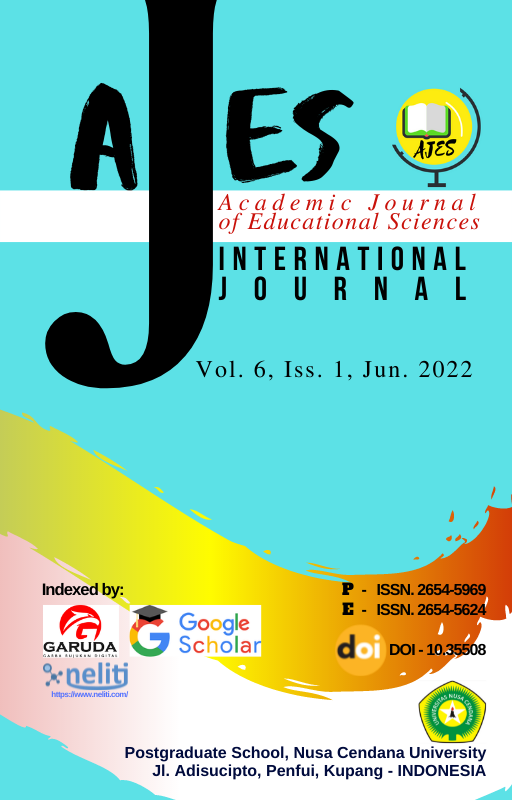 How to Cite
Taneo, J. M., Benu, N. N., & Beeh, N. (2022). AN ANALYSIS OF FIGURATIVE LANGUAGE FOUND IN UAB METO SONGS. Academic Journal of Educational Sciences, 6(1), 44-50. https://doi.org/10.35508/ajes.v6i1.7574