SOME STRATEGIES TO SUCCESSFULLY LEARN AND MASTER EFL
Feliks Tans(1*)


Undergraduate English Education Department, Nusa Cendana University, Kupang-Indonesia

Hilda M. Nalley(2)


Undergraduate English Education Department, Nusa Cendana University, Kupang-Indonesia

(*) Corresponding Author

Keywords:
Learning, EFL, mastering and strategies
Abstract
In this article, we argue that mastering a language or more than one language is something that can be successfully achieved by everyone in general, language students in particular, by implementing such strategies as:  (1) learning harder; (2) problem-based learning; (3) having good imagination of your future; (4) regular and more intensive practices of English; (5) positive thinking; (6) keeping in touch regularly with great people; (7) writing, publishing, and speaking at academic meetings as often as possible; and, (8), last, but not least, being healthy by thinking well, having good food, having regular exercises, and  trying not to smoke.  By implementing, among other things, those strategies, language learners, we believe, can indeed be fluent in using the language(s) they are learning, including English as a foreign language (EFL) in the context of this article.
Downloads
Download data is not yet available.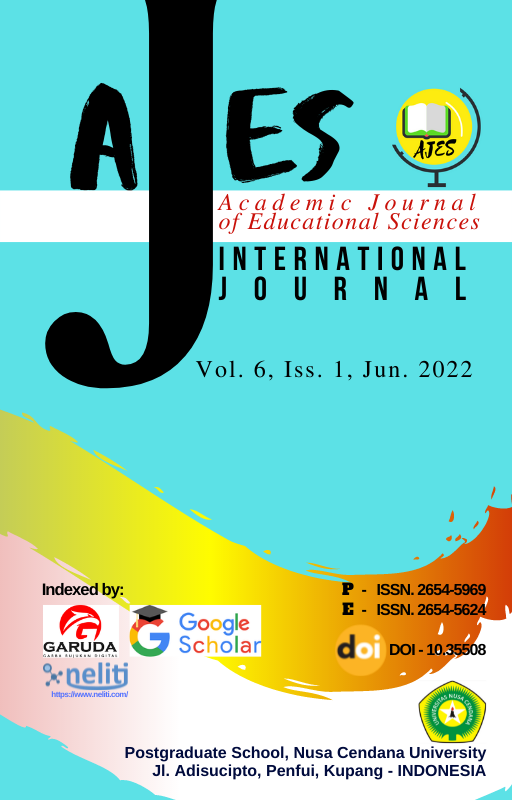 How to Cite
Tans, F., & Nalley, H. M. (2022). SOME STRATEGIES TO SUCCESSFULLY LEARN AND MASTER EFL. Academic Journal of Educational Sciences, 6(1), 101-106. https://doi.org/10.35508/ajes.v6i1.7578