STRATEGIC PLAN OF ONE DOOR INTEGRATED SERVICES AND INVESTMENT SERVICES (DPMPTSP) IN INCREASING INVESTMENT IN MALAKA REGENCY
Yanuarius Bria Seran(1*)


Graduate Public Administration Program, Nusa Cendana University, Kupang-Indonesia

David B. W. Pandie(2)


Graduate Public Administration Program, Nusa Cendana University, Kupang-Indonesia

Petrus E. de Rosari(3)


Graduate Public Administration Program, Nusa Cendana University, Kupang-Indonesia

(*) Corresponding Author

Keywords:
Investation, DPMPTSP, Malaka regency, SWOT
Abstract
The purpose of this study was to describe and analyze the Malacca District DPMPTSP Strategic Plan in Increasing Investment in Malacca District. This study uses several concepts including the concepts of planning, strategy, investment, regional autonomy, development plans, investment attractiveness, and regional investment climate. The method used in this research is descriptive qualitative where the data is taken from several techniques such as observation, interviews, and documentation. Data analysis using SWOT analysis model. The results of this study indicate that ;1) All informants know that there is already legal certainty that serves as an umbrella for investors/entrepreneurs. However, this is not proportional to the number of apparatus/personnel in DPMPTSP which is still considered very minimal because there are only 18 employees with civil servant status; 2) All informants said that the security conditions in Malacca Regency are always conducive, the socio-political conditions are still conducive so that investors can comfortably run their business and also the culture of the community is not too affected by the presence of entrepreneurs/investors; 3) The wheels of the economy in the community are running well; 4) The availability of labor is still quite a lot, but it is not supported by an adequate background and the wages of labor used so far are still below the UMP standard; 5) Existing infrastructure in the form of public roads, clean water and electricity piping networks built by the regional government and the condition of physical infrastructure is still good and good and is still being used today; 6) The absence of a regional regulation that regulates the mapping of investment potential; 7) There is no general investment plan (RUPM) in Malacca Regency yet; 8) Lack of coordination among OPD in Malacca Regency; and 9) The official DPMPTSP website is not yet available.
Downloads
Download data is not yet available.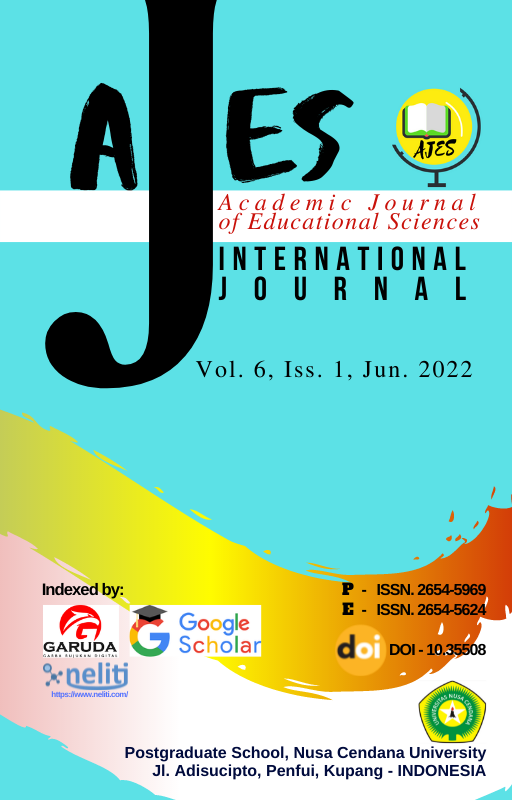 How to Cite
Seran, Y. B., Pandie, D. B. W., & Rosari, P. (2022). STRATEGIC PLAN OF ONE DOOR INTEGRATED SERVICES AND INVESTMENT SERVICES (DPMPTSP) IN INCREASING INVESTMENT IN MALAKA REGENCY. Academic Journal of Educational Sciences, 6(1), 62-84. https://doi.org/10.35508/ajes.v6i1.7581