CORPORATE SOCIAL RESPONSIBILITY (CSR) EFFECTIVENESS PT. INTI DAYA KENCANA IN MALAKA REGENCY
Wilhelmus Lutan(1*)


Graduate Public Administration Program, Nusa Cendana University, Kupang-Indonesia

David B. W. Pandie(2)


Graduate Public Administration Program, Nusa Cendana University, Kupang-Indonesia

Laurensius P. Sayrani(3)


Graduate Public Administration Program, Nusa Cendana University, Kupang-Indonesia

(*) Corresponding Author

Keywords:
Effectiveness, corporate social responsibility, Malaka regency
Abstract
This research aims at figuring the effectiveness of corporate social responsibility of PT. Inti Kencana in Malaka Regency. There are some concepts used in the research. They are development concept, public policy concept, concept of effectiveness, and corporate social responsibility. This research is included into a qualitative research where the data were taken using qualitative approach and described in a qualitative manner. The result of the research shows that that; 1) All informants understand the CSR program carried out by PT. IDK; 2) It is called right on target if CSR activities are given to people in need. In this stage, almost all informants are of the opinion that the CSR program of PT. IDK is right on target; 3) Timeliness, if the assistance provided coincides with the time when it is needed. At this stage, several informants said that the CSR assistance was not timely because the building that was built took a long time so that it was not finished immediately, was there and was immediately used because it still needed a process; 4) In the stage of achieving the objectives, almost all of the informants agreed that the objectives of CSR development had been achieved; 5) All informants are of the opinion that there has been a real change in the community with the development through the CSR program by PT. IDK.
Downloads
Download data is not yet available.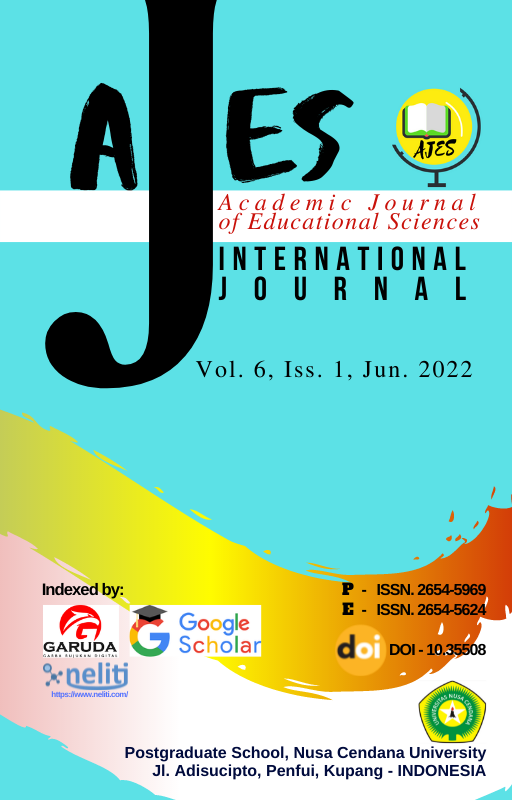 How to Cite
Lutan, W., Pandie, D. B. W., & Sayrani, L. P. (2022). CORPORATE SOCIAL RESPONSIBILITY (CSR) EFFECTIVENESS PT. INTI DAYA KENCANA IN MALAKA REGENCY. Academic Journal of Educational Sciences, 6(1), 85-100. https://doi.org/10.35508/ajes.v6i1.7582