Analisis Strategi Komunikasi KPI Menggunakan Situational Theory of Public Relation
Kasus Pernikahan Atta-Aurel
Aprisany Enggelin Aryesta

Students

Syrlia Selmi

Universitas Paramadina
Keywords:
Komisi Penyiaran Indonesia, Public Relation, Situational Theory Of Public Relation
Abstract
Maraknya penayangan acara privat di kanal frekuensi publik menimbulkan reaksi beragam dari masyarakat. Peran KPI sebagai regulator atas penyiaran publik menjadi hal penting. Penelitian ini hendak melihat bagaimana langkah-langkah strategi komunikasi public relation  Komisi Penyiaran Indonesia (KPI) dalam menghadapi kritik masyarakat di media sosial terhadap penayangan acara privat di ruang publik, dalam kasus penggunaan saluran publik pada siaran pernikahan Atta-Aurel, serta strategi komunikasi PR yang preventif kedepannya ketika menghadapi isu yang sama di kemudian hari, dengan menggunakan situational theory of public relation yang diperkenalkan oleh James E. Grunig. Metode yang digunakan dalam penelitian ini adalah paradigma konstruktivisme dengan metode deskriptif kualitatif dan teknik analisis kualitatif. Melalui teori dan metode yang digunakan maka dapat disimpulkan bahwa Strategi public relation yang dilakukan oleh KPI sudah sesuai dengan Situational Theory of Public Relation. Implikasi dari penelitian ini adalah  KPI secara responsif berhasil menyampaikan pesan ke seluruh kelompok publik. Diharapkan dengan penelitian ini dapat digunakan oleh pihak-pihak terkait dalam membuat strategi komunikasi saat menghadapi krisis dalam organisasi.
Downloads
Download data is not yet available.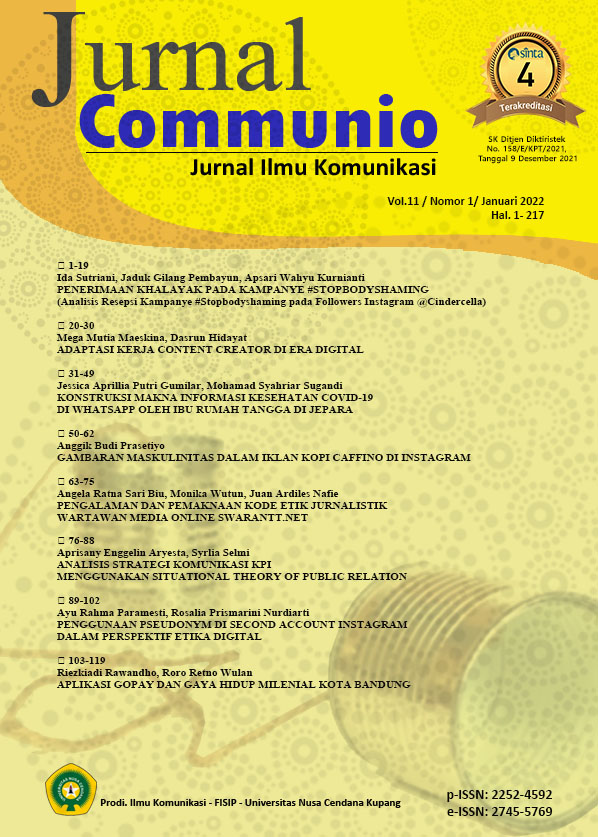 How to Cite
Aryesta, A., & Selmi, S. (2022). Analisis Strategi Komunikasi KPI Menggunakan Situational Theory of Public Relation. Jurnal Communio : Jurnal Jurusan Ilmu Komunikasi, 11(1), 76-88. https://doi.org/10.35508/jikom.v11i1.5037
Copyright (c) 2022 Aprisany Enggelin Aryesta, Syrlia Selmi
This work is licensed under a Creative Commons Attribution-ShareAlike 4.0 International License.