Adaptasi Kerja Content Creator di Era Digital
Mega Mutia Maeskina

Adhirajasa Reswara Sanjaya

Dasrun Hidayat

Program Studi Ilmu Komunikasi, Fakultas Komunikasi dan Desain, Universitas Adhirajasa Reswara Sanjaya
Keywords:
Literasi Digital;, Budaya Digital;, Konten Kreator;, Model IPPAR
Abstract
Di era digital semua aktivitas dihadapkan pada perubahan perilaku komunikasi termasuk pada content creator. Ia harus melakukan adaptasi terkait kerjanya dalam memproduksi konten. Kondisi ini penting dilakukan sebagai upaya mempertahankan views. Adapun tujuan penelitian ini yaitu untuk mengetahui karakteristik membuat konten, pemilihan media untuk menyalurkan konten, dan adaptasi content creator di era digital dalam membangun hubungan virtual dengan audience. Metode penelitian yang digunakan yaitu studi etnografi public relations dengan unit analisis model IPPAR meliputi (Insight, Program strategic, Program implemetation, Action and reputation) dan menggunakan pendekatan kualitatif dan paradigma konstruktivisme. Dalam menentukan informan peneliti menggunakan teknik purposif dan mengumpulkan data melalui wawancara secara online. Hasil penelitian ini menunjukan bahwa karakteristik dalam membuat konten ada 7 (tujuh) meliputi kategori konten, ciri khas, tema, hastag, caption, tampilan, talent dan kreativitas. Hasil penelitian ini juga menunjukkan dalam pemilihan media yaitu media yang high, populer dan banyak penggunanya. Content creator beradaptasi di era digital dengan menghasilkan konten menarik dan dapat menarik perhatian audience, menuangkan ide-idenya di media digital untuk mendapatkan peluang dalam digital marketing dan memiliki konten positif, dengan begitu content creator dapat membangun hubungan secara virtual dan mendapat dukungan dari audience berupa peningkatan followers, like, comment, share dan pesan.
Downloads
Download data is not yet available.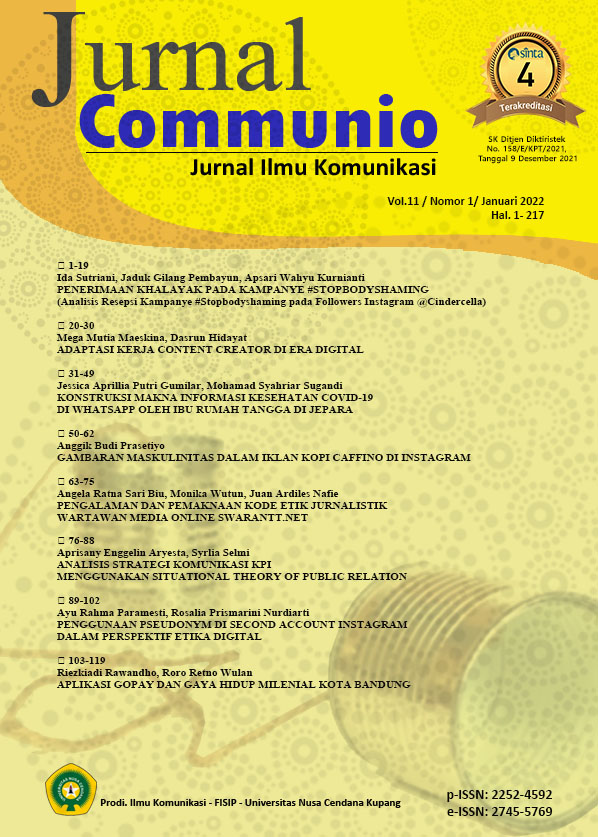 How to Cite
Maeskina, M., & Hidayat, D. (2022). Adaptasi Kerja Content Creator di Era Digital. Jurnal Communio : Jurnal Jurusan Ilmu Komunikasi, 11(1), 20-30. https://doi.org/10.35508/jikom.v11i1.5150
Copyright (c) 2022 Mega Mutia Maeskina, Dasrun Hidayat
This work is licensed under a Creative Commons Attribution-ShareAlike 4.0 International License.