Penerimaan Khalayak pada Kampanye #Stopbodyshaming
Analisis Resepsi Kampanye #Stopbodyshaming pada Followers Instagram @Cindercella
Ida Sutriani

Faculty of Social Science and Political Science, Tidar University.

Jaduk Gilang Pembayun

Apsari Wahyu Kurnianti
Keywords:
Body Shaming, Kampanye, Instagram, Resepsi
Abstract
Penelitian ini membahas tentang bagaimana pemaknaan followers Instagram @Cindercella pada kampanye stop body shaming Cindercella. Tujuan penelitian ini adalah mengetahui makna yang timbul pada followers Instagram Cindercella mengenai kampanye stop body shaming. Analisa digunakan dengan paradigma kritis dan menggunakan metode Analisis Resepsi milik Stuart Hall. Dalam menganalisis latar belakang informan dalam memaknai pesan kampanye tersebut, peneliti menggunakan Teori uses and gratification. Hasil penelitian ini adalah Cindercella ingin menunjukkan bahwa body shaming berbahaya bagi mental health korbannya. Selain itu Cindercella juga mengajak khalayak untuk selflove dan percaya diri apapun bentuk fisiknya. Pesan kampanye stop body shaming Cindercella diterima oleh masing-masing informan dengan makna yang berbeda. Akhirnya penelitian ini diharapkan dapat dijadikan acuan bagi public relation atau humas dalam melihat persepsi atau pemaknaan sebuah kampanye pada khalayak melalui media sosial.
Downloads
Download data is not yet available.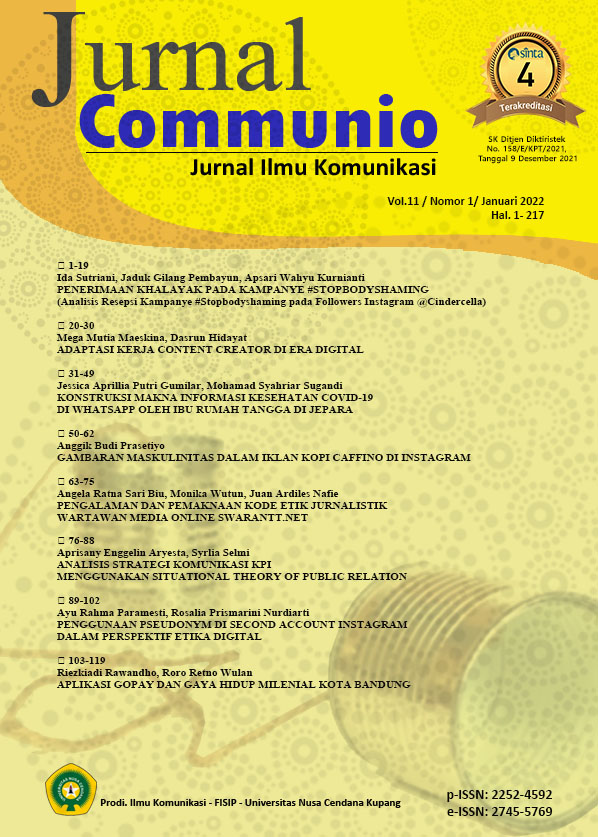 How to Cite
Sutriani, I., Pembayun, J., & Kurnianti, A. (2022). Penerimaan Khalayak pada Kampanye #Stopbodyshaming. Jurnal Communio : Jurnal Jurusan Ilmu Komunikasi, 11(1), 1 - 19. https://doi.org/10.35508/jikom.v11i1.5172
Copyright (c) 2022 Ida Sutriani, Jaduk Gilang Pembayun, Apsari Wahyu Kurnianti
This work is licensed under a Creative Commons Attribution-ShareAlike 4.0 International License.