ANALISIS FINANSIAL USAHATANI KACANG HIJAU DI KECAMATAN FATULEU KABUPATEN KUPANG PROVINSI NUSA TENGGARA TIMUR
Aldy Andani Manoe

Program Studi Agribinis, Fakultas Pertanian, Universitas Nusa Cendana

Marthen Robinson Pellokila

Universitas Nusa Cendana

I Nyoman Sirma

Program Studi Agribinis, Fakultas Pertanian, Universitas Nusa Cendana
Keywords:
green beans, income, BEP, R / C, , capital efficiency, multiple linear regression
Abstract
This research was conducted from August to September 2019 in Fatuleu Subdistrict, Kupang Regency. This research aimed to determine the income level, the BEP, the R/C ratio, the efficiency of capital use and the factors that influence the income of green bean farming in Fatuleu District, Kupang Regency. The number of samples used was 84 farmers and was disproportionately determined from 2 villages, namely Sillu and Oebola Village. The data used were primary and secondary data. The data was then analyzed using income analysis, BEP, R / C ratio, capital use efficiency and multiple linear regression analysis.
The results of the economic analysis showed that the average income per hectare of green bean farming in Fatuleu district was Rp.5,217,520,00 while the average income per hectare was Rp.1.989.484,00. The R/C ratio per hectare was 1,6, which meant that growing green beans in the Fatuleu district is economically viable. The BEP production per hectare was 230,57 and the BEP price was Rp. 8.661,00. Efficient use of capital in green bean farming amounted to 27% per hectare, Factors that significantly affected the income of green bean farming was production, while seed, pesticide, and labor costs, and land area did not significantly affect the income.
Downloads
Download data is not yet available.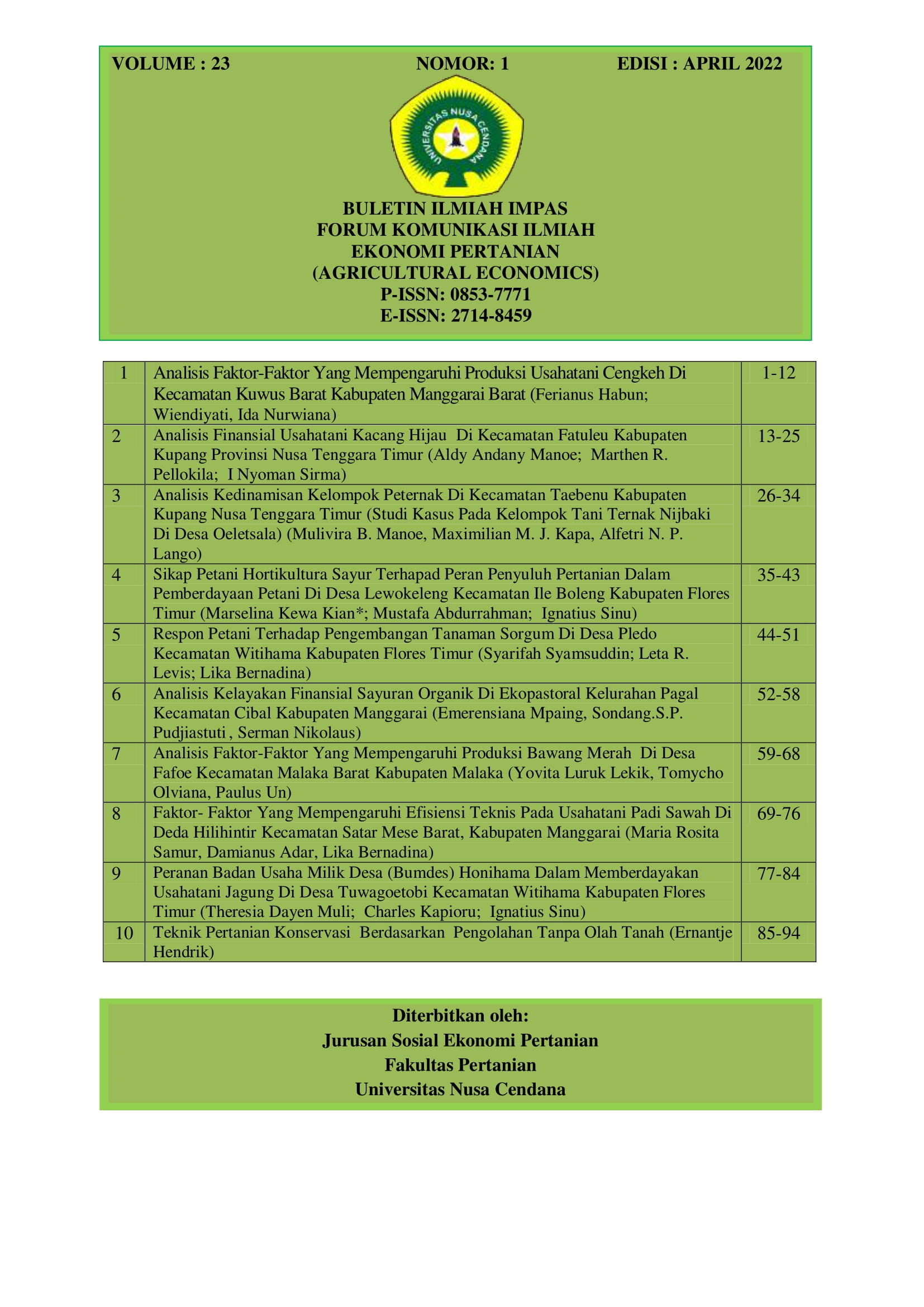 How to Cite
Manoe, A., Pellokila, M., & Sirma, I. (2022). ANALISIS FINANSIAL USAHATANI KACANG HIJAU DI KECAMATAN FATULEU KABUPATEN KUPANG PROVINSI NUSA TENGGARA TIMUR. Buletin Ilmiah IMPAS, 23(1), 13-25. https://doi.org/10.35508/impas.v23i1.7351