ANALISIS KELAYAKAN FINANSIAL SAYURAN ORGANIK DI EKOPASTORAL KELURAHAN PAGAL KECAMATAN CIBAL KABUPATEN MANGGARAI
Analysis of Financial Feasibility of Organic Vegetables in Pagal Ekopastoral Cibal Subdistrict Manggarai
Emerensiana Mpaing

Program Studi Agribinis, Fakultas Pertanian, Universitas Nusa Cendana

Sodang S. P. Pudjiastuti

Program Studi Agribinis, Fakultas Pertanian, Universitas Nusa Cendana

Serman Nikolaus

Program Studi Agribinis, Fakultas Pertanian, Universitas Nusa Cendana
Keywords:
organic vegetables, feasibility, income
Abstract
The research was conducted on organic vegetable business in Pagal Ekopastoral, Cibal Sub-district.  The research aims to determine the income and financial feasibility of organic vegetables with break event point and revenue cost ratio. Data collection with interviews using questionnaires. Data tabulated and analyzed with the method of break event point (BEP) and revenue Cost Ratio (R/C). These two types of analysis are divided into two forms, namely by vegetable type and overall.
Based on calculations using bep method of production and price, types of vegetables caisim, pakcoy, chicory, cauliflower and broccoli worth trying or developed next where BEP production of 153.5 kg means the point of return of organic vegetables is occurring at the time of production of 153.5 kg, while BEP organic vegetable prices achieved at a minimum price of Rp. 3,070 / kg, meaning the point of return of organic vegetables at a minimum price of Rp.3,070 /kg.
The calculation of R/C Ratio of all types of vegetables obtained a value of 3.25. Meaning that each cost expenditure of Rp. 1, then farmers will get a receipt of Rp.3.25. Based on this value shows that the revenue is greater than the cost of production so it can be said that the organic vegetable business in Ekopastoral is in a profitable position and worth running.
Downloads
Download data is not yet available.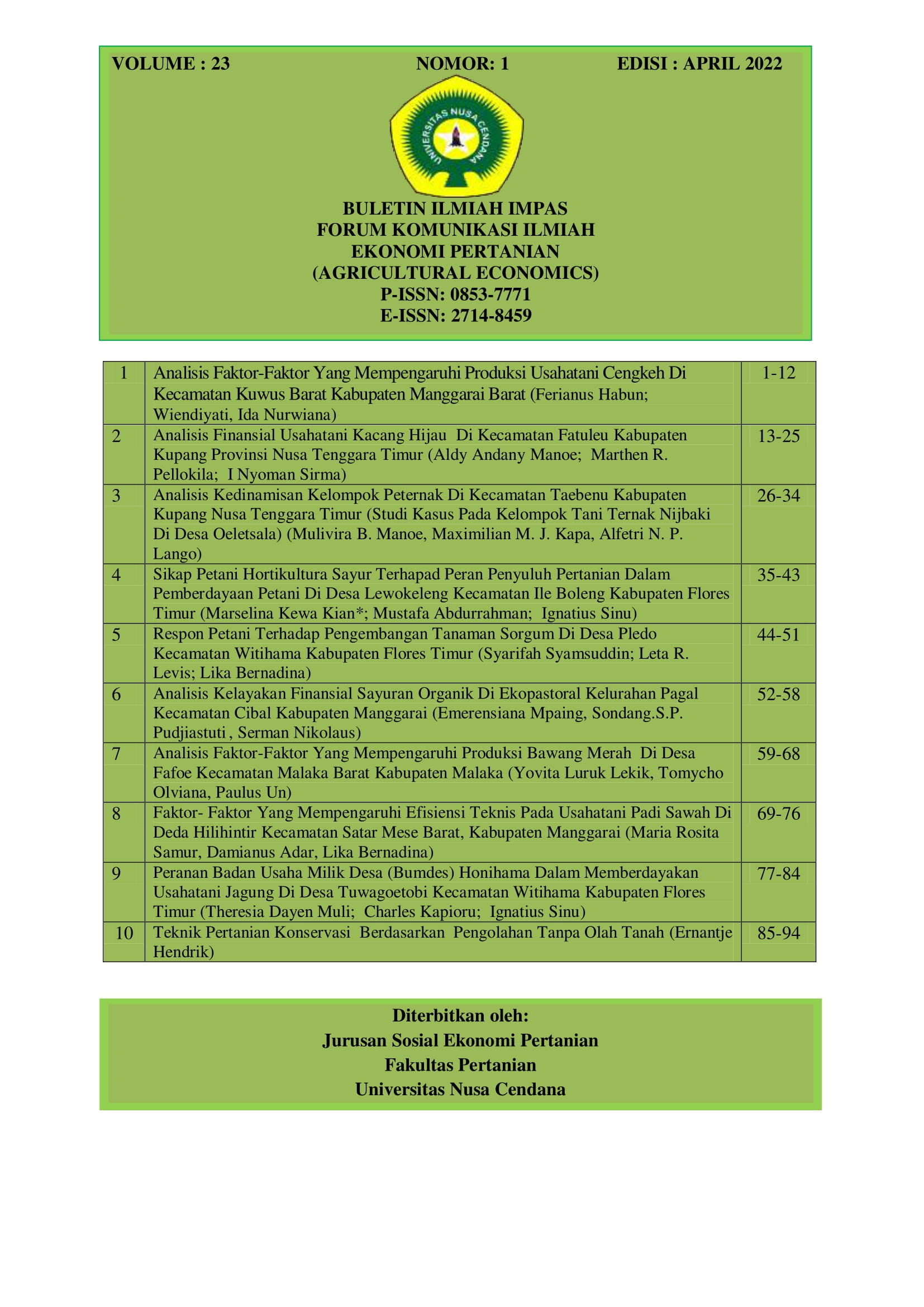 How to Cite
Mpaing, E., Pudjiastuti, S., & Nikolaus, S. (2022). ANALISIS KELAYAKAN FINANSIAL SAYURAN ORGANIK DI EKOPASTORAL KELURAHAN PAGAL KECAMATAN CIBAL KABUPATEN MANGGARAI. Buletin Ilmiah IMPAS, 23(1), 52-58. https://doi.org/10.35508/impas.v23i1.7355