FAKTOR- FAKTOR YANG MEMPENGARUHI EFISIENSI TEKNIS PADA USAHATANI PADI SAWAH DI DEDA HILIHINTIR KECAMATAN SATAR MESE BARAT KABUPATEN MANGGARAI
Factors Affecting Technical Efficiency of Rice Farm at Desa Beda, Kecamatan Satar Mese, Kabupaten Managgarai
Maria Rosita Samur

Program Studi Agribinis, Fakultas Pertanian, Universitas Nusa Cendana

Damianus Adar

Program Studi Agribinis, Fakultas Pertanian, Universitas Nusa Cendana

Lika Bernadina

Program Studi Agribinis, Fakultas Pertanian, Universitas Nusa Cendana
Keywords:
lowland rice, production factors, technical efficiency
Abstract
This research has been carried out in Hilihintir village, west Satar Mese district, manggarai regency. This research aims to determine (1) the factors that affect lowland rice farming, (2) how much technical efficiency is achieved in lowland rice farming, and (3) what are the sources of technical efficiency. Primary data were collected through interviews obtained from 61 respondents using questionnaires, the collected data were analyzed descriptively followed by frontier analysis 4.1c. The results showed that the variables of land area, seeds, labor, age and farmer group membership had positive effect on lowland rice farming, while the variables, fertilizers, pesticides, education level, farming experience and family dependents had a negative effect. The value of technical efficiency is 0.74 so that this farm is already technically efficient.
Downloads
Download data is not yet available.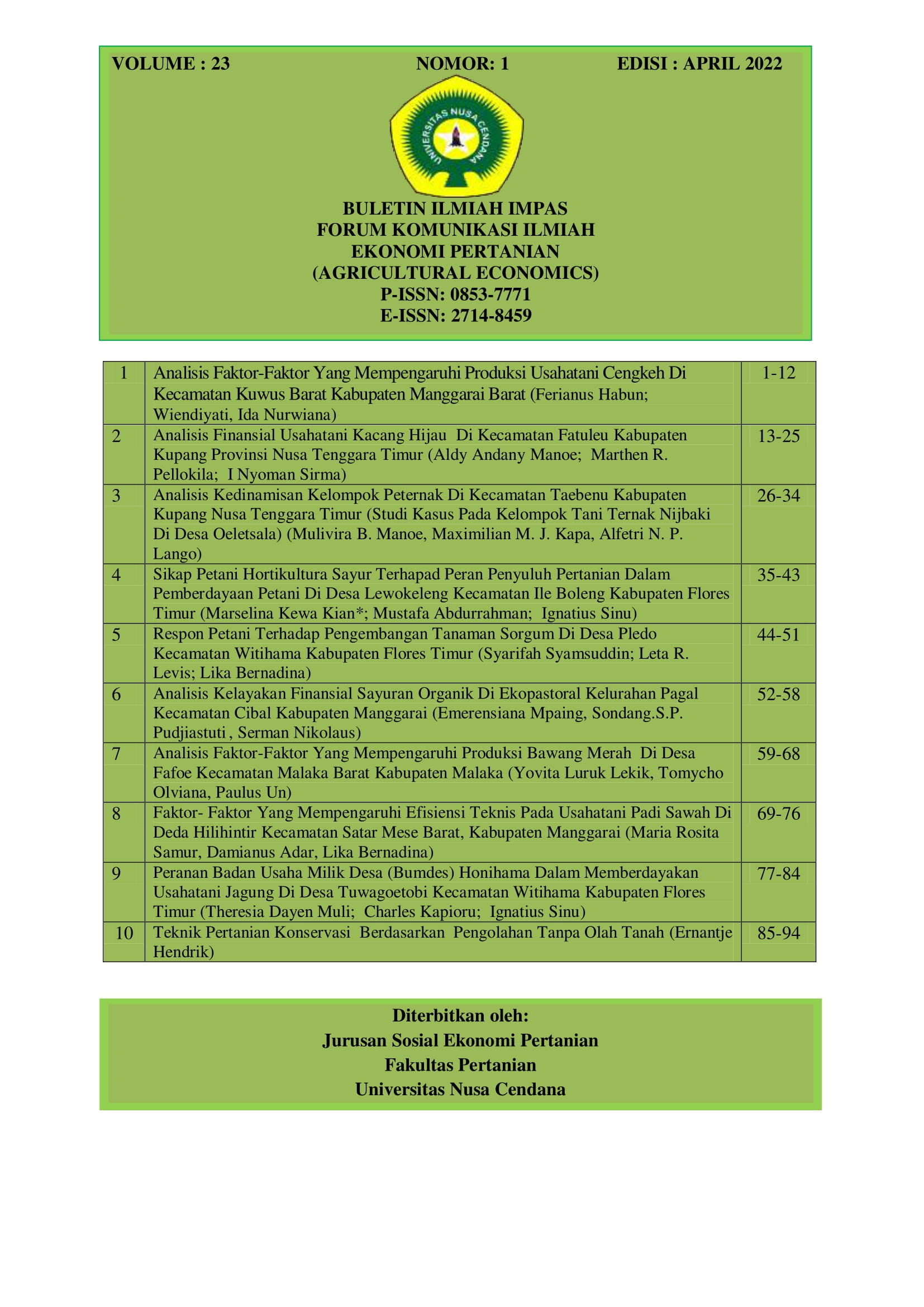 How to Cite
Samur, M., Adar, D., & Bernadina, L. (2022). FAKTOR- FAKTOR YANG MEMPENGARUHI EFISIENSI TEKNIS PADA USAHATANI PADI SAWAH DI DEDA HILIHINTIR KECAMATAN SATAR MESE BARAT KABUPATEN MANGGARAI. Buletin Ilmiah IMPAS, 23(1), 69-76. https://doi.org/10.35508/impas.v23i1.7358