PERANAN BADAN USAHA MILIK DESA (BUMDes) HONIHAMA DALAM MEMBERDAYAKAN USAHATANI JAGUNG DI DESA TUWAGOETOBI KECAMATAN WITIHAMA KABUPATEN FLORES TIMUR
The Role of Village Owned Enterprise Honihama in Empowering Corn's Farm at Desa Tuwagoetobi, Kecamatan Witihama, Kabaupaten Flores Timur
Theresia Dayen Muli

Program Studi Agribinis, Fakultas Pertanian, Universitas Nusa Cendana

Charles Kapioru

Program Studi Agribinis, Fakultas Pertanian, Universitas Nusa Cendana

Ignatius Sinu

Program Studi Agribinis, Fakultas Pertanian, Universitas Nusa Cendana
Keywords:
the role of village-owned enterprises, farmer empowerment
Abstract
This research was conducted in Tuwageotobi village, Witihama sub- District, East Flores Regency, from September 2020 to October 2020. The objective of the study are  to know: 1) Corn farming performance ( production and revenue), 2) the role of Village Owned Enterprises ( BUMdes ) in empowering corn farming.
This research used Cencus method. Determination of the research location is done intentionally (purposive sampling) considering that the BUMdes in Tuwageotobi village is one of the BUMdes which has farming empowerment program in accordance with the potential of the village. The total research population is 30 people. The type of data collected is primary data obtained from direct interviews with respondents who are guided by the list of questions, while secondary data is documentation obtained from related agencies and the central statistic agency. To find out the first objective to be analyzed quantitatively and the second objektive was analyzed by statistical test base on the average (mean).
The result of this study showed that  1) corn farming performance ( production and revenue) through activities carried out by BUMdes Honihama for 2 years that in 2019  as many as 9.583 kg with a total revenue is IDR  38.332.000, and in 2020 the total production of 19.203 kg with a total revenue of IDR 76. 812.000, where the amount of production and farmers income has increased. 2) The role of  Honihama village-owned enterprises ( BUMdes ) in empowering corn farmers, including human development, business development, capital development, capital development is classified as "good"  with an average score of 32.27.
Downloads
Download data is not yet available.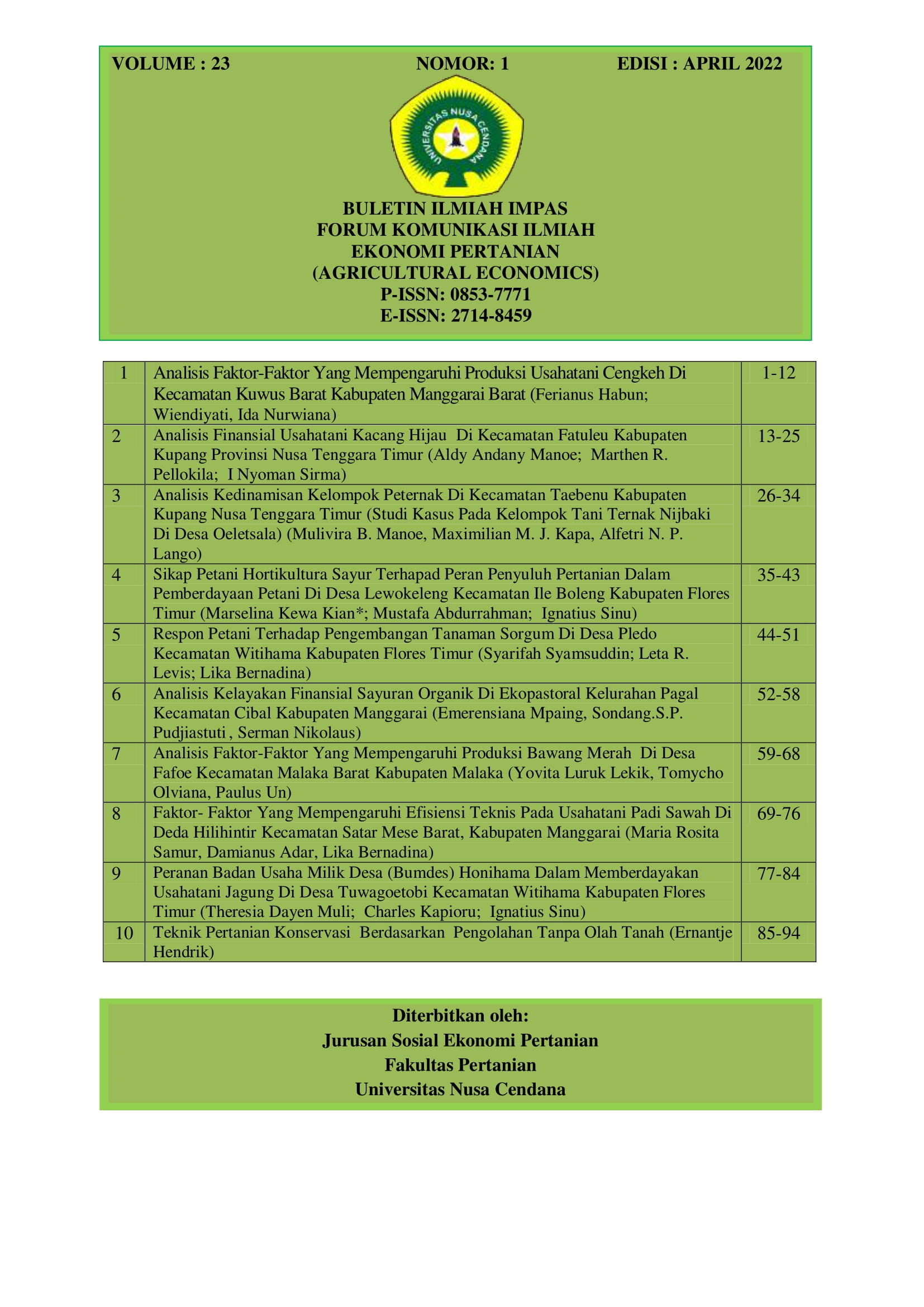 How to Cite
Muli, T., Kapioru, C., & Sinu, I. (2022). PERANAN BADAN USAHA MILIK DESA (BUMDes) HONIHAMA DALAM MEMBERDAYAKAN USAHATANI JAGUNG DI DESA TUWAGOETOBI KECAMATAN WITIHAMA KABUPATEN FLORES TIMUR. Buletin Ilmiah IMPAS, 23(1), 77-84. https://doi.org/10.35508/impas.v23i1.7359