Implementation of Hamilton Anxiety Rating Scale for Diagnosing Anxiety Levels in Students in Writing Thesis
Elfrida Veranda Beka Dede(1*)


Universitas Nusa Cendana

Sebastianus Adi Santoso Mola(2)


Universitas Nusa Cendana

Yelly Yosiana Nabuasa(3)


Universitas Nusa Cendana

(*) Corresponding Author

Keywords:
expert system, anxiety, students, forward chaining, Hamilton Anxiety Rating Scale
Abstract
Students who do thesis generally feel anxious. Lack of motivation and creativity, and there are still many students who find it difficult to write scientific papers are the main causes of anxiety. This anxiety needs to be addressed immediately so as not to have an impact on the writing time of the thesis which will be longer. Students can consult with a psychiatrist or psychologist to deal with anxiety. However, the inefficient consulting service becomes a problem due to the unbalanced comparison between the population in East Nusa Tenggara and clinical psychologists. Therefore, we need a system that has the experience and knowledge of an expert to determine the level of anxiety of students who are writing a thesis using the Hamilton Anxiety Rating Scale (HARS) and forward chaining inference. From the results of the research conducted, it is known that forward chaining inference is proven to be able to be applied and accurate in diagnosing anxiety levels in students who are writing thesis with 100% accuracy.
Downloads
Download data is not yet available.
References
"Facts & Statistics | Anxiety and Depression Association of America, ADAA." https://adaa.org/understanding-anxiety/facts-statistics (accessed Feb. 18, 2022).
S. K. Gupta and S. Venkatesan, Eds., Handbook of research on psychosocial perspectives of human communication disorders. Hershey, PA, USA: IGI Global, Medical Information Science Reference (an imprint of IGI Global), 2018. [Online]. Available: https://www.researchgate.net/publication/325246420_Handbook_of_Research_on_Psychosocial_Perspectives_of_Human_Communication_Disorders
"Indonesia Population (2022) - Worldometer." https://www.worldometers.info/world-population/indonesia-population/ (accessed Feb. 18, 2022).
"Pusat Data Strategis dan Statistik Ikatan Psikolog Klinis (IPK) Indonesia." https://data.ipkindonesia.or.id/ (accessed Feb. 18, 2022).
M. Habibullah, Y. Hastiana, and S. Hidayat, "Kecemasan Mahasiswa Dalam Menghadapi Seminar Hasil Skripsi Di Lingkungan Fkip Universitas Muhammadiyah Palembang," Jurnal Pendidikan Biologi, vol. 10, no. 1, p. 36, May 2019, doi: 10.24127/bioedukasi.v10i1.2015.
R. Manap, "Mental Health Problems among Undergraduate Students in Private Educational Institution," Journal of Social and Humanities, vol. 16, no. 2, p. 7, 2019.
I. R. Widigda and W. Setyaningrum, "Kecemasan Mahasiswa Pendidikan Matematika Universitas Riau Kepulauan Dalam Menghadapi Skripsi," Jurnal Pendidikan Matematika dan Sains, vol. 6, no. 2, p. 10, 2018.
L. Angelin, W. V. Syenshie, and P. A. Ferlan, "Tingkat Stres Berhubungan dengan Kejadian Generalized Anxiety Disorder (GAD) pada Mahasiswa Tingkat Akhir," Jurnal Keperawatan Jiwa (JKJ): Persatuan Perawat Nasional Indonesia, vol. 9, no. 2, p. 10, 2021.
J. Lee, H. J. Jeong, and S. Kim, "Stress, Anxiety, and Depression Among Undergraduate Students during the COVID-19 Pandemic and their Use of Mental Health Services," Innov High Educ, vol. 46, no. 5, pp. 519–538, Oct. 2021, doi: 10.1007/s10755-021-09552-y.
H. Irfan, S. Manzoor, and M. Niaz, "Level of Study Induced Anxiety among Undergraduate Students Before and After Examination," Journal of Psyciathry and Psychology Research, vol. 4, no. 1, p. 5, 2020.
H. F. Dalky and A. Gharaibeh, "Depression, Anxiety, and Stress Among College Students in Jordan and Their Need for Mental Health Services," Nurs Forum, vol. 54, no. 2, pp. 205–212, Apr. 2019, doi: 10.1111/nuf.12316.
K. A. B. Kaswadi, A. Malik, and O. B. Keat, "Anxiety and Academic Achievement among Undergraduate Students," Journal of Management and Science, vol. 16, no. 2, p. 8, 2018.
J. J. Z. Posada and M. E. A. Bedoya, "Muestra De Estudiantes Universitarios En Una Facultad De Ciencias De La Salud En México," Tesis psicológica: Revista de la Facultad de Psicología, vol. 11, no. 2, p. 11, 2016.
E. J. Yeun and M. Jeon, "Level of Depression and Anxiety among Undergraduate Students," Indian Journal of Science and Technology, vol. 8, no. 35, Dec. 2015, doi: 10.17485/ijst/2015/v8i35/87313.
T. Sutojo, E. Mulyanto, and V. Suhartono, Kecerdasan buatan. Yogyakarta: Andi Offset, 2011.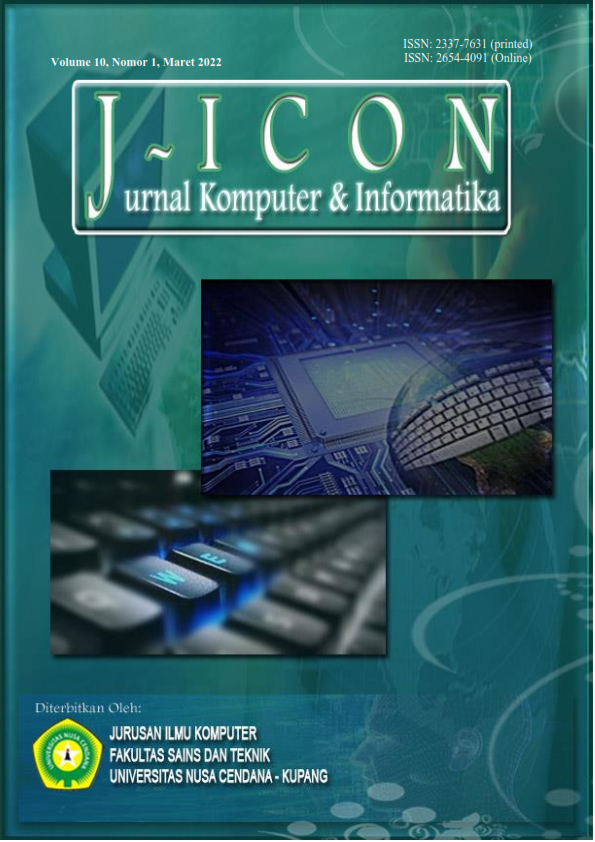 How to Cite
[1]
E. Beka Dede, S. Mola, and Y. Nabuasa, "Implementation of Hamilton Anxiety Rating Scale for Diagnosing Anxiety Levels in Students in Writing Thesis", jicon, vol. 10, no. 1, pp. 55-64, Mar. 2022.
Copyright (c) 2022 Elfrida Veranda Beka Dede, Sebastianus Adi Santoso Mola, Yelly Yosiana Nabuasa
This work is licensed under a Creative Commons Attribution 4.0 International License.
The author submitting the manuscript must understand and agree that if accepted for publication, authors retain copyright and grant the journal right of first publication with the work simultaneously licensed under a Creative Commons Attribution (CC-BY) 4.0 License that allows others to share the work with an acknowledgment of the work's authorship and initial publication in this journal.