Application of Adventure Tourism Concepts Using Business Process Modeling Notation
Siti Zahra Salma(1*)


Universitas Sulawesi Barat

Wiranto Wiranto(2)


Universitas Sulawesi Barat

Asmawati S(3)


Universitas Sulawesi Barat

(*) Corresponding Author

Keywords:
Adventure tourism, BPMN, Smart tourism, community
Abstract
Smart tourism is a tourism platform that has the functionality to assist tourists in providing information on existing tourist destinations. One of the tourist destinations, especially in the area of ​​West Sulawesi. Therefore, the application of smart tourism in Majene district will certainly help tourists. However, tourist destinations in Majene do not necessarily have good access. As a result, many of the managers of tourist destinations with poor access prefer to go out of business due to the lack of tourists visiting. The purpose of this research is to design additional features in smart tourism, so that tourists can use the help of the existing community to more easily visit tourist destinations that are difficult to reach, which is called adventure tourism. The system development method used is the prototype method. The prototype method used includes the analysis, design, and implementation stages. The analysis stage performs problem analysis using the piece method and obtains comparison results that show the advantages of using the provided system and manual. The functional requirements analysis stage using use cases, data flow diagrams, entity relationship diagrams, and business process modeling notations creates a clearer process flow in development. The design stage produces additional menus in feature development. The implementation stage gives the results of the system display in the form of a final design adventure tourism features.
Downloads
Download data is not yet available.
References
W. C. Hunter, "Cultural representations and experience in tourism: Two forms of mimesis," Journal of Smart Tourism, vol. 1, no. 1, pp. 65–67, 2021.
F. Femenia-Serra and B. Neuhofer, "Smart tourism experiences: Conceptualisation, key dimensions and research agenda," Investigaciones Regionales, vol. 2018, no. 42, pp. 129–150, 2018.
S. Redjeki, E. Faizal, E. Iskandar, D. Rosadi, and K. Mustofa, "Model Sistem Wisata Integratif : Sebuah Pendekatan Smart Tourism di Kabupaten Bantul," Seminar Nasional Teknologi Informasi Dan Komunikasi (Semnastik 2018), pp. 16–25, 2018.
F. Ahmad, T. B. Bahri, H. Darmawa, S. R. P. Wulung, and M. I. K. Rajoendah, "Pengaruh Wisata Petualangan Terhadap Kunjungan Kembali Wisatwan di Pegunungan Jawa Barat," Media Bina Ilmiah, vol. 4, no. 7, pp. 2939–2946, 2020.
J. Ponte, G. Couto, P. Pimentel, and A. Oliveira, "Tourism activities and companies in a sustainable adventure tourism destination: the Azores," Tourism & Management Studies, vol. 14, no. 4, pp. 25–38, 2018, doi: 10.18089/tms.2018.14403.
B. Hayat, A. Abror, and O. Risdianto, "Layanan Transportasi dalam Pengembangan Pariwisata di Kabupaten Kerinci Transportation Services of Kerinci Tourism Development," Jurnal manajemen transportasi dan logistik, vol. 06, no. 02, pp. 125–134, 2019.
J. Maleyeff, Service Science: Analysis and Improvement of Business Processes. Taylor & Francis, 2020.
A. Terminanto and A. N. Hidayanto, "Implementation and configurations opensource ERP in ecommerce module (A case study on SME)," Proceedings of the International Conference on Industrial Engineering and Operations Management, vol. 2018-March, pp. 1224–1233, 2018.
P. Wiśniewski, K. Kluza, and A. Ligȩza, "An approach to participatory business process modeling: BPMN model generation using constraint programming and graph composition," Applied Sciences (Switzerland), vol. 8, no. 9, 2018, doi: 10.3390/app8091428.
Y. N. S. Sidiq, R. N. S. Fathonah, and N. Riza, Metode Klasifikasi Menentukan Kenaikan Level UKM Bandung Timur Dengan Algoritma Naïve Bayes Pada Sistem JURAGAN Berbasis Komunitas. CV. Kreatif Industri Nusantara, 2020.
O. M. Group, "Business Process Model and Notation, Version 2.0," 2011. https://www.omg.org/spec/BPMN/2.0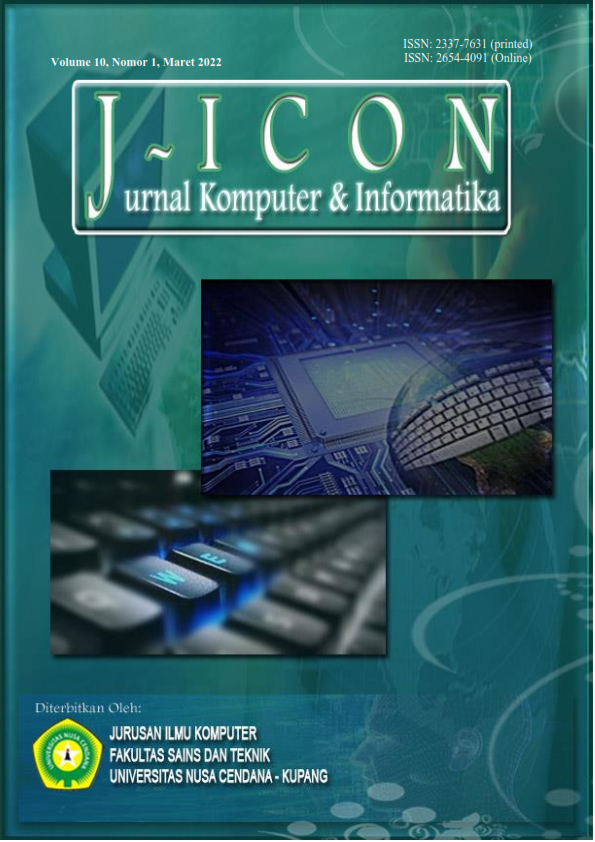 How to Cite
[1]
S. Salma, W. Wiranto, and A. S, "Application of Adventure Tourism Concepts Using Business Process Modeling Notation", jicon, vol. 10, no. 1, pp. 86-95, Mar. 2022.
Copyright (c) 2022 Siti Zahra Salma, Wiranto Wiranto, Asmawati S
This work is licensed under a Creative Commons Attribution 4.0 International License.
The author submitting the manuscript must understand and agree that if accepted for publication, authors retain copyright and grant the journal right of first publication with the work simultaneously licensed under a Creative Commons Attribution (CC-BY) 4.0 License that allows others to share the work with an acknowledgment of the work's authorship and initial publication in this journal.