IbM KURKUMIN bagi KESEHATAN LIVER
Abstract
Abstract:
NTT is rich in biodiversity that has been used for generations. Most of the medicinal beneficial flora are so used as medicinal plants. In addition, health facilities are still not directing people to rely more on traditional medicine. Manusak is one area that takes advantage of this.The team from FK Undana conducted an examination accompanied by counseling on using curcumin for liver health which was given to 262 Manusak residents while distributing leaflets. The people of Manusak ask a lot of questions because curcumin has many benefits for health and its availability is easily available in the surrounding environment. This socialization was also especially for 4 men who found radiological abnormalities from their liver images. Information about the benefits of curcumin from these herbs can also be used in preventing abnormalities in their liver / liver.
 Keywords: Curcumin, Liver, Kupang, Manusak, traditional medicine.
 Abstrak:
NTT kaya akan keragaman hayati yang telah dimanfaatkan secara turun temurun. Sebagian besar flora bermanfaat medis sehingga digunakan sebagai tanaman obat. Selain itu, fasilitas kesehatan yang masih kurang mengarahkan masyarakat lebih banyak mengandalkan pengobatan tradisional. Manusak adalah salah satu daerah yang memanfaatkan hal ini. Tim dari FK Undana melakukan pemeriksaan disertai penyuluhan dalam memanfaatkan kurkumin bagi kesehatan liver yang diberikan kepada 262 orang penduduk Manusak sembari melakukan penyebaran leaflet. Penduduk Manusak banyak memberikan pertanyaan karena kurkumin ini bermanfaat banyak bagi kesehatan dan ketersediaannya mudah didapatkan di lingkungan sekitar. Sosialisasi ini juga terkhusus bagi 4 orang laki-laki yang ditemukan adanya kelainan radiologis dari gambaran heparnya. Informasi tentang manfaat kurkumin dari tanaman herbal tersebut juga dapat dipakai dalam mencegah kelainan pada liver/hepar mereka.
 Kata kunci: Kurkumin, Liver, Kupang, Manusak, obat tradisional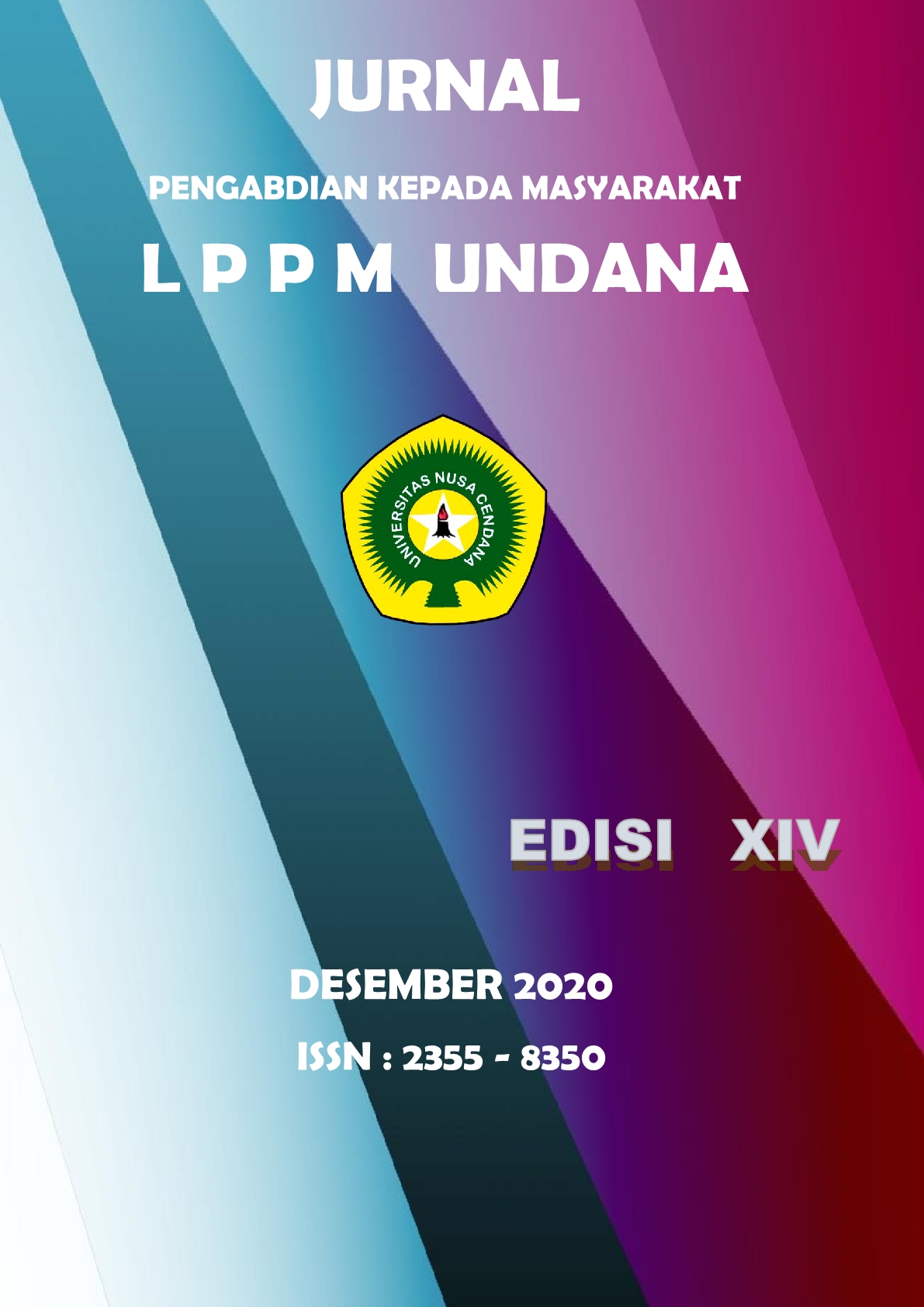 How to Cite
Amat, A. (2020). IbM KURKUMIN bagi KESEHATAN LIVER. Jurnal Pengabdian Kepada Masyarakat Undana, 14(2), 7-12. Retrieved from https://ejurnal.undana.ac.id/index.php/jlppm/article/view/3434