Literasi Finansial Dalam Meningkatkan Kapasitas Diri bagi Mahasiswa Program Studi Akuntansi FEB UNDANA
Abstract
Abstract
In recent years, the issue of financial literacy (knowledge) has become one of the focuses of government policies and financial institutions in Indonesia. Not to forget, the government also through the Financial Services Authority also focuses on students' ability to manage finances. Therefore this service focuses on increasing the capacity of students in financial management. The targets for this community service are students of the Accounting Study Program, Faculty of Economics and Business, Nusa Cendana University. This service is carried out because of the problem of needs which are not getting cheaper, less, simpler, but more and more, expensive, diverse and complex. Priority scale is needed to fulfill it, because the tools used are limited, while the needs are not limited. This service program is carried out so that students of the Undana FEB Accounting Study Program can acquire knowledge and skills in managing finances in planning, implementing, and controlling finance so that life goals can be achieved. So that the material given is the concept and application of college student financial management. The output of the activity was published in the LP2M Undana Community Service Journal.
 Keywords: Financial Literacy, Personal Capacity, College Students
ABSTRAK
Dalam beberapa tahun terakhir, isu mengenai literasi (pengetahuan) finansial telah menjadi salah satu fokus kebijakan pemerintah dan lembaga finansial di Indonesia. Tak ketinggalan, pemerintah juga melalui Otoritas Jasa Keuangan juga menyorot kemampuan mahasiswa dalam mengelola keuangan. Oleh Karena itu pengabdian ini berfokus pada peningkatan kapasitas diri mahasiswa dalam pengelolaan keuangan. Adapun sasaran pada pengabdian masyarakat ini adalah mahasiswa Program Studi Akuntansi Fakultas Ekonomi dan Bisnis Universitas Nusa Cendana. Pengabdian ini dilakukan karena adanya permasalahan kebutuhan yang semakin lama bukan semakin murah, semakin sedikit, semakin sederhana, tetapi semakin banyak, mahal, beragam dan kompleks. Diperlukan skala prioritas untuk memenuhinya, karena alat yang digunakan untuk memenuhi serba terbatas, sedangkan kebutuhan tidak terbatas.
Program pengabdian ini dilakukan bertujuan agar mahasiswa Prodi Akuntansi FEB Undana dapat memperoleh pengetahuan dan keterampilan dalam mengelola keuangan dalam perencanaan, pelaksanaan, dan pengontrolan, keuangan agar tujuan hidup dapat tercapai. Sehingga materi yang diberikan adalah konsep dan aplikasi pengelolaan keuangan mahasiswa. Luaran dari kegiatan dipublikasikan pada Jurnal Pengabdian Masyarakat LP2M Undana.
Kata Kunci: Literasi Finansial, Kapasitas Diri, Mahasiswa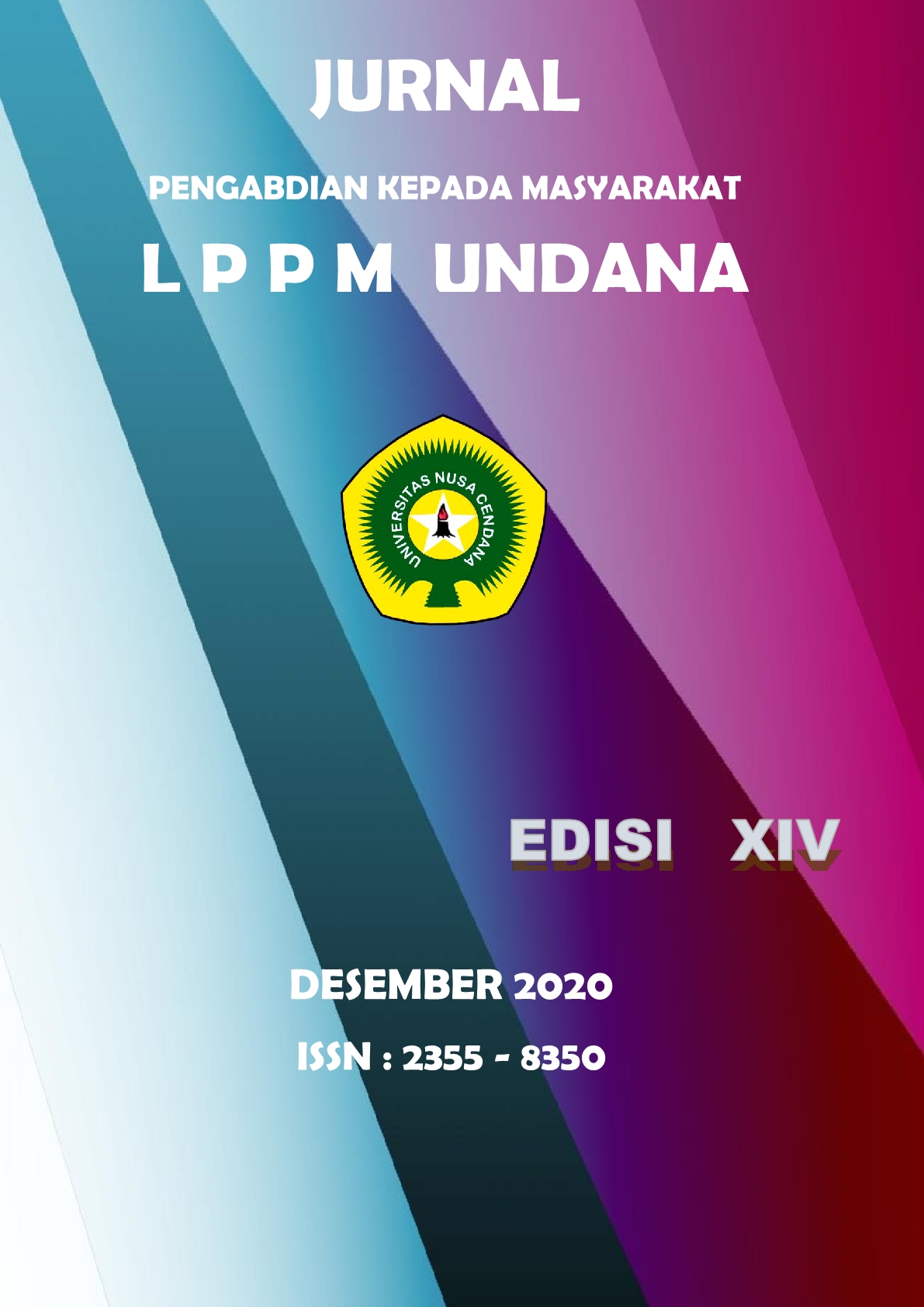 How to Cite
Tunti, M. (2020). Literasi Finansial Dalam Meningkatkan Kapasitas Diri bagi Mahasiswa Program Studi Akuntansi FEB UNDANA. Jurnal Pengabdian Kepada Masyarakat Undana, 14(2), 43-51. Retrieved from https://ejurnal.undana.ac.id/index.php/jlppm/article/view/3441