Penerapan Solar Home System Bagi Keluarga Petani di Dusun Niskolen
Matheus M. M. Dwinanto

Universitas Nusa Cendana

Ishak S. Limbong

Universitas Nusa Cendana

Dominggus G. H. Adoe

Universitas Nusa Cendana

Adi Y. Tobe

Universitas Nusa Cendana

Jack C. A Pah

Universitas Nusa Cendana
Keywords:
solar home system, , energy saving lamps, pre-prosperous family, lampu hemat energi, , keluarga prasejahtera
Abstract
Abstract - This activity tries to reveal the impact of installing a solar home system with energy-saving lamps on the social and economic benefits for farming families in Niskolen hamlet. The social and economic benefits are intended for continuity in efforts to expand access to electricity services in areas not yet covered by electricity, and to encourage economic development and growth as well as improve the welfare of farmers. These social and economic benefits have long-term effects, such as increasing reading and learning opportunities, improving people's health standards, and with electricity at night farmers can carry out social and economic activities, as well as facilitate and speed up information from electronic media. The existence of electric lighting will pave the way for the development of the various talents that exist for innovation and entrepreneurship.
Abstrak – Kegiatan ini mencoba untuk mengungkapkan dampak pemasangan solar home system dengan lampu hemat energi terhadap manfaat social dan ekonomi bagi keluarga petani di dusun Niskolen. Manfaat sosial dan ekonomi dimaksudkan untuk kelangsungan dalam upaya perluasan akses pelayanan listrik pada wilayah yang belum terjangkau listrik, dan mendorong pembangunan dan pertumbuhan ekonomi serta meningkatkan kesejateraan petani. Manfaat sosial dan ekonomi ini berpengaruh secara jangka panjang, antara lain seperti, peningkatan kesempatan membaca dan belajar, peningkatan taraf kesehatan rakyat, dan dengan adanya listrik pada waktu malam hari petani dapat melakukan kegiatan sosial dan ekonomi, serta memudahkan dan mempercepat informasi dari media elektronik. Dengan adanya penerangan listrik akan membuka jalan kepada pengembangan berbagai bakat yang ada untuk inovasi dan kewirausahaan.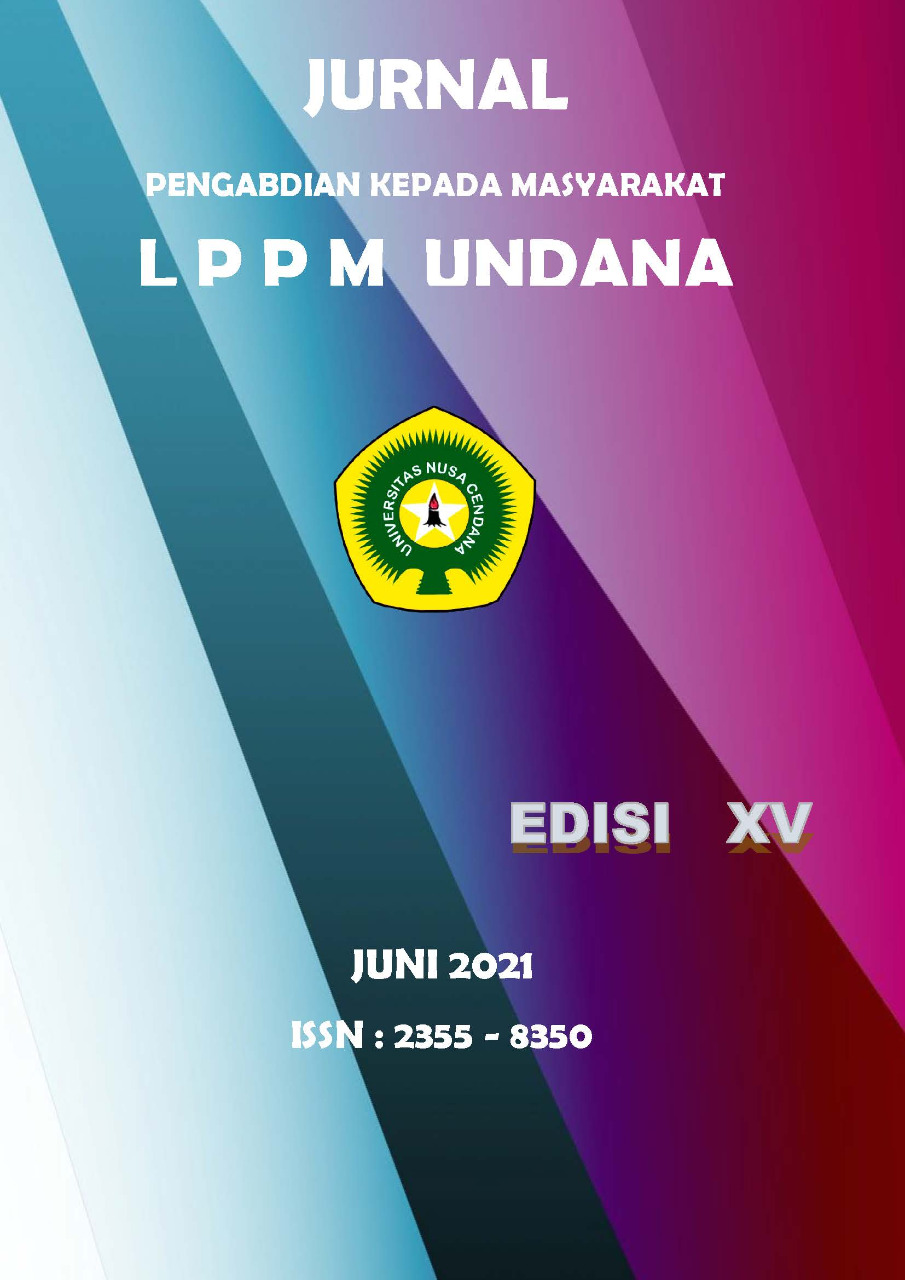 How to Cite
M. Dwinanto, M., Limbong, I., Adoe, D., Tobe, A., & Pah, J. (2021). Penerapan Solar Home System Bagi Keluarga Petani di Dusun Niskolen. Jurnal Pengabdian Kepada Masyarakat Undana, 15(1), 1-8. Retrieved from https://ejurnal.undana.ac.id/index.php/jlppm/article/view/4878