Budidaya Sayuran Organik di Lahan Pekarangan pada Kelompok Masyarakat di Kelurahan Naimata dalam Upaya Menopang Ekonomi Keluarga pada Masa Pandemi Covid 19
Max Junus Kapa

Universitas Nusa Cendana

Roddialek Pollo

Universitas Nusa Cendana

Peters O. Bako

Universitas Nusa Cendana

Moresi M. Airtur

Universitas Nusa Cendana

Diana Y. L. Serangmo

Universitas Nusa Cendana

Rika Ludji

Universitas Nusa Cendana
Keywords:
organic cultivation, hydroponics, liquid organic fertilizer, organic pesticides, budidaya organik, pekarangan, hidroponik, pupuk organik cair, pestisida organik
Abstract
Abstract - The PKM Program for Organic Vegetable Cultivation in the Yard Land in an Effort to Support the Family Economy During the Covid 19 Pandemic was carried out in the area of ​​RT 17, RW 07, Naimata Village, Kupang City. The main targets to be achieved from this program are: (1) increasing the independence of partners in meeting household food needs; (2) mastery of hydroponic system installation techniques; (3) mastery of hydroponic system plant cultivation technology; (4) mastery of technology for making liquid organic fertilizer based on household organic waste and organic pesticides. The approach method applied in the implementation of this PKM program is the transfer of information and technology transfer through socialization and training activities. Activities carried out include: training on plant cultivation technology with hydroponic and verticulture systems, training on hydroponic equipment installation, as well as training on technology for making liquid organic fertilizers and organic pesticides. After this PKM activity took place, the level of knowledge and skills of partner group members regarding technology for cultivating organik vegetables with a hydroponic system, installation techniques for hydroponic plant cultivation equipment, techniques for making liquid organic fertilizers and organic pesticides have increased significantly. This increase in knowledge and skills is followed by an increase in the interest of partner group members to apply the technology in an effort to fulfil household food by optimally utilizing the yard.
Abstrak – Program PKM Budidaya Sayuran Organik di Lahan Pekarangan Dalam Upaya  Menopang Ekonomi Keluarga Pada Masa Pandemi Covid 19 dilaksanakan di wilayah RT 17, RW 07, Kelurahan Naimata, Kota Kupang. Target utama yang ingin dicapai dari program ini adalah: (1) peningkatan kemandirian mitra dalam memenuhi kebutuhan pangan rumah tangga; (2) penguasaan teknik pembuatan instalasi sistem hidroponik; (3) penguasaan teknologi budidaya tanaman sistem hidroponik; (4) penguasaan teknologi pembuatan pupuk organik cair berbasis sampah organik rumah tangga dan pestisida organik. Metode pendekatan yang diterapkan dalam pelaksanaan program PKM ini adalah transfer informasi dan alih teknologi melalui kegiatan sosialisasi dan pelatihan. Kegiatan yang dilakukan meliputi: pelatihan teknologi budidaya tanaman dengan sistem hidroponik dan vertikultur, pelatihan instalasi peralatan hidroponik, serta pelatihan teknologi pembuatan pupuk organik cair dan pestisida organik. Setelah kegiatan PKM ini berlangsung, tingkat pengetahuan dan keterampilan anggota kelompok mitra tentang teknologi budidaya tanaman sayuran organik dengan sistem hidroponik, terknik instalasi peralatan budidaya daya tanaman hidroponik, teknik pembuatan pupuk organik cair dan pestisida organik mengalami peningkatan secara signifikan. Peningkatan pengetahuan dan keterampilan ini diikuti dengan peningkatan minat anggota kelompok mitra untuk menerapkan teknologi tersebut dalam upaya pemenuhan pangan rumah tangga dengan memanfaatkan lahan pekarang secara optimal.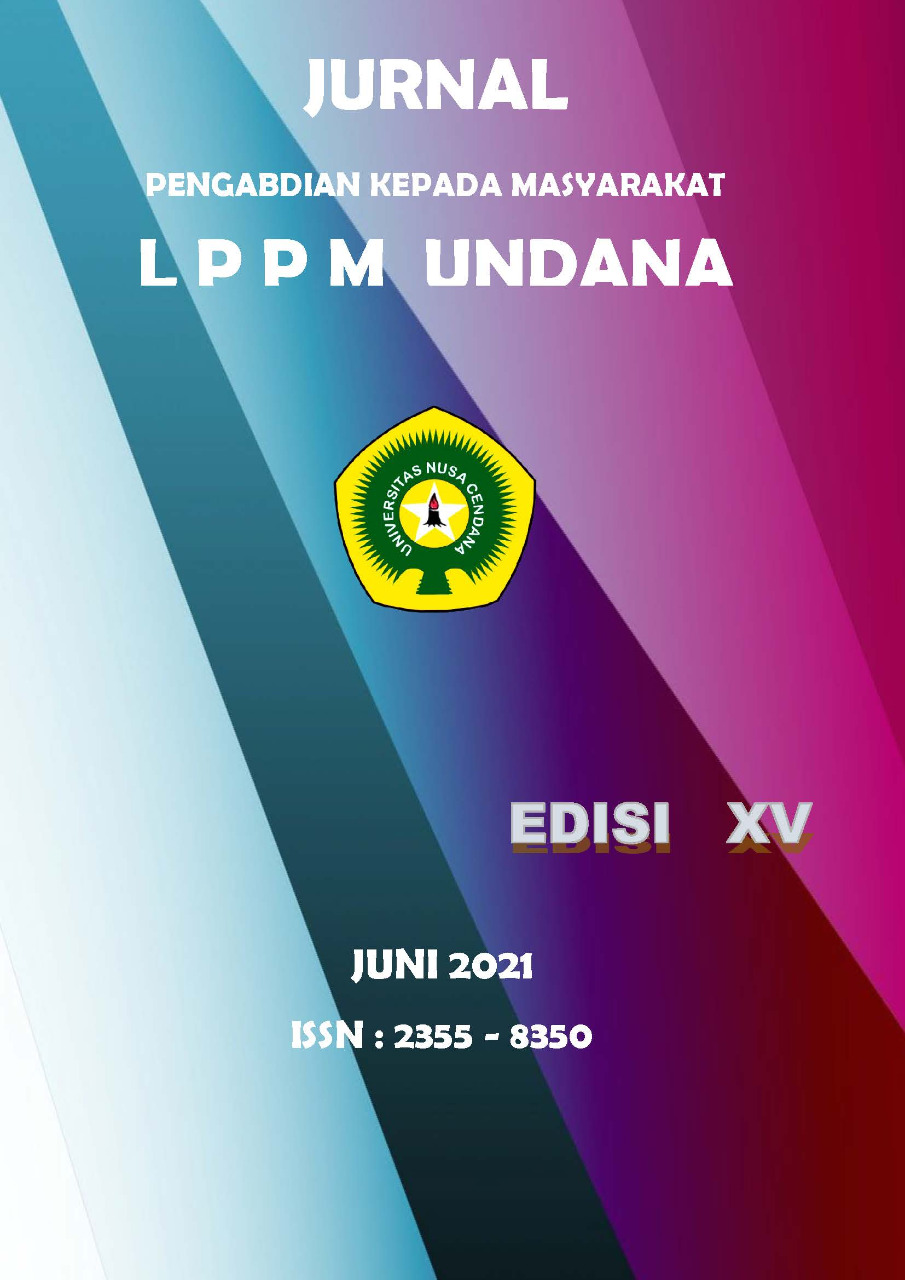 How to Cite
Kapa, M., Pollo, R., Bako, P., Airtur, M., Serangmo, D., & Ludji, R. (2021). Budidaya Sayuran Organik di Lahan Pekarangan pada Kelompok Masyarakat di Kelurahan Naimata dalam Upaya Menopang Ekonomi Keluarga pada Masa Pandemi Covid 19. Jurnal Pengabdian Kepada Masyarakat Undana, 15(1), 17-21. Retrieved from https://ejurnal.undana.ac.id/index.php/jlppm/article/view/4880