Pelatihan Manajemen Usaha Kelompok Pengrajin Tenun Ikat Khas NTT
Rima Selan

Universitas Nusa Cendana

Ariency K. Ada Kale

Universitas Nusa Cendana

Jefri S. Bale

Universitas Nusa Cendana

Ben V. Tarigan

Universitas Nusa Cendana
Keywords:
weavers, business management, , online marketing, pengrajin tenun, manajemen usaha, pemasaran online
Abstract
Abstract - This community partnership program aims to empower groups of weaving craftsmen in Sabu Tenun Village so that they can develop their business. The development carried out is from the aspects of business management and marketing. Partners in this Community Partnership program are the Kampung Sabu Weaving Group.
The implementation team provides training to partners on business management and online product marketing. It is hoped that through this activity partners can have an entrepreneurial spirit and can carry out the marketing process online. This is so that the woven products produced can have a wider market, not only on display in galleries.
The targeted output is that partners know better-organized marketing and management processes so that productivity increases.
Abstrak – Program kemitraan masyarakat ini bertujuan melakukan pemberdayaan kepada kelompok pengrajin tenun di Kampung Tenun Sabu agar dapat mengembangkan usahanya. Pengembangan yang dilakukan adalah dari aspek manajemen usaha dan pemasaran. Mitra dalam program Kemitraan Masyarakat ini adalah Kelompok Tenun Kampung Sabu.
Tim Pelaksana memberikan pelatihan kepada mitra tentang manajemen usaha dan pemasaran produk secara online. Diharapkan lewat kegiatan ini mitradapat memiliki jiwa kewirausahaan dan dapat melakukan proses pemasaran secara onlne. Hal ini bertujuan agar produk tenunan yang dihasilkan dapat memliki pasar yang lebih luas, tidak hanya dipajang di galeri.
Luaran yang ditargetkan adalah mitra memiliki pengetahuan tentang proses manajemen serta pemasaran yang lebih terorganisir sehinggga terjadi peningkatan produktivitas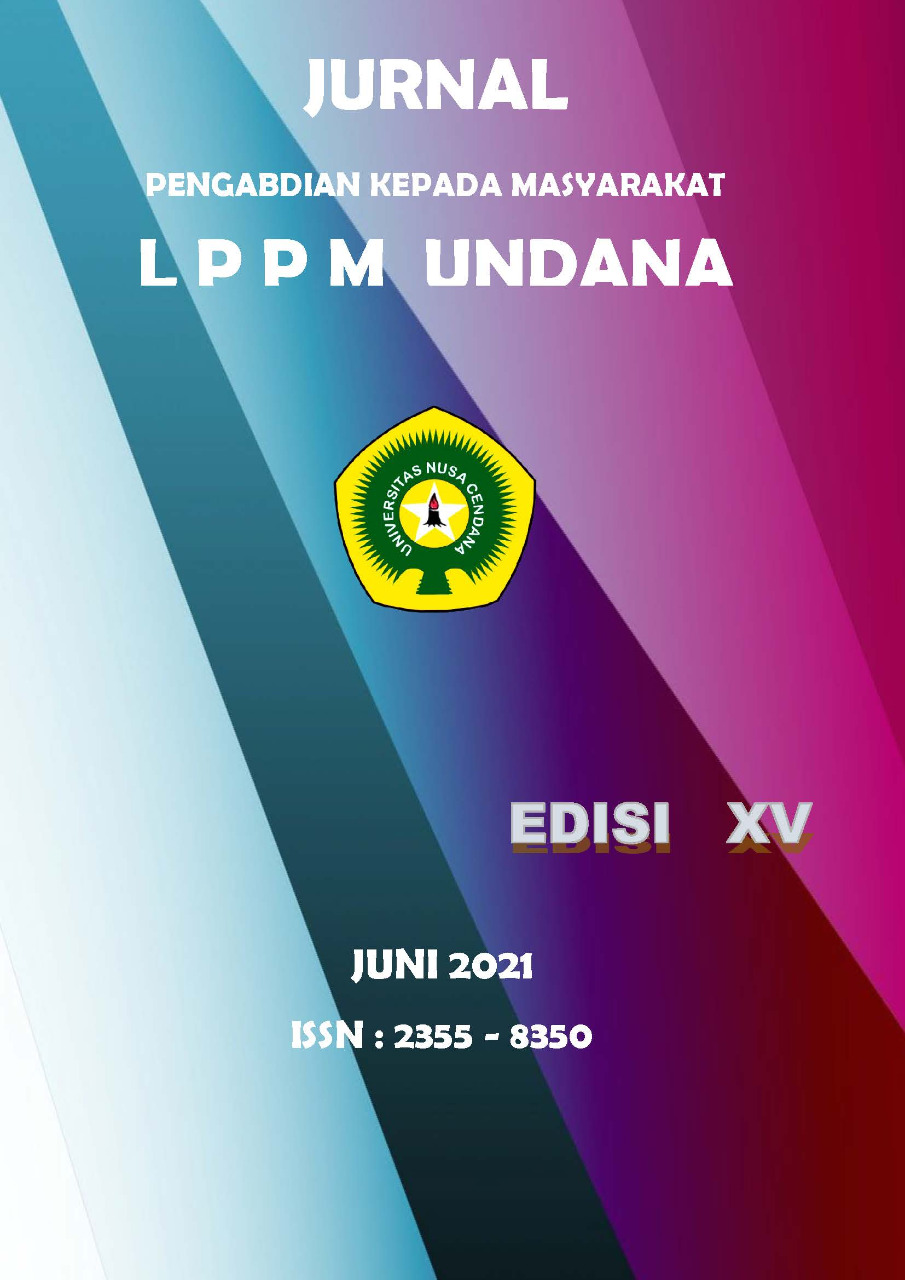 How to Cite
Selan, R., Ada Kale, A., Bale, J., & Tarigan, B. (2021). Pelatihan Manajemen Usaha Kelompok Pengrajin Tenun Ikat Khas NTT. Jurnal Pengabdian Kepada Masyarakat Undana, 15(1), 22-26. Retrieved from https://ejurnal.undana.ac.id/index.php/jlppm/article/view/4881