Penerapan Penggunaan Daun Kelor Dalam Sistem Pakan Basah (Liquid Feeding) Untuk Meningkatkan Kesehatan Dan Produksi Ternak Babi
Ni Nengah Suryani

Universitas Nusa Cendana

I Made S. Aryanta

Universitas Nusa Cendana

Tagu Dodu

Universitas Nusa Cendana
Keywords:
pig feeding system, Moringa leaves, liquid feeding, system pemberian pakan babi, daun kelor
Abstract
ABSTRACT
A community service has been carried out in Baumata Timur Village, Taebenu District, Kupang Regency, East Nusa Tenggara (NTT). The problem faced is the low level of knowledge and technology in the health management of pigs so that it is found that many of their pigs have died (> 40%) of which no one has used local ingredients such as Moringa leaves as a supplement in their pig feed. Low production and high mortality in pigs are caused by factors of nutritional deficiencies and an unhealthy environment, so that quality feed ingredients are needed, have economic value, and maintain the cleanliness of environmental livestock. The solutions offered and implemented are improvement of feed management and health of pigs including: a) Preparation procedures, quality feed ingredients from Moringa leaves; b). mixing liquid feeds; c) Procedures for managing livestock and environmental health. The methods used are: counseling and management practices of feed and health of pigs. The results of extension activities and practice of making economical feed, techniques for making quality liquid feed and management of pig health management can be carried out properly. It can be concluded that knowledge about feed management and pig health for farmer farmer communities in Manefu and Neketuka hamlet, East Baumata village increases in pig raising.
ABSTRAK
Suatu pengabdian kepada masyarakat telah dilaksanakan di Desa Baumata Timur, Kecamatan Taebenu, Kabupaten Kupang, Nusa Tenggara Timur (NTT).  Masalah yang dihadapi, adalah rendahnya pengetahuan dan teknologi dalam pengelolaan kesehatan ternak babi sehingga dijumpai banyak ternak babi mereka mengalami kematian (>40%) dari belum ada yang memanfaatkan bahan lokal seperti daun kelor sebagai suplemen dalam pakan babinya. Produksi yang rendah dan kematian yang tinggi pada ternak babi disebabkan factor kekurangan nutrisi dan lingkungan yang tidak sehat, sehingga    dibutuhkan bahan pakan yang berkualitas, bernilai ekonomis, dan menjaga kebersihan ternak lingkungan.  Solusi yang ditawarkan dan diterapkan adalah perbaikan manajemen pakan dan kesehatan ternak babi meliputi : a) Tata cara penyiapan, bahan pakan berkualitas dari daun kelor; b). mencampur liquid feed  ; c) Tata cara pengelolaan kesehatan ternak dan lingkungan.  Metode yang digunakan adalah: penyuluhan dan praktek manajemen pakan dan kesehatan ternak babi. Hasill kegiatan penyuluhan dan praktek membuat pakan ekonomis, teknik membuat liquid feed berkualitas dan manajemen pengelolaan kesehatan babi dapat terlaksana dengan baik.  Dapat disimpulkan pengetahuan tentang manajemen pakan dan kesehatan ternak babi bagi masyarakat petani peternak di kelompok masyarakat Dusun Manefu dan Neketuka Desa Baumata Timur meningkat dalam pemeliharaan ternak babi.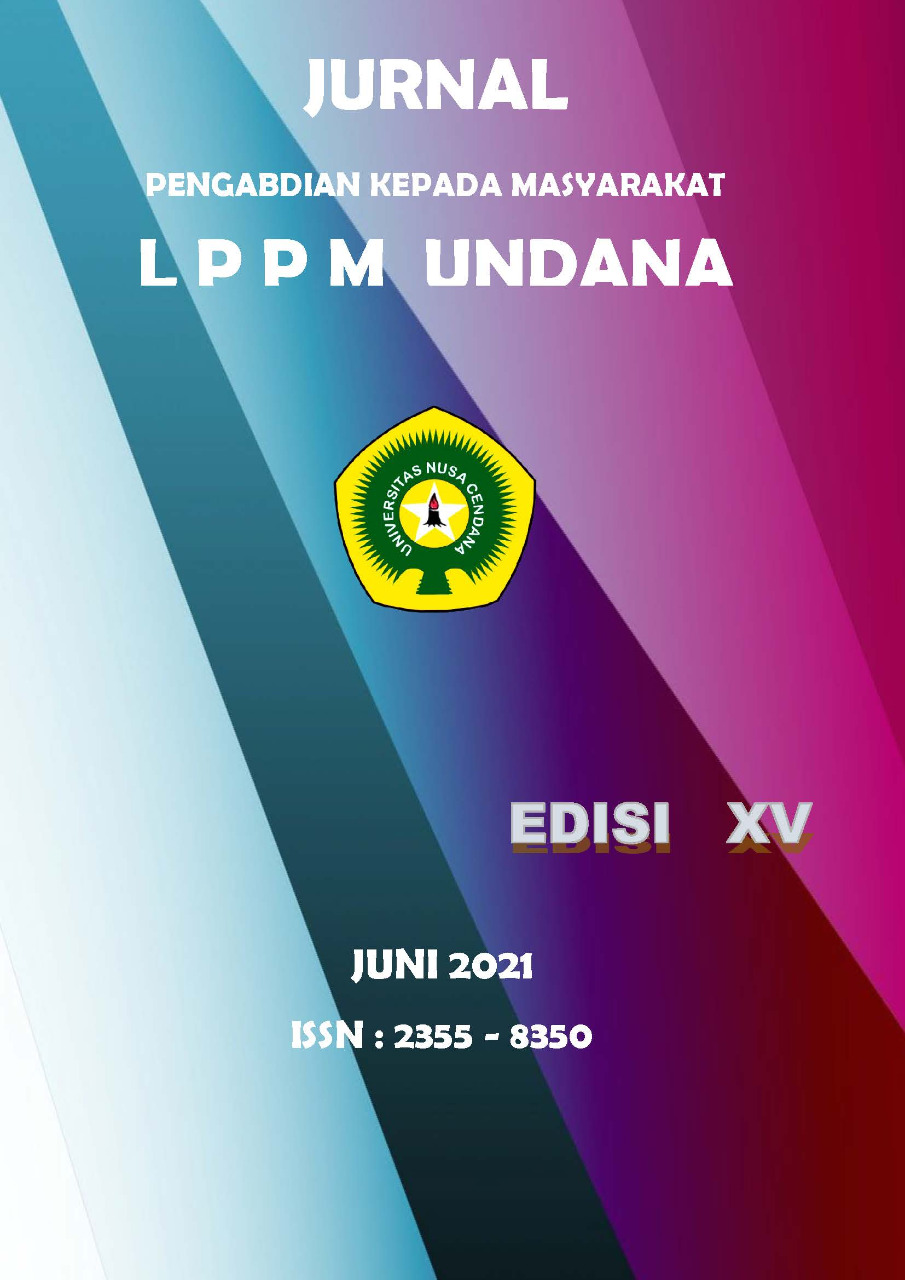 How to Cite
Suryani, N. N., Aryanta, I. M., & Dodu, T. (2021). Penerapan Penggunaan Daun Kelor Dalam Sistem Pakan Basah (Liquid Feeding) Untuk Meningkatkan Kesehatan Dan Produksi Ternak Babi. Jurnal Pengabdian Kepada Masyarakat Undana, 15(1), 27-34. Retrieved from https://ejurnal.undana.ac.id/index.php/jlppm/article/view/4882