Pelatihan Pembuatan Jahe dan Kunyit Instan Pada Masyarakat Kelurahan Lasiana-Kota Kupang
Jack Carol Adolf Pah

Universitas Nusa Cendana

Jacob Abolladaka

Universitas Nusa Cendana

Defmit B. N. Riwu

Universitas Nusa Cendana
Keywords:
ginger, turmeric, home yard use, added value, home industry
Abstract
Abstract
This activity is intended to provide understanding and skills to the community in Lasiana Subdistrict, at Kupang City, on how to use house yard land to provide added value for family needs. This activity focuses on two types of plants, ginger and turmeric. How to grow a good ginger and turmeric, and maintain it. Giving added value to these two types of plants by processing them into ready-to-eat (instant) ginger and turmeric. The method used in this activity is interactive lectures and training (practice). Entrepreneurship and marketing of home industry products is also provided as additional knowledge. The participants are able to have skills in processing ginger and turmeric, into instant ginger and turmeric, which can be seen by their ability to make these products. The interest and knowledge of the participants in entrepreneurship must be followed up on the next activity.
Keywords: ginger, turmeric, home yard use, added value, home industry
Abstrak
Kegiatan ini dimaksudkan untuk memberi pemahaman dan juga memberi ketrampilan pada masyarakat Kelurahan Lasiana di Kota Kupang, tentang bagaimana memanfaatkan lahan pekarangan untuk memberi nilai tambah bagi pemenuhan kebutuhan keluarga. Pada Kegiatan ini lebih di fokuskan pada dua jenis tanaman yaitu jahe dan kunyit. Bagaimana cara menanam jahe dan kunyit yang baik, dan memeliharanya. Pemberian nilai tambah pada kedua jenis tanaman ini, dengan mengolahnya menjadi jahe dan kunyit instan siap saji. Metode yang digunakan dalam kegiatan ini adalah ceramah interaktif dan pelatihan (praktek) pembuatannya. Tambahan pengetahuan mengenai kewirausahaan dan pemasaran produk industri rumah tangga, juga diberikan sebagai materi tambahan dalam kegiatan ini. Peserta kegiatan mampu menguasai dengan baik ketrampilan dalam mengolah jahe dan kunyit, menjadi jahe dan kunyit instan. Hal ini terlihat dengan mampunya mereka dalam membuat produk ini. Ketertarikan dan pengetahuan peserta kegiatan ini pada kewirausahaan merupakan suatu yang mengembirakan dan harus ditindaklanjuti pada kegiatan berikutnya.
Kata Kunci: Jahe, kunyit, pemanfaatan pekarangan, nilai tambah, industri rumah tangga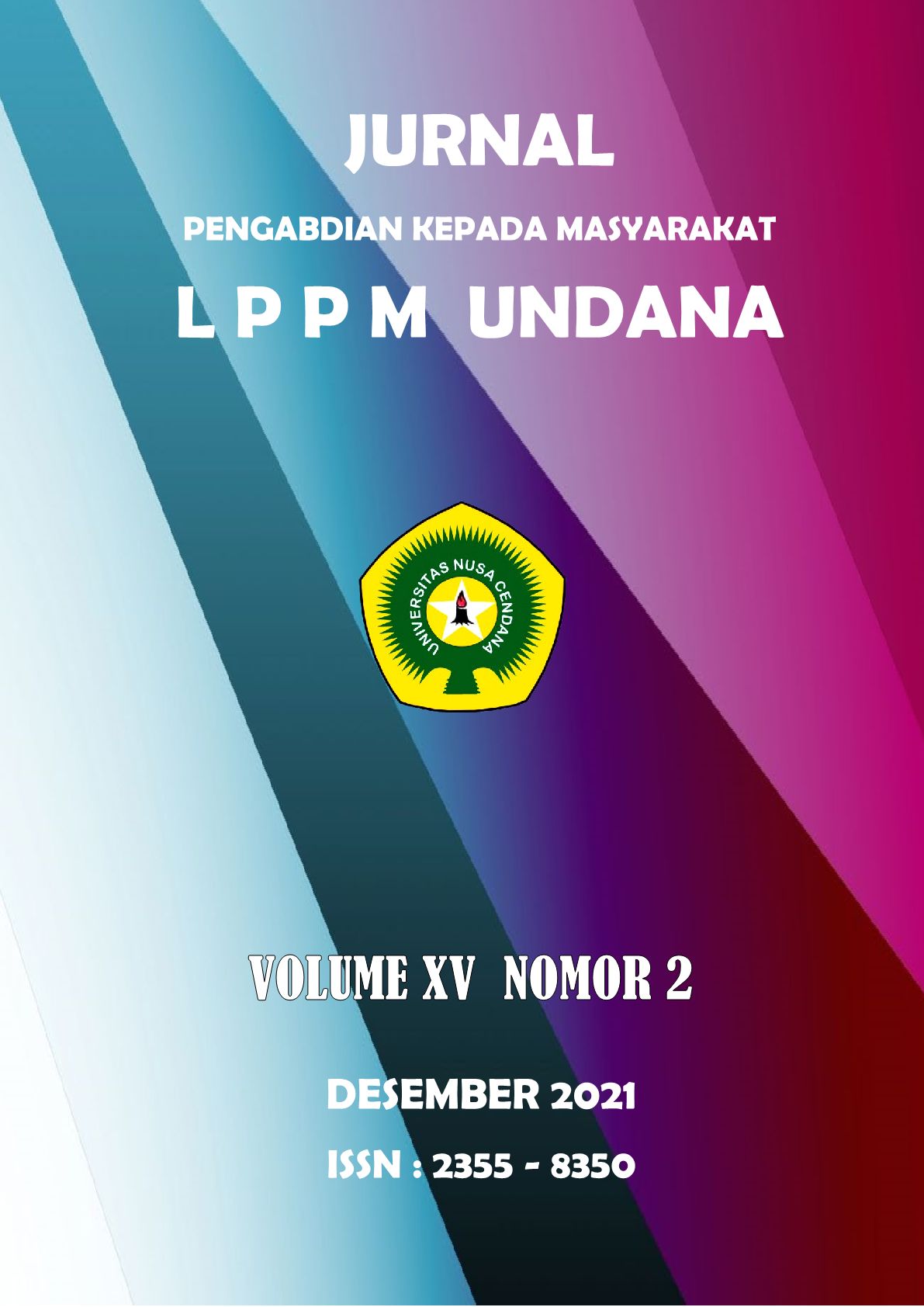 How to Cite
Pah, J. C., Abolladaka, J., & Riwu, D. (2021). Pelatihan Pembuatan Jahe dan Kunyit Instan Pada Masyarakat Kelurahan Lasiana-Kota Kupang. Jurnal Pengabdian Kepada Masyarakat Undana, 15(2), 46-51. Retrieved from https://ejurnal.undana.ac.id/index.php/jlppm/article/view/5743