PENINGKATAN PENDAPATAN PETERNAK DESA BINAAN FAPET UNDANA MELALUI DIVERSIVIKASI PEMELIHARAAN TERNAK PUYUH
Upik Sy. Rosnah

Universitas Nusa Cendana

E. D. Sulistijo

Universitas Nusa Cendana

F. Telupere

Universitas Nusa Cendana

Y. R. Noach

Universitas Nusa Cendana

M. Krova

Universitas Nusa Cendana

M. Lalus

Universitas Nusa Cendana

B. Sabtu

Universitas Nusa Cendana

M. Yunus

Universitas Nusa Cendana

A. Riwu

Universitas Nusa Cendana

N. P. Suryatni

Universitas Nusa Cendana

K. Ully

Universitas Nusa Cendana

H. T. Handayani

Universitas Nusa Cendana

G. Maranatha

Universitas Nusa Cendana
Keywords:
ternak puyuh, desa binaan, diversifikasi ternak, pendapatan
Abstract
Abstrak
Masyarakat desa binaan Fapet Undana (Desa Oelatsala) mempunyai usaha utama penggemukan sapi. Pemeliharan ternak besar ini dengan pola peternak membutuhkan waktu  paling cepat 8 – 12 bulan untuk mendapatkan uang tunai, oleh karena itu perlu adanya usaha ternak lain atau diversivikasi usaha misalnya ternak puyuh agar dapat menopang kebutuhan keluarga peternak dalam jangka waktu yang lebih pendek. Tujuan pelatihan untuk meningkatkan pemahaman dan ketrampilan masyarakat desa binaan dalam memelihara ternak puyuh dan ayam KUB. Kegiatan ini dilakukan dengan mengikuti tahapan  yang terdiri dari  kegiatan pelatihan yang terdiri dari penyampaian materi dan praktek, penyerahan saprodi, pendampingan, monitoring dan evaluasi. Hasil kegiatan menunjukkan peserta latih mempunyai peluang usaha ternak puyuh  yang menarik dapat dikerjakan karena pakannya bisa diramu dengan penambahan bahan pakan local yang tersedia disekitar mereka,  tidak membutuhkan lahan yang luas dan mereka membutuhkan pengetahuan dan ketrampilan terkait manajemen pemeliharaan puyuh. Seluruh peserta dengan semangat berdiskusi selama penyampaian materi dan mengikuti kegiatan praktek menyusun ransum puyuh, meramu ransum puyuh, dan diikuti dengan kegiatan membuat kendang puyuh skala 25-30 ekor. Hasil monitoring dan evaluasi produksi telur diperoleh pada hari ke 46 sebanyak 38 butir (42%), adanya respon positif dari warga sekitar dengan melakukan perkunjungan dengan keinginan tahuan yang tinggi tentang beternak puyuh ini.
Abstract
The village community assisted by Fapet Undana (Oelatsala Village) has the main business of fattening cattle. Raising large livestock according to a farmer pattern takes at least 8 – 12 months to get cash money; therefore it is necessary to have other livestock businesses or business diversification such as quail livestock in order to support the needs of the farmer's family in a shorter period of time. The purpose of the training is to improve the knowledge and skills of the assisted village communities in raising quail and KUB chickens. This activity is carried out by following stages consisting of training activities, giving of material and practice, delivery of livestock production facilities, accompaniment, monitoring and evaluation. The results of this activity showed that the trainees have an interesting quail business opportunity that can be done because the feed can be mixed with the addition of local feed ingredients available around them, it does not require a large area of ​​land and they need knowledge and skills related to quail rearing management. All participants enthusiastically discussed during the delivery of the material and participated in practical activities of formulate quail rations, mix quail rations, and followed by make a quail cage with a capacity of 25-30 tails. The results of monitoring and evaluation of egg production were obtained on day 46 as many as 38 eggs (42%), there was a positive response from local residents by visiting with a high desire to know about rising this quail.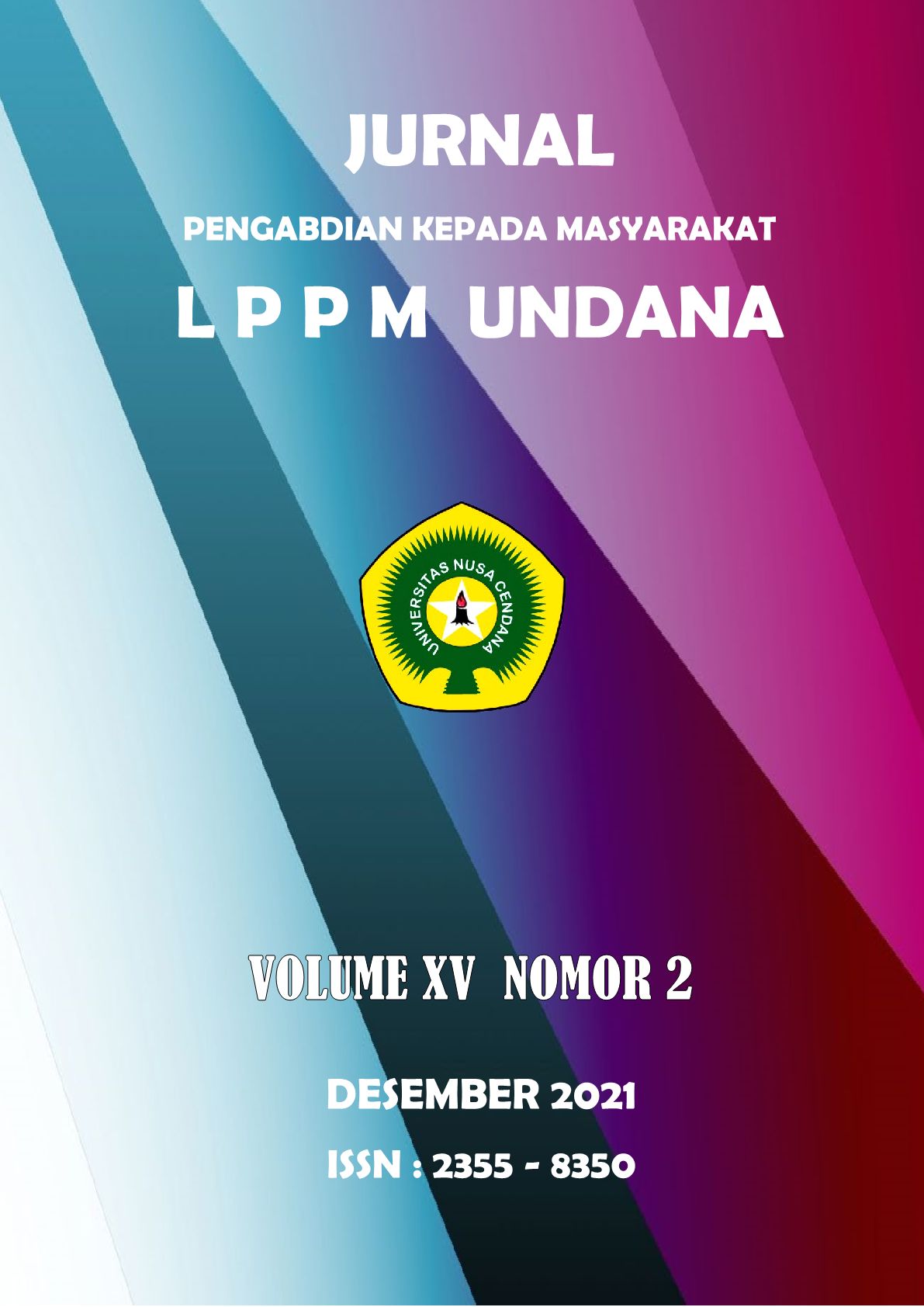 How to Cite
Rosnah, U., Sulistijo, E., Telupere, F., Noach, Y., Krova, M., Lalus, M., Sabtu, B., Yunus, M., Riwu, A., Suryatni, N., Ully, K., Handayani, H., & Maranatha, G. (2021). PENINGKATAN PENDAPATAN PETERNAK DESA BINAAN FAPET UNDANA MELALUI DIVERSIVIKASI PEMELIHARAAN TERNAK PUYUH. Jurnal Pengabdian Kepada Masyarakat Undana, 15(2), 56-65. Retrieved from https://ejurnal.undana.ac.id/index.php/jlppm/article/view/6056