Budidaya Tanaman Sehat dengan Trichokompos & Pupuk Organik Cair
Mayavira V. Hahuly

Universitas Nusa Cendana

Agnes V. Simamora

Universitas Nusa Cendana

Petronella S. Nenotek

Universitas Nusa Cendana

Agustina Etin Nahas

Universitas Nusa Cendana

Cindy C. Nguru

Mars B. F. Manao-Nubatonis

Universitas Nusa Cendana
Keywords:
trichompos, pupuk organik cair, metode budidaya tanaman sehat
Abstract
Abstrak
Kegiatan Program Kemitraan Masyarakat ini bertujuan untuk memberikan solusi terhadap permasalahan yang selama ini dihadapi kelompok tani Iklas di Desa Tubuhue Kecamatan Amanuban Barat, Kabupaten Timor Tengah Selatan. Permasalahan yang dihadapi antara lain berupa keterbatasan dalam cara pemeliharaan tanaman apel dan sayuran, serta dalam hal pengendalian hama penyakit tanaman. Kegiatan PKM ini bertujuan untuk: (1) memperkenalkan metode budidaya tanaman secara sehat berkelanjutan; (2) membuat Trichokompos menggunakan isolat Trichoderma sp. koleksi Laboratorium Penyakit Tumbuhan Faperta Undana; (3) membuat dan mengaplikasikan pupuk organik cair dari limbah pertanaman dan peternakan yang diperkaya dengan EM4; (4) membuat perangkap lalat buah; dan (5) membuat dan mengaplikasikan pestisida nabati. Metode pelaksanaan adalah penyuluhan, diskusi, praktek, dan pembuatan demplot.Target kegiatan PKM ini telah tercapai. Petani telah menguasai pengetahuan tentang budidaya tanaman secara sehat serta dapat membuat Trichokompos dan pupuk organik cair dan telah mengaplikasikannya.Sayuran yang diberi perlakuan Trichokompos dan pupuk organik cair tumbuh lebih subur dibandingkan dengan yang tidak diberi perlakuan. Petani antusias dan bersemangat untuk melanjutkan praktek budidaya tanaman secara sehat tersebut.
Kata kunci:Trichokompos, pupuk organik cair, metode budidaya tanaman sehat
Abstract
This Community Partnership Program was aimed to provide solutions to the problems in Iklas farmer group in Tubuhue Village, West Amanuban District, Timor Tengah Selatan Regency. The problems include limitations in methods for cultivating apple and vegetable crops, as well as for controlling plant pests and diseases. This Community Partnership Program activity was carried out to introduce sustainable plant cultivation method, to produce trichoderma biofertilizers using Trichoderma sp. collection of the Plant Disease Laboratory of Agriculture Faculty Universitas Nusa Cendana, to produce liquid organic fertilizer from crop and livestock waste enriched with EM4, as well as to make fruit fly traps and botanical pesticides. This program was done through counseling, discussion, practice, and making demonstration plots. The target of this Community Partnership Program has been achieved. Farmers have received knowledge about healthy and sustainable crop cultivation. Farmers have been able to make Tichompost and liquid organic fertilizer and have applied it to apples and various vegetables. Vegetables that were treated with Trichompost and liquid organic fertilizer grew more fertile than those that were not treated. Farmers were enthusiastic and willing to continue the practice of the healthy and sustainable crop cultivation.
Keywords:trichocompost,liquid organic fertilizer, healthy crop cultivation method
Downloads
Download data is not yet available.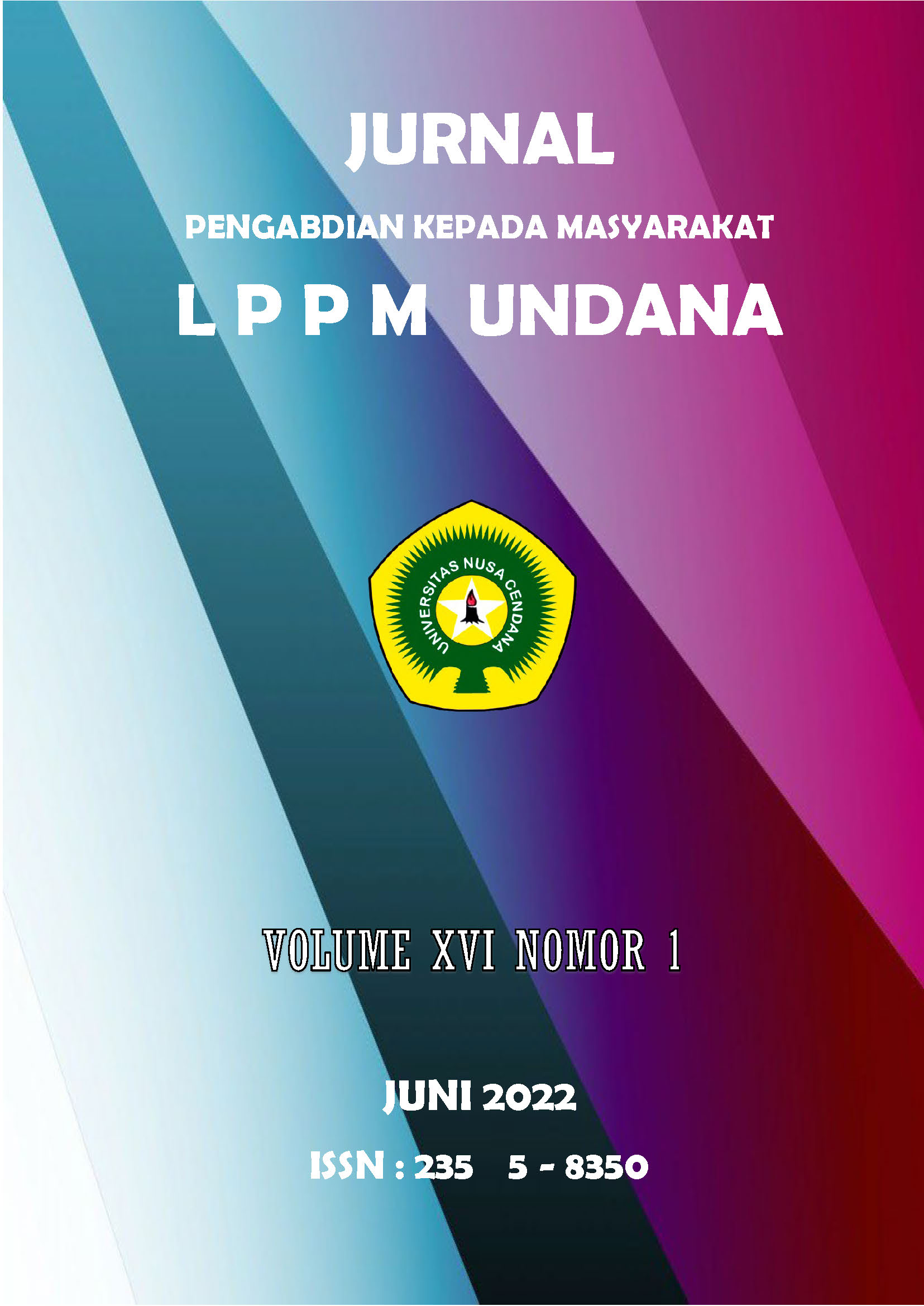 How to Cite
Hahuly, M., Simamora, A., Nenotek, P., Nahas, A., Nguru, C., & Manao-Nubatonis, M. (2022). Budidaya Tanaman Sehat dengan Trichokompos & Pupuk Organik Cair. Jurnal Pengabdian Kepada Masyarakat Undana, 16(1), 14-21. Retrieved from https://ejurnal.undana.ac.id/index.php/jlppm/article/view/8076