Kampanye Literasi Media 'Diet Televisi' Bagi Mahasiswa Di Kota Kupang
Monika Wutun

Universitas Nusa Cendana

Lukas Lebi Daga

Universitas Nusa Cendana

Maria V. D. P Swan

Universitas Nusa Cendana

Fitria Titi Meilawati

Universitas Nusa Cendana

Henny L. L. Lada

Universitas Nusa Cendana
Keywords:
literasi media, diet tv, HMI cabang Kupang, KPID NTT
Abstract
Abstrak
Kemampuan untuk mengakses, menganalisis, mengevaluasi, dan mengomunikasikan informasi dalam berbagai bentuk media dikenal dengan istilah literasi media. Literasi media dapat dipahami sebagai seperangkat perspektif yang digunakan secara aktif saat mengakses media masa untuk menginterpretasikan pesan yang dihadapi. Kemampuan literasi media idealnya dimiliki oleh semua orang termasuk masyarakat NTT. Sebab kemampuan literasi penting dimiliki pada era  disrupsi atau banjir informasi. Era seperti ini mengisyaratkan perlunya kemampuan memilah informasi yang benar berguna dari informasi yang terkategori hoax. Kemampuan seperti ini dibutuhkan juga oleh kelompok mahasiswa. Mahasiswa sebagai generasi penerus bangsa, generasi masa depan, kelompok intelektual muda diharapkan memiliki kemampuan literasi media. Karena itu, untuk meningkatkan pemahaman tentang literasi media di kalangan mahasiswa maka tim pelaksana PKM dari Program Studi Ilmu Komunikasi FISIP Undana bekerja sama dengan mitra Komisi Penyiaran Indonesia Daerah (KPID) NTT menyelenggarakan kegiatan kampanye literasi media khususnya televisi bagi organisasi mahasiswa di Kota Kupang lewat pembagian leaflet dengan topik Diet TV Upaya Menonton Televisi Secara Cerdas dan Kritis kepada Himpunan Mahasiswa Islam (HMI) Cabang Kupang pada Jumat, 10 Juni 2022. Sebelum pembagian leaflet dilaksanakan diskusi literasi media dengan topik sesuai materi leaflet yang didistribusikan kepada kelompok target ini dan mendapatkan tanggapan positif dari mahasiswa.
Kata kunci: Literasi Media, Diet TV, HMI Cabang Kupang, KPID NTT
Abstract
The ability to access, analyze, evaluate, and communicate information in various forms of media is known as media literacy. Media literacy can be understood as a set of perspectives that are used actively when accessing mass media to interpret the messages they encounter. Ideally, everyone should have media literacy skills, including the people of East Nusa Tenggara Province (NTT). This ability is important in disruption era or a flood of information era. This era implies the need to be able to sort out useful information and hoax. This kind of ability is also needed by student groups. Students as the nation's next generation, future generations, and young intellectual groups are expected to have media literacy skills. Therefore, to increase understanding of media literacy among students, the PKM Implementation Team from the Communication Studies Department, FISIP Nusa Cendana University in collaboration with the Regional Indonesian Broadcasting Commission (KPID) NTT partners held a Media Literacy Campaign, especially Television for Student Organizations in Kupang City through distribution leaflet with the topic Diet TV Efforts to Watch Television Intelligently and Critically to the Islamic Student Association (HMI) Kupang Branch on Friday, June 10, 2022. Prior to the distribution of the leaflet, a media literacy discussion was held on the topic according to the leaflet material distributed to this target group and received a positive response from students.
Keywords: Media Literacy, Diet TV, HMI Kupang Branch, KPID NTT
Downloads
Download data is not yet available.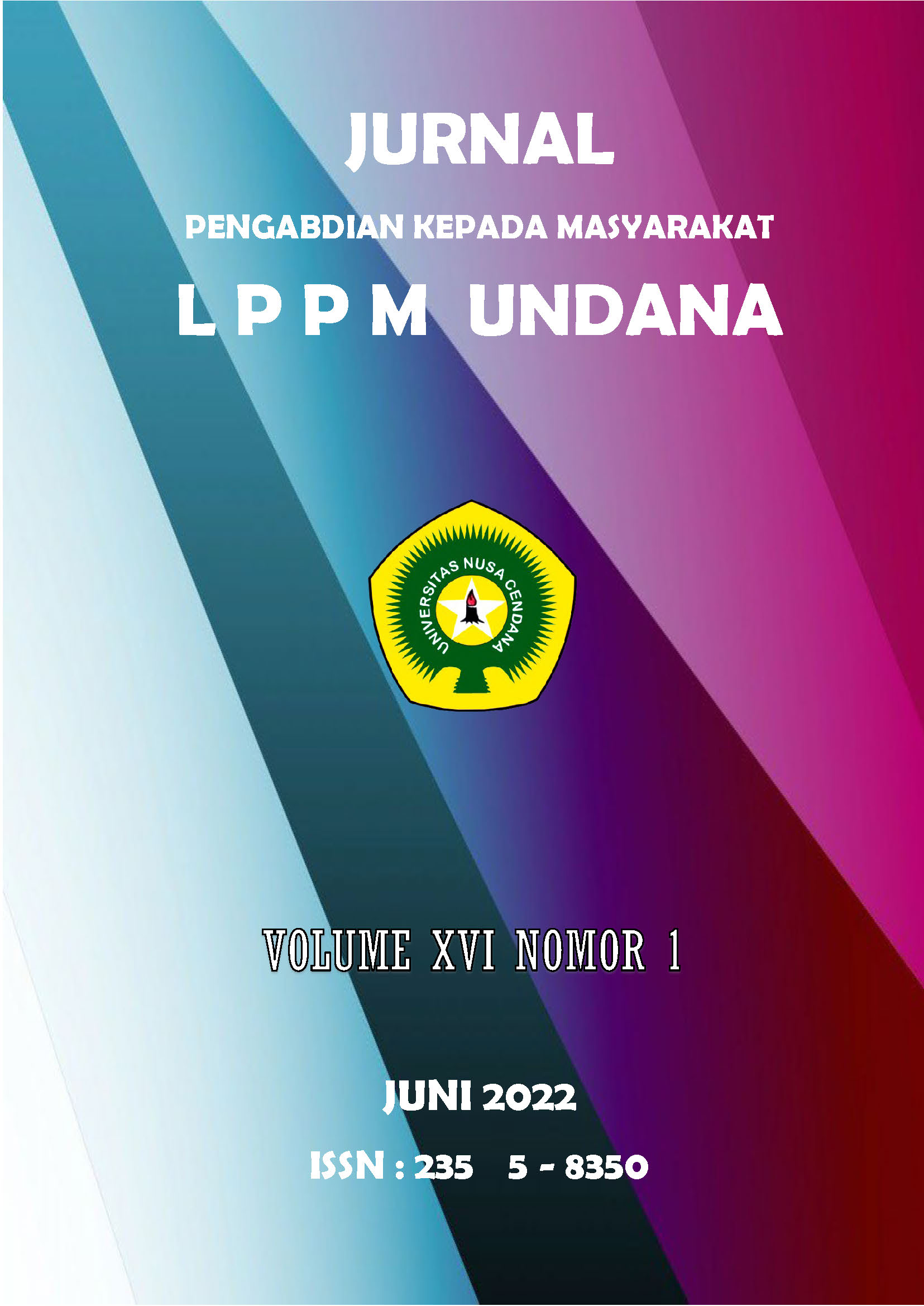 How to Cite
Wutun, M., Daga, L., Swan, M., Meilawati, F., & Lada, H. (2022). Kampanye Literasi Media 'Diet Televisi' Bagi Mahasiswa Di Kota Kupang. Jurnal Pengabdian Kepada Masyarakat Undana, 16(1), 28-35. Retrieved from https://ejurnal.undana.ac.id/index.php/jlppm/article/view/8080