PENAMBAHAN BERBAGAI LEVEL KONSENTRAT MENGANDUNG ZNSO4 DAN Zn-CU ISOLEUSINAT KE DALAM RANSUM BASAL TERHADAP PENGGUNAAN PROTEIN PADA KAMBING KACANG (The addition of various concentrate levels containing ZnSO4 and Zn-Cu isoleusinate against the use of prot
Cesilia Wilfrida Seran

Universitas Nusa Cendana

Erna Hartati

Universitas Nusa Cendana

Gusti Ayu Yudiwati Lestari

Universitas Nusa Cendana
Keywords:
silage, concentrate level, crude protein, blood urea, Kacang goat
Abstract
The purpose of this study was to determine the optimal addition of various levels of concentrate containing ZnSO4 and Zn-Cu isoleusinat against the use of protein that consumes sorghum-kembang telang silage in goats kacang. This study used 12 goats Kacang with an average body weight of 14.40 kg (KV = 14.93%). This study used a Randomized Block Design (RBD) with 4 treatments and 3 replications. The four treatments were T1 = Silage sorghum-kembang telang ad libitium, and T2, T3, T4 = T1 + concentrate with levels of 10%, 20% and 30% respectively containing 150 mg ZnSO4 and 2% Zn-Cu Isoleucine. The parameters observed were PK consumption, PK digestibility, and blood urea concentration. The results showed that the addition of various levels of concentrate containing ZnSO4 and Zn-Cu isoleusinat which was optimal for the use of protein that consumed sorghum-kembang telang silage in goats Kacang had a significant effect (P <0.05) on crude protein consumption, but had no significant effect (P <0.05) on crude protein digestibility and blood urea concentration. The conclusion is that the addition of various levels of concentrate containing ZnSO4 and Zn-Cu isoleusinat which is optimal for the use of protein that consumes sorghum-kembang telang silage in goats Kacang is found in T4 treatment as much as 30%.
References
Arifin HD, Zulfanita. 2012. Amonia rumen dan urea darah kambing jawarandu pengaruh pemberian daun pepaya. Jurnal Surya Agritama 1(1): 38-47.
Harjanti WA, Harjanti DW, Sambodho P, Santoso SAB. 2017. Pengaruh suplementasi baking soda dalam pakan terhadap urea darah dan urea susu sapi perah laktasi. Jurnal Peternakan Indonesia 19(2): 65-71.
Hartati E, Saleh A, Sulistidjo ED. 2009. Optimalisasi proses fermentasi rumen dan pertumbuhan sapi bali melalui suplementasi zn-cu isoleusinat dan znso4 pada ransum berbasis standinghay rumput kume (Andropogon timorensis) amoniasi. Laporan Penelitian Fundamental Fakultas Peternakan, Undana, Kupang.
Hartati E, Saleh A, Sulistidjo ED. 2014. Pemanfaatan standinghay rumput kume amoniasi dengan penambahan znso4 dan zn-cu isoleusinat dalam ransum untuk mengoptimalkan konsumsi, kecernaan dan kadar glukosa darah sapi bali dara. Fakultas Peternakan, Jurusan Nutrisi dan Makanan Ternak, Undana, Kupang.
Hartati E, Kleden MM, Lestari GAY, Jelantik IGN. 2018. Nutrient intake, digestibility, rumen parameters and blood metabolites of kacang goats fed silage of forage mixture produced from intercropping of sorghum differing in planting space with butterfly pea (Clitoria ternatea). Indian Journal of Animal Nutrition. 36(4): 334-341.
Hume ID. 1982. Digestion and protein Microbalism in a Course Manual in Nutrition and Growth. Editor: H. L. Davies. Australian Universities. Australian Vice Choncellors Committee, Sidney.
Katupu A.J, Hartati E, Lestari GAY. 2019. pengaruh pemberian pakan silase dari tumpang sari tanaman sorgum (sorghum bicolor l. moench) dan clitoria ternatea pada jarak tanaman yang berbeda terhadap konsumsi, kecernaan dan pemanfaatan protein pada kambing kacang betina. Fakultas Peternakan. Univrsitas Nusa Cendana. Kupang.
Kirtane AJ, Leder DM, Waikar SS, Chertow GM, Ray KK, Pinto DS, Karmpaliotis D, Burger AJ, Murphy SA, Cannon CP, Braunwald E, Gibson CM. 2005. Serum blood urea nitrogen as an independent marker of subsequent motality among patients with acute coronary syndromes and normal to middly reduced glomerular filtration rates. J. Am Coll Cardiol 45: 1781-1786.
Kronberg SI, Malechek JC. 1997. Relationship beetwen nutrition and foraging behaviour of freeranging sheep and goats. Journal of Animal Science. 15(7): 1756-1763.
Little DA. 1986. The Mineral Content of Rumniant Feeds and Potential for Mineral Supplementation In South-East Asia With Particular Reference to Indonesia. In : R.M. Dixon. (Ed), Ruminant Feeding Systems Utilizing Fibrous Agricultural Residues 1986. IDP, Canberra.
National Research Council [NRC]. 1988. Nutrient Requirement of Dairy Cattle. 6thEd. National Academy Science. Washington, D.C.
Ora UNH, Jelantik IGN, Jalaludin. 2016. Kualitas silase hiajuan Clitoria ternatea yang ditanam monokultur dan terintegrasi dengan jagung. Jurnal Nukleus Peternakan 3(1): 24-33.
Puastuti W. 2008. Protein pakan tahan degradasi rumen untuk meningkatkan produksi susu. semiloka nasional prospek industri sapi perah menuju perdagangan bebas – 2020. 19 April – 21 April. Jakarta, Indonesia. Hal. 46 – 51.
Purnomohadi M. 2006. Potensi penggunaan beberapa varietas sorgum manis (Sorgum bicolor L. moench) sebagai tanaman pakan berkelanjutan. Hayati 12: 4-44.
Reksohadiprodjo, S. 1995. Serat dan Sifat Menciri Fisiokimia Hijauan Pakan. Dalam: Kursus Singkat Teknik Evaluasi Pakan Ruminansia. Fakultas Peternakan, UGM, Yogyakarta.
Sirappa MP. 2003. Prospek Pengembangan Sorgum di Indonesia Sebagai Komoditas Alternative Untuk Pangan, Pakan, dan Industry. Jurnal Litbang Pertanian 22 (4): 133-140.
Sofyadi, E. 2011. Aspek Budidaya, Prospek, Kendala, dan Solusi Pengembangan Sorgum di Indonesia. Jakarta.
Sutedi E. 2013. Potensi Kembang Telang (Clitoria ternatea) Sebagai Tanaman Pakan Ternak. Jurnal Wartazoa 23(2): 49-56.
Sutrisna N, Sunandar N, Surdianto Y. 2014. Inovasi teknologi dan kelembagaan dalam sistem usahatani integrasi tanaman sorgum ternak sapi ramah lingkungan pada lahan suboptimal di jawa barat. Prosiding Seminar Nasional. PP: 85-98. BPTP Jawa Barat dan Universitas Padjajaran
Tahuk PK. 2008. Kinerja kambing bligon jantan pada penggemukan dengan level protein kasar berbeda. Tesis. Fakultas Peternakan, Universitas Gadjah Mada, Yogyakarta
Thalib A, Haryanto B, Kompiang S, Mathius IW, Ainin A. 2000. Pengaruh mikromineral dan fenilpropionat terhadap performans bakteri selulotik coccid dan batang dalam mencerna serat hijauan pakan. Jurnal Ilmu Ternak dan Vet. 5(2): 92-99.
Tillman AD, Hartadi H, Soedomo R, Soeharto P, Soekanto L. 2005. Ilmu Makanan Ternak Dasar. Fakultas Peternakan Universitas Gadjah Mada, Yogyakarta.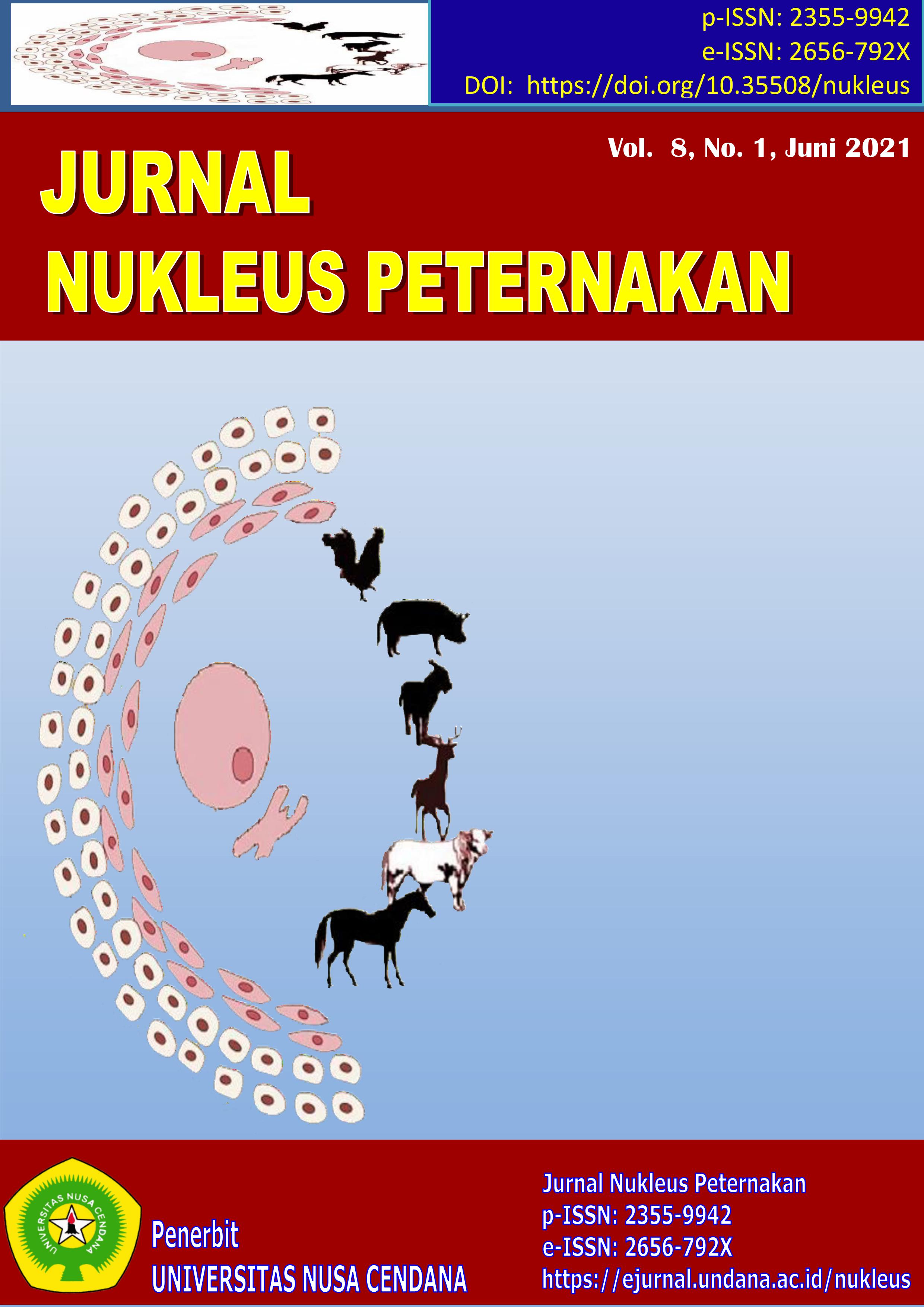 How to Cite
Seran, C., Hartati, E., & Lestari, G. (2021). PENAMBAHAN BERBAGAI LEVEL KONSENTRAT MENGANDUNG ZNSO4 DAN Zn-CU ISOLEUSINAT KE DALAM RANSUM BASAL TERHADAP PENGGUNAAN PROTEIN PADA KAMBING KACANG (The addition of various concentrate levels containing ZnSO4 and Zn-Cu isoleusinate against the use of prot. JURNAL NUKLEUS PETERNAKAN, 8(1), 67-74. https://doi.org/10.35508/nukleus.v8i1.4231
Copyright (c) 2021 JURNAL NUKLEUS PETERNAKAN
This work is licensed under a Creative Commons Attribution-NonCommercial-NoDerivatives 4.0 International License.