SUPLEMENTASI BEBERAPA PROBIOTIK MELALUI AIR MINUM TERHADAP PERFORMANS AYAM BROILER PERIODE AKHIR
Sutan Y.F.G. Dillak

Universitas Nusa Cendana

Ni Putu F. Suryatni

Universitas Nusa Cendana

Yusuf L. Henuk

Universitas Nusa Cendana
Keywords:
probiotik, effective mikroorganism 4 (EM4), Famida Manin (FM), Amazing Bio Growth Broiler (ABG UD), probiotics
Abstract
Tujuan dari penelitian ini adalah untuk mengevaluasi efek probiotik ditambahkan dalam air minum pada konsumsi pakan, pertambahan bobot badan  dan rasio konversi ransum  ayam pedaging finisher. 80 DOC broiler (CP 707) digunakan dalam penelitian ini. Acak Lengkap Desain digunakan dalam percobaan dengan 4 perlakuan dan 5 ulangan. Ke-4  perlakuan adalah (1) air dringking tanpa probiotik (P0); (2) air minum + EM4 probiotik 1 cc / l air (P1); 3) air minum + probiotik ABG UD 1cc / l air (P2); (4). Minum air + probiotik FM 5 cc / l air (P3). Komersial diet CP 12 diberikan secara  ad libitum. Hasil penelitian menunjukkan bahwa pengaruh perlakuan adalah sigficant (P> 0,05) pada berat badan dan rasio konversi ransum.  Namun, probiotik FM memiliki efek yang lebih baik pada berat badan dan rasio konversi ransum  jika dibandingkan dengan EM4, FM dan ABG UD
ABSTRACT
The purpose of the study is to evaluate probiotics effect added in drinking water on feed consumption (FC), body weight gain (BWG) and feed convertion ratio (FCR) of finisher broiler. 80 DOC broiler (CP 707)  were used in this study. Completely Randomized Design was used in the experiment with 4 treatments and 5 replicates. The four treatments were (1) dringking water without  probiotic (T0); (2) Drinking water + probiotic EM4 1 cc/l air (T1); 3) Drinking water + probiotic ABG UD 1cc/l air (T2); (4). Drinking water + probiotic FM 5 cc/l air (T3). Commercial diet CP 12 was offered ad libitum.  The results showed that the effect of treatmens was sigficant (P>0.05) on BWG and FCR. However, FM probiotic had better effect compared to its couterparts concerning BWG and FCR.
References
Amrullah IK. 2006. Nutrisi Ayam Broiler. Lembaga Satu Gunung Budi, Bogor.
Anggorodi R. 1999. Nutrisi Aneka Ternak Unggas. PT Gramedia Pustaka Utama, Jakarta.
Jayanta CE, Harianti N. 2011. Panen Ayam Broiler. Agromedia Pustaka, Jakarta
Manin F, Hendalia, E, Yusrizal. 2009. Penggunaan berbagai bakteri Bacillus dan Bakteri Asam Laktat Sebagai Sumber Probitik dalam Air Minum terhadap Performans Ayam Broiler. Laporan Penelitan Hibah Bersaing.
Mulyantini GAN. 2010. Ilmu Manajemen Ternak Unggas. Gadjah Mada University Press, Yogyakarta.
Murtidjo BA. 1987. Pedoman Beternak Ayam Broiler. Penerbit Kanisius, Yogyakarta.
Steel RGD, Torrie JH. l995. Principle and Procedures of Statistics. 2nd Ed. McGraw-Hill International Book Company, London.
Wiryawan K.G., M. Sriasih., D.P. Winata. 2005. Penampilan Ayam Pedaging Yang Diberi Probitik EM4 Sebagai Pengganti Antibiotik. Majalah Ilmiah Peternakan 8(2): 4-7.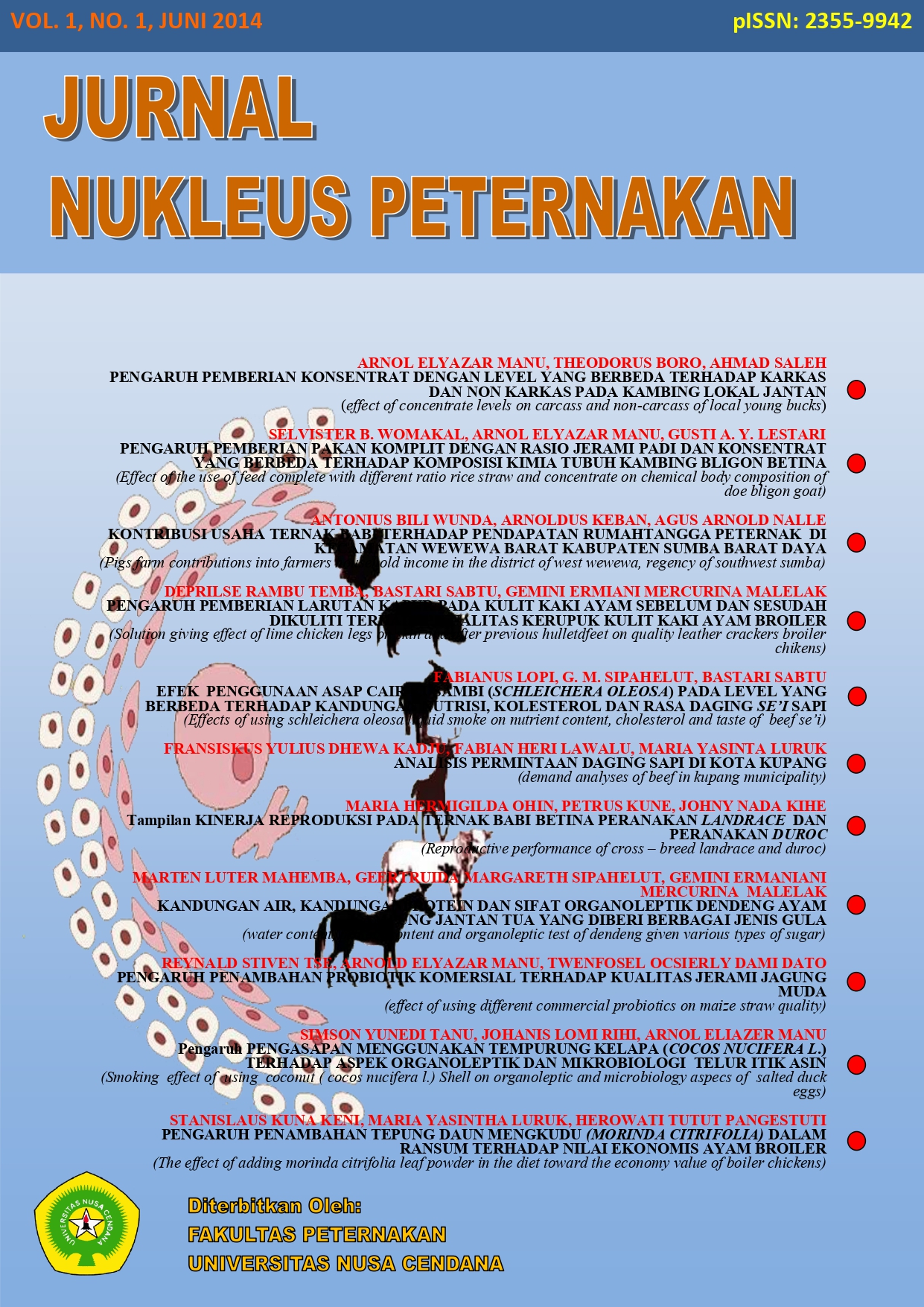 How to Cite
Dillak, S., Suryatni, N. P., & Henuk, Y. (2014). SUPLEMENTASI BEBERAPA PROBIOTIK MELALUI AIR MINUM TERHADAP PERFORMANS AYAM BROILER PERIODE AKHIR. JURNAL NUKLEUS PETERNAKAN, 1(1), 44-49. https://doi.org/10.35508/nukleus.v1i1.707