EVALUASI KANDUNGAN NEUTRAL DETERGEN FIBER DAN ACID DETERGEN FIBER STANDING HAY RUMPUT KUME AMONIASI DENGAN LEVEL AIR BERBEDA YANG DIFERMENTASI JAMUR TIRAM ABU-ABU (Pleurotus sajor caju)
Edelnia Kristina Bere

universitas Nusa Cendana

Tara Tiba Nikolaus

universitas Nusa Cendana

Jalaludin .

universitas Nusa Cendana
Keywords:
ADF, NDF, standinghay rumput kume, jamur tiram abu-abu
Abstract
Objectievs of this research was to know  NDF and ADF content of  Kume grass standinghay ammoniated with t Pleurotus sajor caju  in different water levekl.  Experimental design used was bcompletely randomized design  4 X 4 with factorial pattern.  The first factor was  four substrate water level (KAI):  KA1 = 62,5% , KA2 = 70,0 % KA3 = 77,5% dan KA4 = 85,0 % . The second level was inoculum dose of Pleurotus sajor-cajur yeast (D): DI1 = 10g, DI2 = 15g, DI3 = 20g dan DI4 = 25g  kg-1 substrat. Anaklysis result showed that treatment interaction reduced NDF and ADF Standinghay of kume grass (P< 0,01)  It can be concluded that the interaction of Dari hasil penelitian ini dapat disimpulkan bahwa dengan adanya interak water level and inoculums dose (water level  77,5% and inoculum  dose of the yeast  20g kg-1 (KA3DI3) is the best combination, since reduces NDF and ADF.
ABSTRAK
 Penelitian ini bertujuan untuk mengetahui kandungan NDF dan ADF standinghay rumput kume amoniasi yang difermentasi jamur tiram abu-abu (Pleurotus sajor caju). Rancangan yang digunakan adalah Rancangan Acak Lengkap (RAL) pola faktorial 4 x 4 dengan ulangan 3 kali. Sebagai faktor pertama adalah kadar air substrat (KA) terdiri atas 4 level yaitu KA1 = 62,5% , KA2 = 70,0 % KA3 = 77,5% dan KA4 = 85,0 % dari total berat substrat dan faktor kedua adalah dosis inokulum jamur Pleurotus sajor-cajur (D), yang terdiri atas 4 level yaitu DI1 = 10g, DI2 = 15g, DI3 = 20g dan DI4 = 25g  kg-1 substrat. Hasil analisis ragam menunjukkan bahwa perlakuan berpengaruh sangat nyata (P<0,01) dapat menurunkan kandungan NDF dan ADF Standinghay rumput kume amoniasi dengan level air berbeda yang difermentasi jamur tiram abu-abu (Pleurotus sajor caju). Dari hasil penelitian ini dapat disimpulkan bahwa dengan adanya interaksi antara kadar air dan dosis inokulum, perlakuan pada level kadar air 77,5% dan dosis inokulum jamur 20g kg-1 (KA3DI3) merupakan kombinasi terbaik, karena dapat menurunkan komponen serat NDF dan ADF terendah.
Downloads
Download data is not yet available.
References
Andayani J. 2010. Evaluasi kecernaan in vitro bahan kering, bahan organik dan protein kasar penggunaan kulit buah jagung amoniasidalam ransum ternak sapi. Jurnal Ilmiah Ilmu-Ilmu Peternakan 8(5):253-256.
Arief R. 2001. Pengaruh penggunaan jerami pada amoniasi terhadap daya cerna NDF, ADF dan ADS dalam ransum domba lokal. Jurnal Agroland 8(2):208-215.
Datta RK, Sarkar A, Rao PRM, Singhvi NR. 2002. Utilization of mulberry as animal fodder in India. Dalam: Sanchez: MD, (Editor). Mulberry for animal production. Proceedings of an Electronic Conference Carried Out, May And August 2000. Roma: FAO Animal Production and Health Paper: 183-188.
Dami Dato TO. 1998. Pengolahan rumput sorghumplumosum var. timorense kering dengan filtrat abu sekam padi (fasp) terhadap perubahan komponen serat dankecernaannya secara in vitro. Tesis. Program Pascasarjana, Universitas Padjadjaran, Bandung.
Djarijah NM & Djarijah AS. 2001. Jamur Tiram Pembibitan Pemeliharaan dan Pengendalian Hama Penyakit. Yogyakarta: Kanisius.
Hadar YZ. Kerem,Gorodecki B. 1993. Biodegradation of Lignocellulosic Agricultural Wastes by Pleurotus ostreatus. Journal of Biotechology, 30: 133-139.
Harfiah. 2009. Peningkatan kualitas pakan berserat dengan perlakuan alkali, amoniasi, dan fermentasi dengan mikroba selulolitik dan lignolitik. J. Sains & Teknologi. 9 (2) : 150 – 156.
Kasim EA, Ghazi IM, Nagieb ZA. 1985. Effect of pretreatment of cellulosic waste on the production of cellulase enzymes by Trichoderma reesei. J. of Ferment. Technol 6(3):129- 193.
Mahmood KY, Wei-jun K, Nazir RZ, Iqbal, Abdullah AG. 2006. Study of cellulolytic soil fungi and two nova spesies and medium. Journal of Zheijiang University 7(6) :575-583.
Morrison IM. 1980. Hemicellulosic contamination of acid detergent residues and their replacement by cellulose residues in cell wall analysis. Journal Sci. Food Agriculture, 31: 639-645.
Mugiyono Y, Soedomo, Margino, Yoetomo Soeyono. 1984. Teknik budidaya jamur gajih (pleurotus sp) untuk meningkatkan nilai nutrisi jerami padi sebagai makanan ternak sapi potong. lokakarya pertama evaluasibiologi, kimia dan fisika limbah lignoselulosa.Jakarta:Kerjasama LIPI (Indonesia) dan ILOB (Netherland).
Paterson A. 1989. Biodegradation of Lignin and Cellulosic Materials. Biotechnology for Livestock Production. Plenum Press 245 - 259.
Sanderson MA, Paul RA. 2008. Perennial forages as second generationbioenergy crops. International Journal of Molecular Sciences 9:768-788.
Suprapti S. 1988. Pengaruh penambahan dedak terhadap produksi jamur tiram. Jurnal Penelitian Hasil Hutan 5(6):337-339.
Steel RGD, Torie JH, Dickey DA. 1991. Principles And Procedures Of Statistics: A Biometrical Approach 3rd Editon. McGraw-Hill. Book.
Yang WZ, Beauchemin KA .2006b. Increasing thephysically effective fiber content of dairy cow diets may lower efficiency of feed use. J Dairy Sci 89:2694-2704.
Zulkarnaini. 2009. Pengaruh suplementasi mineral fosfor dan sulfur pada jerami padi amoniasi terhadap kecernaan NDF, ADF, selulosa dan hemiselulosa.Jurnal Ilmiah Tambua 8:473-477.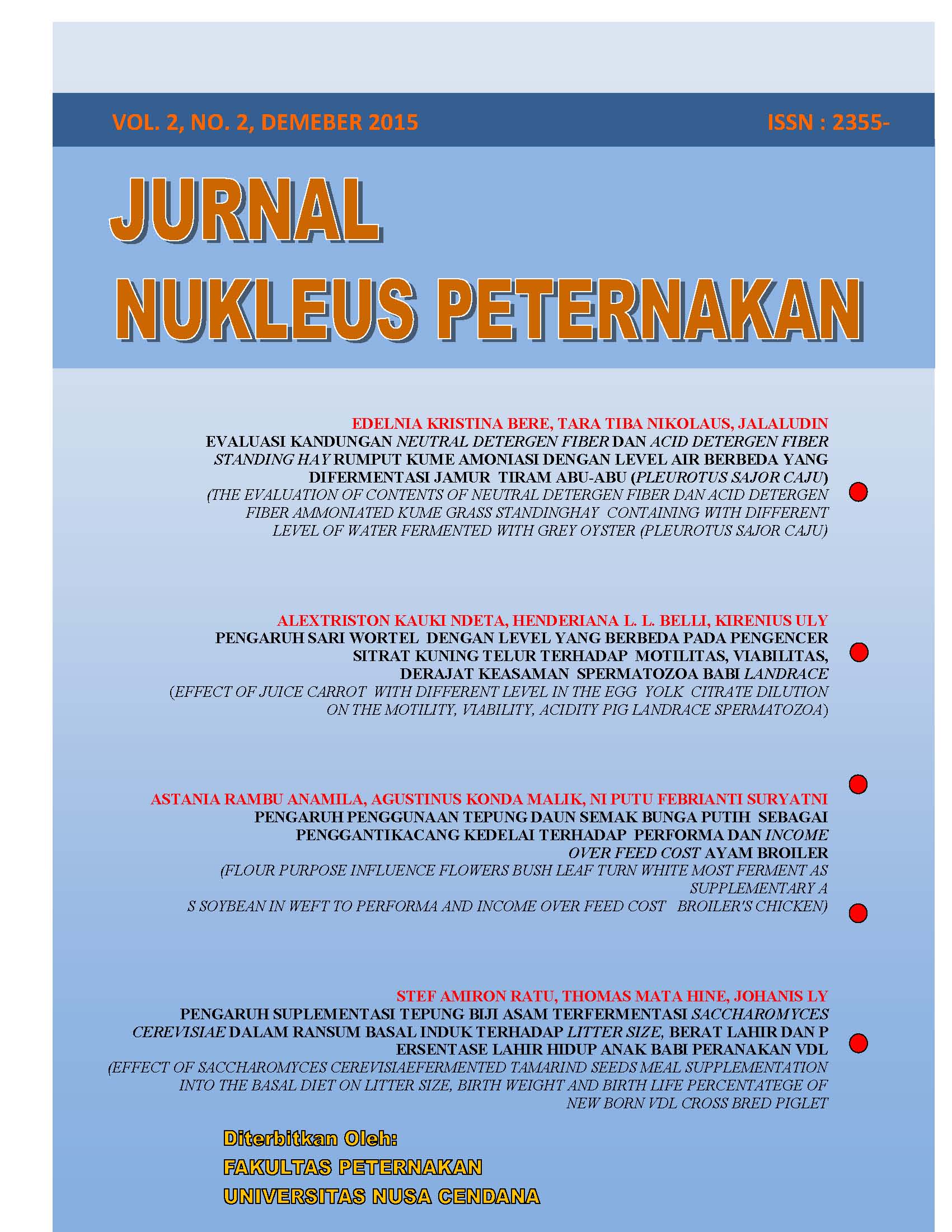 How to Cite
Bere, E., Nikolaus, T., & ., J. (2015). EVALUASI KANDUNGAN NEUTRAL DETERGEN FIBER DAN ACID DETERGEN FIBER STANDING HAY RUMPUT KUME AMONIASI DENGAN LEVEL AIR BERBEDA YANG DIFERMENTASI JAMUR TIRAM ABU-ABU (Pleurotus sajor caju). JURNAL NUKLEUS PETERNAKAN, 2(2), 110-116. https://doi.org/10.35508/nukleus.v2i2.762