PENGARUH PENAMBAHAN TEPUNG KUNYIT DALAM RANSUM BASAL TERHADAP PERTAMBAHAN BOBOT BADAN, KONSUMSI RANSUM, KONSUMSI PROTEIN KASAR DAN KONVERSI RANSUM TERNAK BABI
Fransisco Heryfianto

universitas Nusa Cendana

I Made Suaba Aryanta

universitas Nusa Cendana

Tagu Dodu

universitas Nusa Cendana
Keywords:
ternak babi, ransum, tepung kunyit
Abstract
The research was aim to determine  the effect of curcuma meal suplemention treatment in basal diet for weight improvement, diet consumption, crude protein consumption, and diet conversion in pigs. The materials used in the research were 12 - two to three months landrace female piglets with initial weights vary from 8.50 to 15 kilograms and variance coefficient 23.32%. The ransom materials used were corn, rice bran, fish meal, concentrate 157, curcuma meal, moringa meal, mineral 10 and coconut oil.  A randomized block designed  method was employed in the research with 4 treatments and 3 replicates. The treatments tested were: R0: basal ration without turmeric meal (control), R1: basal ration + 0,25% turmeric meal, R2: basal ration + 0,50% turmeric meal, R3: basal ration + 0,75% turmeric meal. The parameters measured in this research were body weights improvement, diet consumption, crude protein consumption and diet conversion. ANOVA analysis results showed that the treatment effect was not significant (P> 0.05)  affecting the increase of body weights, diet consumption, crude protein consumption, and diet conversion. Therefore, it can be concluded that the suplemention of curcuma meal on the level of 0.25% to 0,75% give relatively equal effect on the measured parameters.
Tujuan penelitian adalah untuk mengevaluasi  pengaruh penambahan  tepung kunyit dalam ransum basal terhadap pertambahan bobot badan,  konsumsi ransum, konsumsi protein  kasar dan konversi ransum ternak  babi. Materi yang digunakan adalah 12 ekor ternak babi betina  peranakan landrace yang berumur 2–3 bulan dengan berat badan awal 8,5–15 kg (KV=23,32%). Penelitian ini menggunakan Rancangan Acak Kelompok (RAK) dengan empat perlakuan dan tiga ulangan. Perlakuan yang dicobakan adalah : R0: Ransum basal tanpa tepung kunyit (kontrol), R1: Ransum basal  + tepung kunyit 0,25%, R2: Ransum basal  + tepung kunyit 0,50%, R3: Ransum basal  + tepung kunyit 0,75%. Parameter yang diukur adalah pertambahan bobot badan, konsumsi ransum, konsumsi protein kasar dan konversi ransum. Hasil analisis ANOVA menunjukkan bahwa perlakuan berpengaruh tidak nyata (P>0,05) terhadap pertambahan bobot badan, konsumsi ransum, konsumsi protein kasar dan konversi ransum. Bertolak dari hasil tersebut disimpulkan bahwa tingkat penambahan tepung kunyit dengan persentase 0,25–0,75% memberiakan respon yang relatif sama.
Downloads
Download data is not yet available.
References
AL-Sultan SI. 2003. The effect of cur- cuma longa (tumeric) on overall performance of broiler chickens. International Journal of Poultry Sci 2(5):351-353.
Anggorodi R. 1994. Ilmu Makanan Ternak Unggas. Universitas Indonesia, Jakart
Ariyanto AN, Iriyanti N, Mufti M. 2013. Pemanfaatan tepung kunyit (Curcuma domestica val) dan sambiloto (Andrographis paniculata nees) dalam pakan terhadap konsumsi pakan dan pertumbuhan bobot badan broiler. Jurnal Ilmiah Peternakan 1(2): 471- 478.
Gaspersz V. 1991. Metode Perancangan Percobaan. Armino Bandung, Bandung.
Hyun Y, Ellis M, Riskowski G, Johnson RW. 1998. Growth performance of pigs subjected to multiple concurrent stressors. J Anim Sci 76:721-727.
Ichwan W. 2003. Membuat Pakan Ayam Ras Pedaging. Agromedia Pustaka, Jakarta
Malheiros RD, Moraes MB, Collin A, Janssens PJ, Decuypere E, Buyse J. 2003. Dietary macronutrients, endocrine functioning and intermediary metabolism in broiler chickens. Nutr Res 23:(4) 567-578.
Nugroho E. 2014. Beternak babi. Eka Offiset. Semarang.
Pratikno H. 2010. Pengaruh ekstrak kunyit (Curcuma domestica val) terhadap bobot badan ayam broiler (Gallus sp). Buletin Anatomi dan Fisiologi 18(2):39-46
Parakkasi, A. 1990. Ilmu Nutrisi dan Makanan Ternak Monogastrik. Fapet IPB, Bogor.
PT. Charoen Pokhpan Indonesia. 2014. Kandungan Nutrisi Ransum. Label Ransum. PT. Charoen Pokphand Jaya Indonesia, Lampung.
Pujianti AN, Jaelani A, Widaningsih N. 2013. Addiction by curcuma meal (curcuma domestica) in ration to protein and dry mater digestability on broiler. Jurnal Protein 36(1):49-59.
Rahmat A, Kusnadi E. 2008. Pengaruh penambahan tepung kunyit dalam ransum yang diberi minyak jelantah terhadap performan ayam broiler. Jurnal Ilmu Ternak 8(1):25-30.
Rukmana R. 2005. Kunyit. Kanisius, Yogyakarta.
Sari KN, Sukamt B, Dwilok B. 2014. Efisiensi penggunaan protein pada ayam broiler dengan pemberian pakan mengandung tepung daun kayambang (Salvinia molesta). Agripet 14 (1):76-83.
Sinaga S, Martini S. 2010. Pengaruh pemberian berbagai dosis curcuminoid pada ransum babi periode starter terhadap efisiensi ransum. Jurnal ilmu ternak 10(1)45-51.
Sinaga S, Sihombing DTH, Kartiarso, Bintang M. 2011. Kurkumin dalam ransum babi sebagai pengganti antibiotik sintetis untuk perangsang pertumbuhan. Jurnal Ilmu-ilmu Hayati dan Fisik 2(13):125-132.
Sinaga S, Silalahi M, Benedictus. 2012. Pengaruh pemberian berbagai dosis curcuminoid pada babi terhadap pertumbuhan dan konversi ransum. Jurnal Penelitian Pertanian Terapan 12(1):20-27
Sihombing DTH. 2006. Ilmu Ternak Babi. Gadjah Mada University Press, Yogyakarta.
Tantalo S. 2009. Perbandingan performans dua strain yang mengkonsumsi air kunyit. Jurnal Ilmiah Ilmu-Ilmu Peternakan. 12 (3):146-152.
Toana NM. 2008. Pengaruh pemberian tepung kunyit (curcuma domestika val) dalam ransum terhadap performans produksi itik periode beltelur. J Agroland 15(2):140-143.
Tillman AD, H Hartadi, S Reksohadiprodjo, S Prawirokusumo, S Lebdosoekojo. 1991. Ilmu Makanan Ternak Dasar. Gajah Mada University Press, Yogyakarta.
Warouw ZM, Panelewen VVJ, Mirah ADP. 2014. Analisis usaha peternakan babi pada perusahan "kasewean" kakaskasen II kota tomohon. Jurnal Zootek 34(1):92-102.
Wiradisastra MDH. 1986. Evektivitas keseimbangan energi dan asam amino dan efisiensi absorpsi dalam menentukan persyaratan kecepatan tumbuh ayam broiler. Disertasi. Institut Pertanian Bogor, Bogor.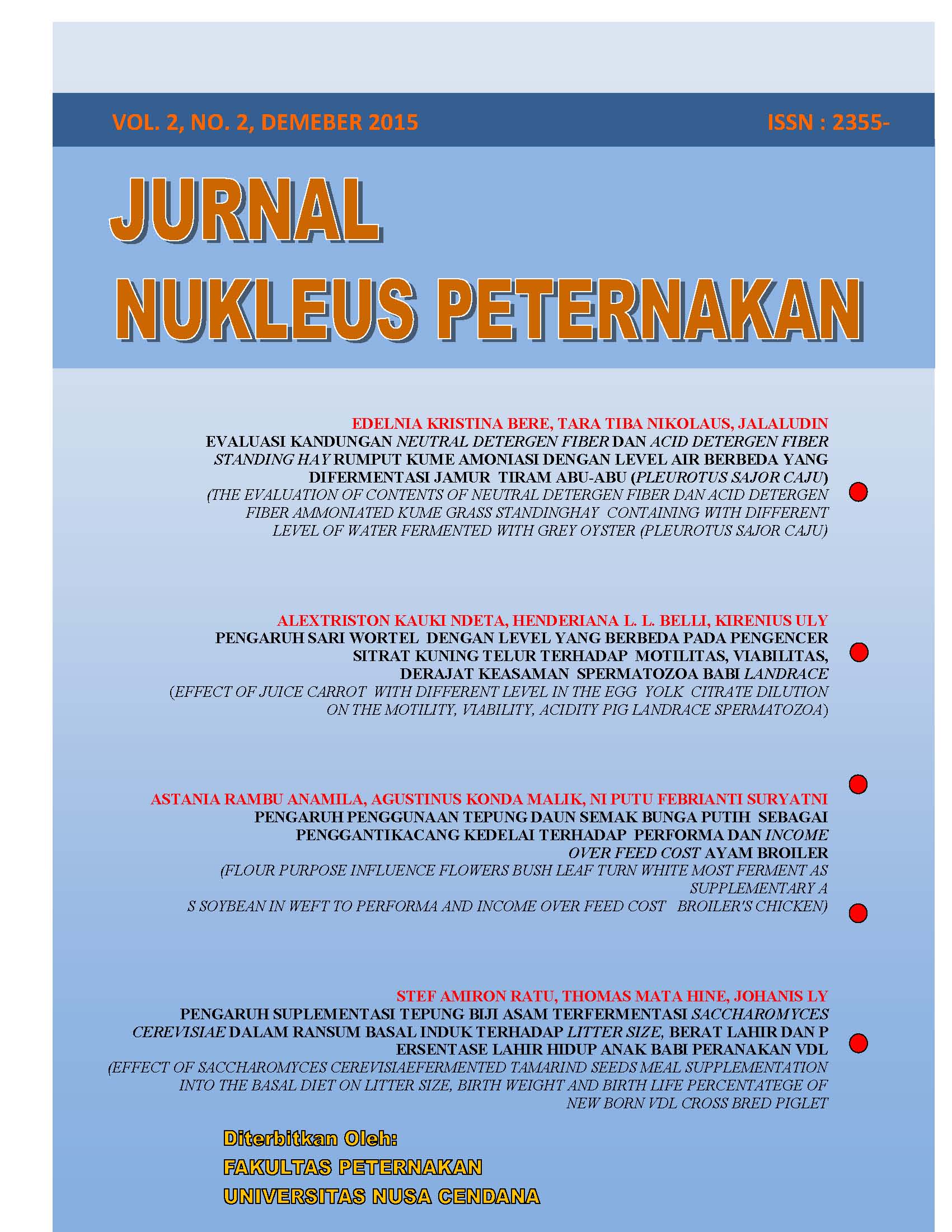 How to Cite
Heryfianto, F., Aryanta, I. M., & Dodu, T. (2015). PENGARUH PENAMBAHAN TEPUNG KUNYIT DALAM RANSUM BASAL TERHADAP PERTAMBAHAN BOBOT BADAN, KONSUMSI RANSUM, KONSUMSI PROTEIN KASAR DAN KONVERSI RANSUM TERNAK BABI. JURNAL NUKLEUS PETERNAKAN, 2(2), 200-207. https://doi.org/10.35508/nukleus.v2i2.777