DISTRIBUSI MARGIN PADA LEMBAGA-LEMBAGA YANG TERLIBAT DALAM PEMASARAN TERNAK SAPI DI DARATAN TIMOR NUSA TENGGARA TIMUR
Matheos F. Lalus

universitas Nusa Cendana

Maria R. Deno Ratu

universitas Nusa Cendana
Keywords:
farmer's share, margin, distribusi margin, profit margin
Abstract
Marketing institutions that involve in cattle marketing in WTL-ENT has some activities, such as: buying, transportation, sortation, standardization and grading, etc.The research was conducted by applying  survey method. The results show that: IMC between the cattle price on farmers' level and middlemen was 1.0040; between the farmers and the outer-island traders was1.0048; between the middlemen and the outer-island traders was 1.0714. It means, in short-term, the cattle price in those three markets has not been integrated perfectly. However, farmer's sharehas already fair,although the cattle marketing at each market level has not been integrated perfectly.Average of farmer's share in research site was75.95%, marketing margin was 62.17%; and profit margin was 66.71%. The highest profit margin was 60.70%attained by the middlemen, followed by the outer-island traders at 29.30%. Margin distribution has not been balanced yet, since the middlemen gained88.57% and the outer-island traders gained48.33%.
ABSTRAK
Lembaga perantara yang terlibat dalam pemasaran ternak sapi di DTB-NTT dengan berbagai kegiatan antara lain: pembelian, pengangkutan, sortasi, standarisasi dan grading, dan sebagainya. Penelitian ini dilakukan dengan metode survai. Hasil penelitian ini : IMC antara harga ternak sapi potong di tingkat peternak dan pedagang perantara 1.0040; antara peternak dan pedagang antara pulau 1.0048; antara pedagang perantara dan pedagang antar pulau 1.0714. Berarti dalam jangka pendek harga ternak sapi potong di ketiga pasar belum teritegrasi secara sempurna. Farmer's share sudah berlangsung cukup adil, meskipun pada berbagai tingkatan pasar ternak sapi di wilayah ini belum terintegrasi secara sempurna. Rata-rata farmer's share di wilayah penelitian 75,95%. Margin pemasaran 62,17%; profit margin 66.71%. Profit margin terbesar diterima pedagang perantara 60.70%, pedagang antar pulau 29.30%. Distribusi margin pemasaran masih timpang, yakni pedagang perantara 88.57% dan pedagang antar pulau 48.33%.
References
Anindita R. 2004. Pemasaran Hasil Pertanian. Penerbit PAPYRUS. Jln Semolowaru Indah Blok I-15 Surabaya 60119.
Asmarantaka RW. 2009. Pemasaran Produk-Produk Pertanian. Bunga Rampai Agribisnis Seri Pemasaran. Penerbit Departemen Agribisnis Fakultas Ekonomi dan Manajemen Institut Pertanian Bogor.
Goodwin BK, Piggott NE. 2001. Spatial Market Integration, in the Presence of Threshold Effects. American Journal Agricultural Economics Association, 83(2): 302-6017
Kurniawan AR. 2014. Total Marketing. Penerbit Kobis. Jl Imogiri Barat RT 5 no 95 Bangunharjo Sewon Bantul Yogyakarta 55187.
Lalus MF. 2001. Integrasi Pasar Pada Sistem Pemasaran Ternak Sapi Potong di Kawasan Timor Barat Nusa Tenggara Timur. "AGRI-TEK" Jurnal Penelitian Ilmu-Ilmu Eksakta. Universitas Merdeka Madiun. 1(2):
Mubyarto 1986. Pengantar Ekonomi Pertanian Edisi Ketiga. Penerbit Lembaga Penelitian, Pendidikan Ekonomi dan Sosial, Jakarta.
Pendell, Dustin L, Schroeder TC. 2006. Impact of Mandatory Price Reporting on Fed Cattle Market Integration. Journal of Agricultural and Resource Economics 31(3):568-579
Sexton, Richard J, King CL, Carman HF. 1991. Market Integration, Efficiency of Arbitrage and Imperfect competition. Methodology and application to U.S Celery. American Journal of Agricultural Economics. 73 (3): 568-580.
Sudiyono A. 2004. Pemasaran Pertanian. Edisi kedua UMM Press, Penerbit Universitas Muhammadiyah Malang.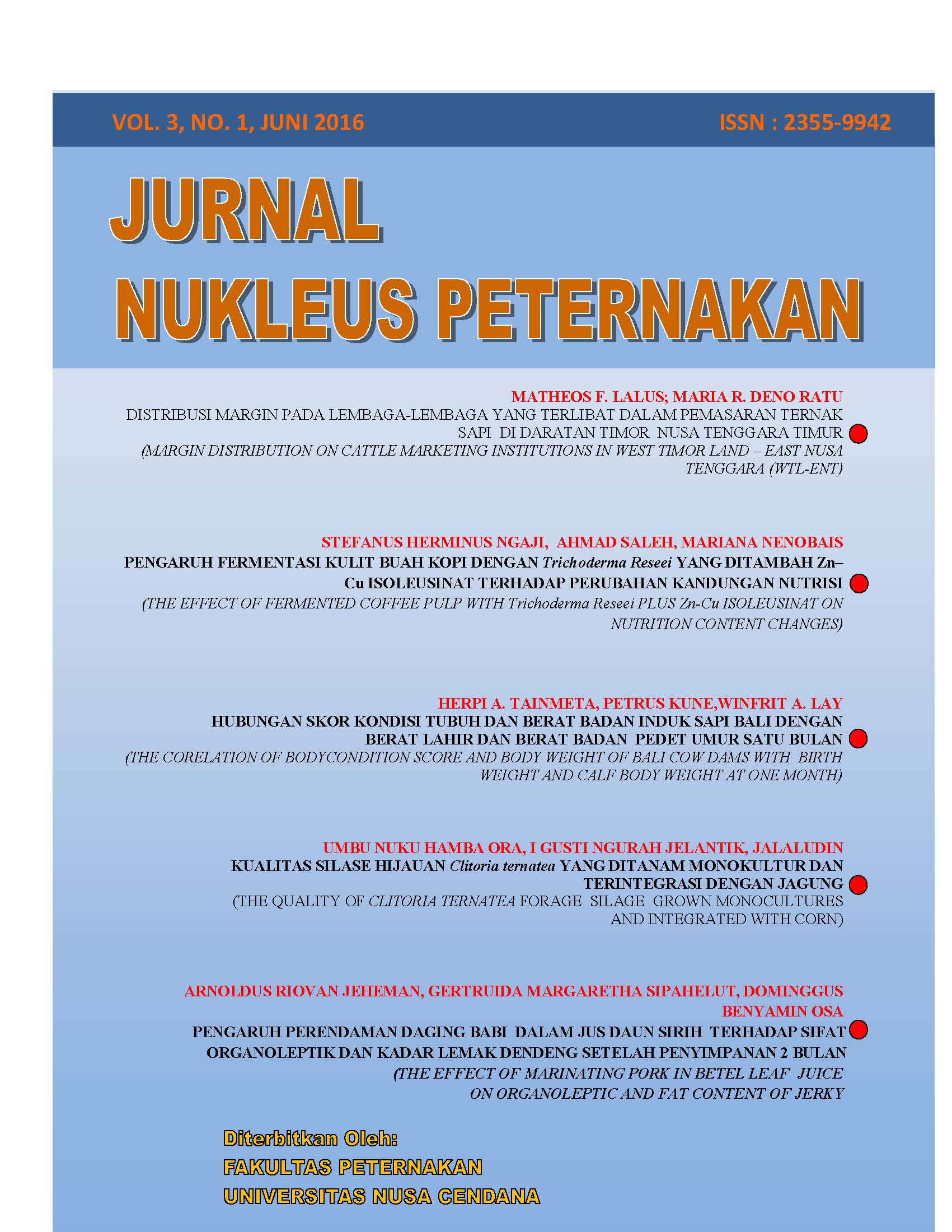 How to Cite
Lalus, M., & Deno Ratu, M. (2016). DISTRIBUSI MARGIN PADA LEMBAGA-LEMBAGA YANG TERLIBAT DALAM PEMASARAN TERNAK SAPI DI DARATAN TIMOR NUSA TENGGARA TIMUR. JURNAL NUKLEUS PETERNAKAN, 3(1), 1-8. https://doi.org/10.35508/nukleus.v3i1.778