PENGARUH PENGGUNAAN TEPUNG BONGGOL PISANG TERFERMENTASI DALAM RANSUM TERHADAP KECERNAAN BAHAN KERING DAN BAHAN ORGANIKTERNAK BABI
Teresia Itu(1*)


universitas Nusa Cendana

Tagu Dodu(2)


universitas Nusa Cendana

Ni Putu Febri Suryatni(3)


universitas Nusa Cendana

(*) Corresponding Author

Keywords:
ternak babi landrace, ransum basal, tepung bonggol pisang terfermentasi
Abstract
Aims of this experiment were to know the effect adding fermented banana corm flour in basal ratio on feed intake, digestibility of dry and organic matter in pigs. There were 12 starter (6 weeks of age) Landrace crossbred pigs with 12-21 kg (CV 25.69%) initial body weight used in the trial. Randomized block design with 4 treatments and 3 blocks was used in the trial. The 4 treatment diets offered were formulated as: R0 (basal feed without fermented banana corm); R1 (feed with 7%fermented banana corm); R2 (feed with 14% fermented banana corm); and R3 (feed with 21% fermented banana corm). Variable studied in the study wereintake and digestibility of both dry matter and organic matter. The result showed that effect of treatment was not affected (P>0,05) on either dry matter or organic matter digestibility.The conclusion is that including 0%-21% into basal feed performed the similar results in both dry matter and organic matter digestibility.
ABSTRAK
Tujuan penelitian adalah untukmengetahui pengaruh penggunaan tepung bonggol pisang terfermentasi dalam ransum basal terhadap konsumsi dan kecernaan bahan kering dan bahan organik pada babi.Materi yang digunakan adalah 12 ekor anak babi peranakan Landrace fase starter (umur 6 minggu) dengan bobot awal 12-21 kg dan koevisienvariasi 25,69%. Penelitian ini menggunakan RancanganAcak Kelompok (RAK) dengan empat perlakuan dan tiga ulangan.Perlakuan yang diberikan: R0 (tanpa tepung bonggol pisang terfermentasi), R1 (tepung bonggol pisang terfermentasi 7 % dalam ransum basal), R2 (tepung bonggol pisang terfermentasi 14% dalam ransum basal), R3 (tepung bonggol pisang terfermentasi 21% dalam ransum basal). Parameter yang diukur adalah konsumsi dankecernaan bahan kering dan bahanorganik pada babi.Hasil penelitian menunjukkan bahwa perlakuaan tidak berpengaruhnyata (P>0,05) terhadap konsumsi, kecernaan bahan kering dan bahan organik. Bertolak dari hasil tersebut disimpulkan bahwa tingkat penambahan tepung bonggol pisang terfermentasi 0%-21% dalam ransum basal memberikan respon yang relative sama.
Downloads
Download data is not yet available.
References
Bhat SV, Bhimsen AN, Meenakshi S. 2005. Chemistry of Natural Products. Narosa Pubishing House. New Delhi.
Budiman, AI, Tanuwiria UH. 2005. Jurnal Ilmu Ternak. 5 (1):55-63.
Fathul F, Wajizah S. 2010. Penambahan Mikromineral Mn dan Cu dalam Ransum terhadap Aktivitas Biofermentasi Rumen Domba secara In Vitro. JITV 15(1): 9-15
Gaspersz, V,,1991. Metode Perancangan Percobaan. CV Armico: Bandung.
Hadiyanto YA, Surono, M Christiyanto. 2012. Penambahan Bioaktivator Pada Complete Feed Dengan Pakan Basal Rumput Gajah Terhadap Kecernaan Bahan Kering Dan Bahan Organik Secara In Vitro. Animal Agriculture Journal 1(1): 623 – 635.
Jaya KIPGAS, Mahardika IG, Suasta IM. 2015. Pengaruh PenggantianRansum Komersial Dengan Ampas tahu Terhadap Penampilan Babi Ras. PeternakanTropika 3(3):482- 491.
Kaligis FS, Umboh JF, Pontoh ChJ, Rahasia CA. 2016. Pengaruh Substitusi Dedak Halus Dengan Tepung Kulit Buah Kopi Dalam Ransum Terhadap Kecernaan Energi Dan Protein Pada Ternak Babi Fase Grower. Jurnal Zootek ("Zootek" Journal ) 37 (2): 199 – 206.
Kaur R,. Sekhon BS. 2012. Ensymes as Drugs: an Overview. J. Pharm. Educ. Res.3(2): 29-41.
Krihsna AW, Syamsuri A. 2013. Studi Antibodi Poliklonal Anti-Gelatin Babi Dengan Dot Blot Dan Potensinya Sebagai Perangkat Deteksi Gelatin Babi. Jurnal Pangan dan Agroindustri 1 (1):.36-45.
Munadjim.1983.Kandungan Nutrisi Bonggol Pisang. PT Gramedia. Jakarta.
Murni R, Akmal, Okrisandi Y. 2012. Pemanfaatan kulit buah kakao yang difermentasi dengan kapang phanerochaete chrysosporium sebagai pengganti hijauan dalam ransum ternak kambing. Agrinak Jurnal. 2(1):6-10.
Noorsatiti MN, LK Nuswantara dan A Subrata. 2012. Degradabilitas Bahan Kering, Bahan Organik Dan Serat Kasar Ransum Dengan Berbagai Level Bagasse Secara In Sacco. Animal Agricultural Journal 1(1):143 – 158.
Ozturk S, Koksel H, Perry KWNg. 2009. Characteration of Resistant Starch Samles Prepared from Two High-Amylose Maize Straches Through Debranching and Heat treatments. Cereal Chemistry 86(5):503-510.
Pelczar JRMJ, ECS Chan. 2008. Dasar-Dasar Mikrobiologi. Penerjemah: Ratna SH, Teja ISS, Tjitrosomo dan Sri LA. Universitas Indonesia. UIP.
Sihombing DTH. 2006. Ilmu Ternak Babi. Cetakan II. IPB. Bogor.
Utama IAPP, Sumadi IK, Astawa IPA. 2016. Pengaruh Level Energi Dan Protein Ransum Terhadap Kecernaan Ransum Pada Babi Bali Jantan Lepas Sapih. Peternakan Tropika 4 (3): 529 – 544
Winarno, F.G., 2010. Enzim Pangan . Edisi Revisi. Penerbit M-Brio Press, Bogor.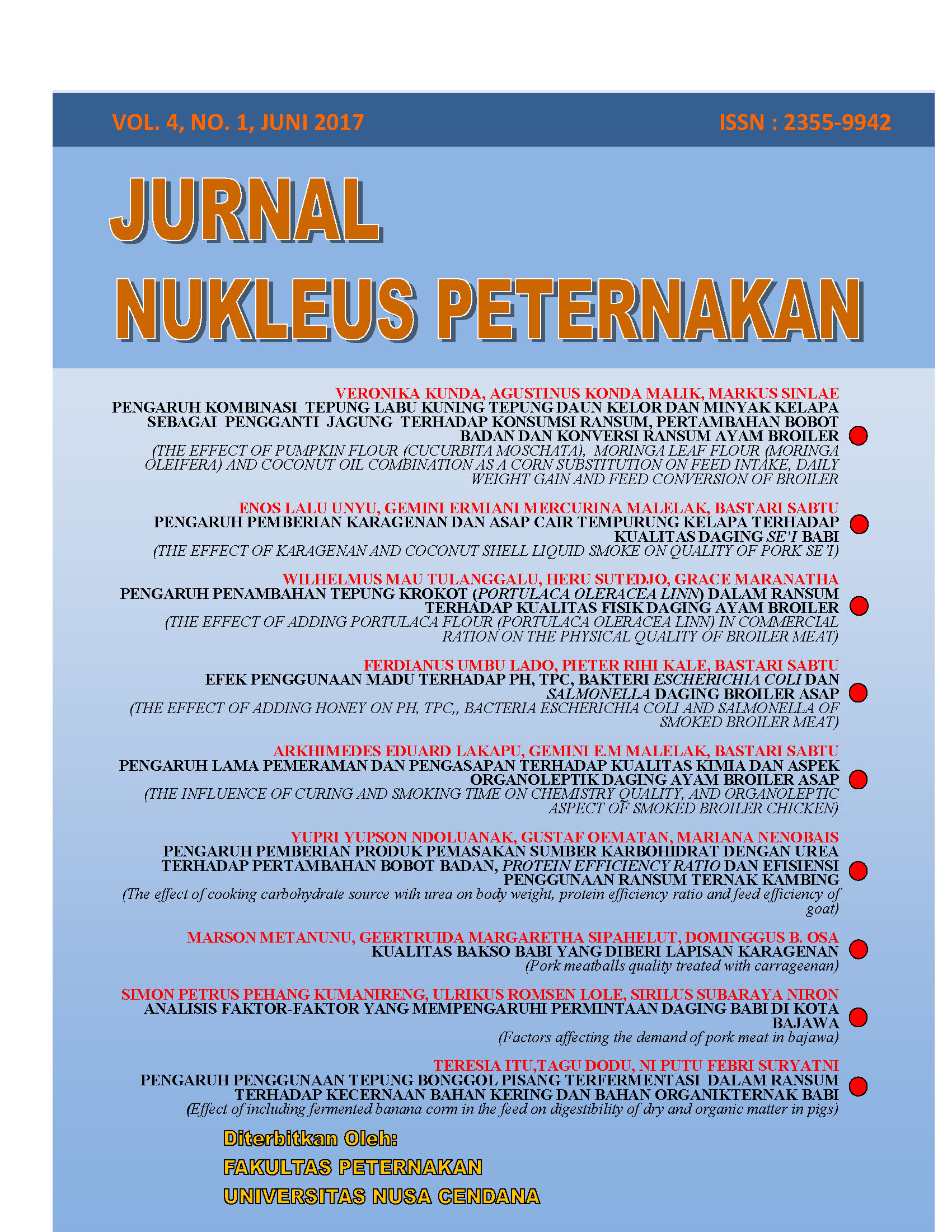 How to Cite
Itu, T., Dodu, T., & Suryatni, N. P. (2017). PENGARUH PENGGUNAAN TEPUNG BONGGOL PISANG TERFERMENTASI DALAM RANSUM TERHADAP KECERNAAN BAHAN KERING DAN BAHAN ORGANIKTERNAK BABI. JURNAL NUKLEUS PETERNAKAN, 4(1), 65-70. https://doi.org/10.35508/nukleus.v4i1.814