PENGARUH SUBSTITUSI PAKAN KOMPLIT DENGAN POLLARD TERHADAP PERTUMBUHAN TERNAK BABI BETINA PERANAKAN LANDRACE FASE PERTUMBUHAN
Solfy Mariana Tefa

universitas Nusa Cendana

Winfrit A. Lay

universitas Nusa Cendana

Tagu Dodu

universitas Nusa Cendana
Keywords:
babi peranakan Landrace, pertumbuhan, pollard
Abstract
The study was carried out at UD. Mari Ternak in Desa Noelbaki, Kecamatan Kupang Tengah for eight weeks devided into two periods, namely : two weeks (July 11st – July 23th 2016) for adaptation and 6 weeks (July 24th – September 3rd 2016) for data collection period. The study aimed at evaluating effect of substituting complete feed with pollard on growth of grower Landrace crossbred gilt. Twelve Landrace croosbred gilts with initial body weight 34 – 49.5 kgs (CV = 13.35%) were used in the study. Randomized Block Designs 4 treatments with 3 blocks was applied. The 4 treatment diets offered were: R0 : 100% CP 552; R1 : 95% CP 552 + 5% pollard; R2 : 90% CP 552 + 10% pollard and R3 : 85% CP 552 + 15% pollard. Statistical analysis showed that effect of substituting 10 – 15% CP552 with pollard is significant (P<0.05) on decreasing body height but not significant on (P>0.05) on body weight gain, body length, girth circle and feed intake of the gilts. The conclusion is that using pollard to substitute complete feed "CP 552" performed the similarly effect on growth but dcreased body height of Landrace crossbred gilt.
ABSTRAK
Penelitian ini telah dilaksanakan di UD. Mari ternak Desa Noelbaki Kecamatan Kupang Tengah Kabupaten Kupang selama 8 (delapan) minggu yang terdiri dari 2 (dua) minggu (11 Juli – 23 Juli 2016) masa penyesuaian dan 6 (enam) minggu (24 Juli – 3 September 2016) masa pelaksanaan/pengambilan data. Tujuan penelitian adalah untuk mengetahui pengaruh pemberian pollard sebagai pengganti pakan komplit terhadap pertumbuhan babi peranakan Landrace fase pertumbuhan. Materi yang digunakan adalah 12 (duabelas) ekor babi betina muda peranakan Landrace dengan kisaran berat badan awal 34-49,5 kg (koefisien keragaman 13,35%), pollard dan pakan komplit "CP 552". Metode yang digunakan adalah percobaan (eksperimen) dengan rancangan acak kelompok (RAK) yang terdiri dari 4 perlakuan dan 3 kelompok sebagai ulangan masing-masing ; R0 : 100% CP 552; R1 : 95% CP 552 + 5% pollard;  R2 : 90% CP 552 + 10% pollard; dan R3 : 85% CP 552 + 15% pollard. Hasil analisis ragam menunjukkan bahwa substitusi 5%–15% pollard terhadap CP 552 berpengaruh tidak nyata terhadap pertambahan berat badan, panjang badan, lingkar dada dan konsumsi ransum, namun pada level subtitusi 10% dan 15% nyata mengurangi pertambahan tinggi badan. Berdasarkan kenyataan tersebut, dapat disimpulkan bahwa substitusi pakan komplit "CP 552" dengan pollard memberi pengaruh yang relatif sama terhadap pertumbuhan babi betina peranakan Landrace fase pertumbuhan kecuali pertambahan tinggi badan yang nyata semakin rendah.
Downloads
Download data is not yet available.
References
Bee G. 2004. Effect of early gestation feeding, birth weigth and gender of progeny on muscle fiber characteristics of pig at slaughter. J. of Anim. Sci, 82(3): 826:836.
Chiba LI, Lewis AJ, Peo ER. 1991. Amino acid and energy interrelationships in pigs weighing 20 to 50 kilograms: I. Rate and efficiency of weight gain. J. of Anim. Sci. 69:694–707
Dewi SHC, Setiohadi J. 2010. Pemanfaatan Tepung Pupa Ulat Sutera (Bombyx mori) Untuk Pakan Puyuh (Coturnix-coturnix japonica) Jantan. Jurnal Agri Sains. Vol.1. No. 8 Maret 2010. Hal 1 – 6.
Edey TN. 1983. Growth Principles and Patter Tropical sheep and Goat Production. AUIDP Canbera.
Frank GRF, Aherne X, Jensen AH. 1983. A study of thpe relationship between performance and dietary component digestibilities by swine fed different levels of dietary fiber. J. Anim. Sci. 57:645–654
Gaspersz V. 1991. Metode dan Rancangan Percobaan. Americo Bandung.
Hartadi SS, Reksodihadiprodjo S, Tillman AD. 1997. Tabel Komposisi Pakan Ternak untuk Indonesia, UGM.Press, Yogyakatra.
Kyriazakis I, Whittemor CT. 2006. Conclusion. in: Kyriazakis, I. and C.T. Whittemore. 3rd ed. Whittemore's Science and Practice of Pig Production. Blackwell Publishing Ltd. Oxford, UK. 645-658.
Len NT, Lindberg JE, Ogle B. 2008. Effect of dietary fiber level on the performance and carcass traits of mong cai, F1 crossbred (Mong cai x Yorkshire) and Landrace x Yorkshire pigs. Asian-Aust. J. Anim. Sci. 21(2):245-251.
Malheiros RD, Moraes MB,Collin A, Janssens PJ, Decuypere E, Buyse J. 2003. Dietary Macronutrients, Endocrine Functioning and Intermediary Metabolism in Broiler Chickens. J. Nutr. Res., 23 : 567 – 578.
Merchen NR, Titgemeyer EC. 1992. Manipulation of amino acid supply to the growing pig. J. Anim. Sci. 70: 3238 – 3247.
Mungate F, Dzama K, Mandisodza K, Shoniwa A. 1999. Some Non-Genetic Factors Affecting Commercial Pig Production In Zimbabwe. South Africa Journal Animal Science 29: 164-173.
Noblet JG, Goff LE. 2001. Effect of dietary fibre on the energy value of feeds for
pigs. J Anim. Feed Sci. Technol. 90: 35-52.
Parakkasi A. 1990. Ilmu Nutrisi dan Makanan Ternak Monogastrik. Edisi I. Fapet IPB, Bogor.
Pujianti AN, Jaelani A, Widaningsih N. 2013. Addiction by curcuma meal(Curcuma domistica) In Ration To Protein And Dry Mater Digestability On Broiler. Jurusan Peternakan Fakultas Pertanian Universitas Islam Kalimantan Muhamad Arsyad Al Banjary Banjarmasin. Jurnal peternakan, Vol. 36 Februari 2013 Halaman 49-59 ISSN 1412-1468.
Rumerung SN. 2015. Efek penggunaan konsentrat pabrikan dan buatan sendiri dalam ransum babi starter terhadap efisiensi penggunaan ransum. Jurnal Zootek, 35(2) : 295-301.
Sinaga S. 2000. Pengaruh Pemberian Ransum Yang Mengandung Aditif Tepung Kunyit pada Babi Pertumbuhan. Bandung: Fapet, Unpad.
Whittemore C. 1993. The Science Of Pig Production. Longman Scientific and Technical. England.
Zain M. 1999. Pengaruh taraf bungkil biji kapok dalam ransum kambing perah laktasi terhadap kecernaan dan karakteristik kondisi rumen. Jurnal Peternakan dan Lingkungan. 5:32-34. Universitas Padjadjaran Press. Bandung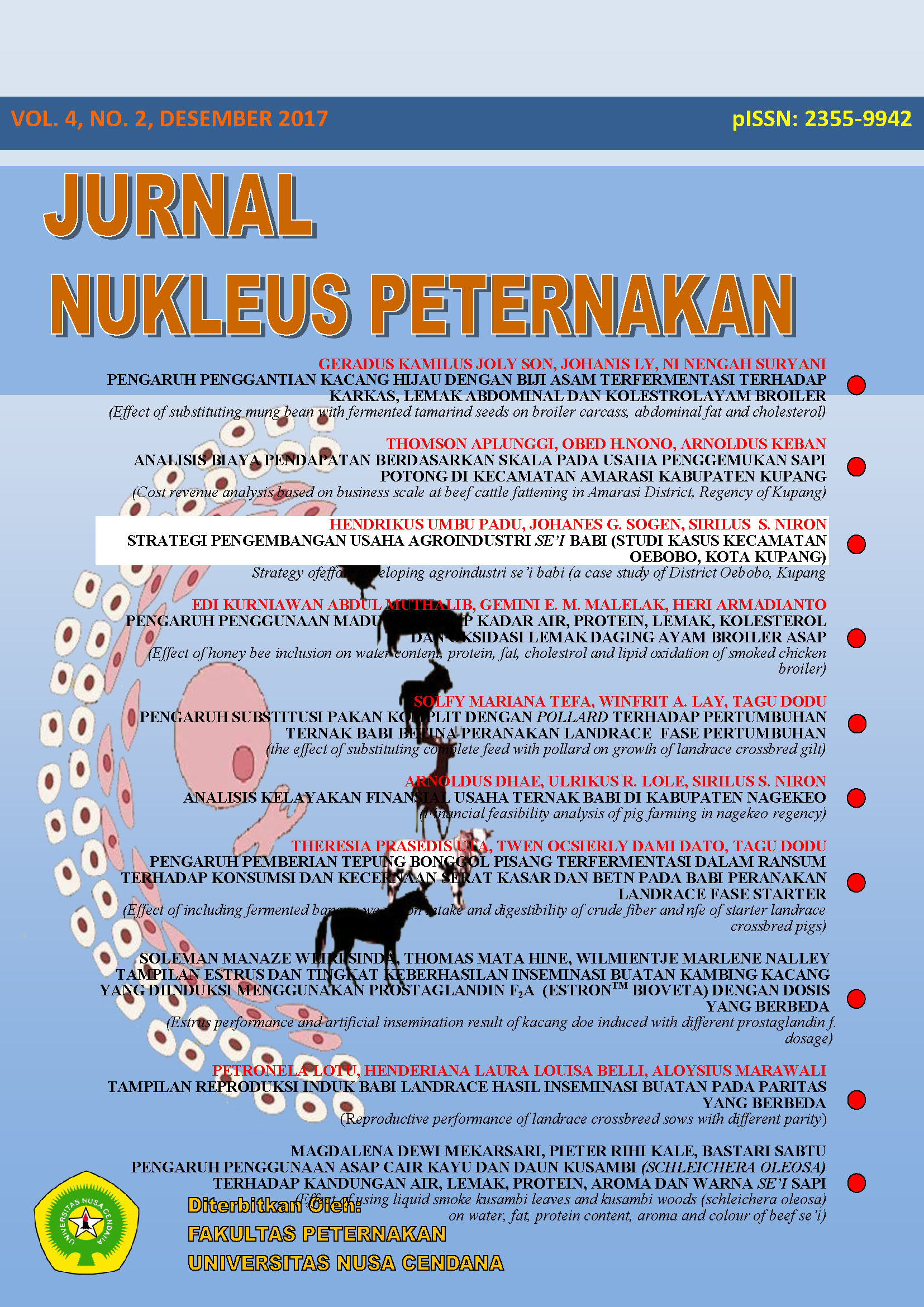 How to Cite
Tefa, S., Lay, W., & Dodu, T. (2017). PENGARUH SUBSTITUSI PAKAN KOMPLIT DENGAN POLLARD TERHADAP PERTUMBUHAN TERNAK BABI BETINA PERANAKAN LANDRACE FASE PERTUMBUHAN. JURNAL NUKLEUS PETERNAKAN, 4(2), 138-146. https://doi.org/10.35508/nukleus.v4i2.823