PENGARUH PEMBERIAN TEPUNG BONGGOL PISANG TERFERMENTASI DALAM RANSUM TERHADAP KONSUMSI DAN KECERNAAN SERAT KASAR DAN BETN PADA BABI PERANAKAN LANDRACE FASE STARTER
Theresia Prasedis Uta(1*)


universitas Nusa Cendana

Twen Ocsierly Dami Dato(2)


universitas Nusa Cendana

Tagu Dodu(3)


universitas Nusa Cendana

(*) Corresponding Author

Keywords:
Babi peranakan landrace, bonggol pisang, Saccharomyces cerevisiae
Abstract
The study aimed at evaluating the effect of including fermented banana weevil (FBW) on intake and digestibility of crude fiber (CF) and nitrogen free extract (NFE) of starter landrace crossbred pigs. Procedure of block design of 4 treatments with 3 replicates was applied in the trial. The trial treatments consisted of: feed without (0%) fermented banana weevil(R0); feed containing FBW substituting 7% rice bran (R1), feed containing FBWsubstituting 14% rice bran(R2), and feed containing FBWsubstituting 21%rice bran (R3). The results showed that effect of treatment is significant (P<0,05) on intake and digestibility of NFE, but not significant (P>0,05)on intake and digestibility of crude fiber values. The conclusion draw is that fermented banana weevil can substitute 7-21% rice bran in the starter pigs feed.
ABSTRAK
 Tujuan dari penelitian ini adalah untuk mengetahui pengaruh penggunaan tepung bonggol pisang terfermentasi dalam ransum terhadap konsumsi dan kecernaan serat kasar dan BETN. Rancangan yang digunakan adalah rancangan acak kelompok yang terdiri dari 4 perlakuan dan 3 ulangan. Masing-masing perlakuan diberi pakan tanpa bonggol pisang kepok terfermentasi 0% (R0), ransum mengandung 7% bonggol pisang kepok terfermentasi (R1), ransum mengandung 14% bonggol pisang kepok terfermentasi (R2), dan ransum mengandung 21% bonggol pisang kepok terfermentasi (R3). Hasil penelitian menunjukkan bahwa perlakuan berpengaruh nyata (P<0,05) terhadap konsumsi dan kecernaan BETN, namunberpengaruh tidak nyata (P>0,05) terhadap konsumsi dan kecernaan serat kasar. Bertolak dari hasil tersebut, disimpulkan bahwa tepung bonggol pisang kepok terfermentasi dapat digunakan sebagai pengganti dedak padi 7-21% dalam ransum ternak babi.
Downloads
Download data is not yet available.
References
Anggorodi R. 1994. Ilmu Makanan Ternak Umum. PT Gramedia, Jakarta
Bhat SV, Bhimsen AN, Meenakshi S. 2005. Chemistry of Natural Products. Narosa Pubishing House. New Delhi.
Blakely J, Bade DH. 1992. Ilmu Peternakan. Cetakan Keempat. Terjemahan: Rigandono, B. Universitas Gajah Mada Press, Yogyakarta
Graft E. 1983. Calsium Binding to Phytic Acid. Jurnal Agric. Food che 31: 851-855
Halloran HR. 1980. Phytate Phosphorus in Feed Formulation. Feedstuffs. August 4.
Kaur R, Sekhon BS. 2012. Ensymes as Drugs: an Overview. Jurnal Pharm. Educ. Res 3 (2): 29-41.
Ly J, Sjofjan O, Djunaidi IH, Suyadi. 2016. Enriching nutritive value of tamarind seeds by Saccharomyces cerevisiae fermentation.Jurnal Biochem Tech 7(2): 1107-1111.
Munadjim. 1983. Kandungan Nutrisi Bonggol Pisang. Penerbit PT Gramedia, Jakarta.
Nair KGP, Rajamohan T, Kurup PA. 1999. Coconut Kernel Protein Modifies the Effect of Coconut Oil on Serum Lipids. Plant Foods Hum Nutr 53:133-144.
Ozturk S, Koksel H, Perry KWNg. 2009 Characterization of Resistant Starch Samples Preparet from Two High-Amylose Maize Starches Trough Debranching and Heat treatmens. Cereal Chemistry 86(5): 503-510.
Parakkasi A. 1995. Ilmu Nutrisi dan Makanan Ternak. Fakultas Peternakan Institut Pertanian Bogor, Bogor.
Pelczar JMJ, ECS. Chan, 2008. Dasar-Dasar Microbiologi. Penerjemah: Ratna, SH, Teja I. S.S. Tjitrosomo dan Sri L.A. Penerbi Universitas Indonesi UIP.
Retnoingtyas ES, Ayucitra A, Maramis F, Young OW, Pribadi FW, Tanti NK. 2013. Fermentasi Substrat Padat dan Fermentasi Substrat Cair pada Produksi Asam Laktat dari Kulit Pisang dengan Rhizopus orizae.Jurnal Teknik Kimia Indonesia 11(4): 1-5.
Sayre RN,Earl C,Krateer FH,Saunders RM. 1988. Effect of niet Containing Raw and Extrasion Cooked Rice Bran on Grousth an Efficiency of Food Utilization of BrollersBr. Poult. Sci. 9: 815-823.
Sihombing DTH. 2006. Ilmu Ternak Babi. Gadjah Mada University Press. Yogyakarta.
Sjofjan O, Surisdiarto, Djunaidi IH,Aulani'am. 1999. Rekayasa Teknologi Fermentasi Campuran Limbah Pabrik Tepung Tapioka (Gamblong) danKotoran Ayam Kering (DPW) sebagai Bahan Pakan Ternak Unggas. Laporan Penelitian Hibah Bersaing. Fakultas Peternakan, Universitas Brawijaya.
Steel RGD, JH Torrei. 1993. Prinsip dan Prosedur Statistik. Gramedia Pustaka Utama, Jakarta.
Suparjo. 2011. http//Konsumsi dan Kecernaan BETN (Bahan Ekstrak Tanpa Nitrogen).com. Diakses tanggal 1 Juni 2016.
Supartini N, Fitasari E. 2011. Penggunaan bekatul fermentasi "Aspergillus niger"dalam pakan terhadap karakteristik organ dalam ayam pedaging. Buana Sains 11 (2):127-136.
Supriyati, Pasaribu T, Hamid H, Sinurat AP. 1998. Fermentasi bungkil inti sawit secara substrat padat dengan menggunakan Aspergillus niger. Jurnal Ilmu Ternak danVeteriner 3(3): 165-170.
Suryani Y. 2013. Optimizing of Cassava from Bioethanol Post-production through Bioactivity Proces Consortium of Saccharomyces cerevisiae, Trichoderma viride dan Aspergillus niger. Asian J. Of Agriculture and Rular Development 3(4): 154-162.
Tillman DA, Hartadi H, Reksohadiprojo S, Prawirokusumo S,Lebdosoekojo S. 1984. Ilmu Makanan Ternak Dasar. Gadjah Mada University Press, Yogyakarta.
Winarno FG. 2010. Enzim Pangan . Edisi Revisi. Penerbit M-Brio Press, Bogor.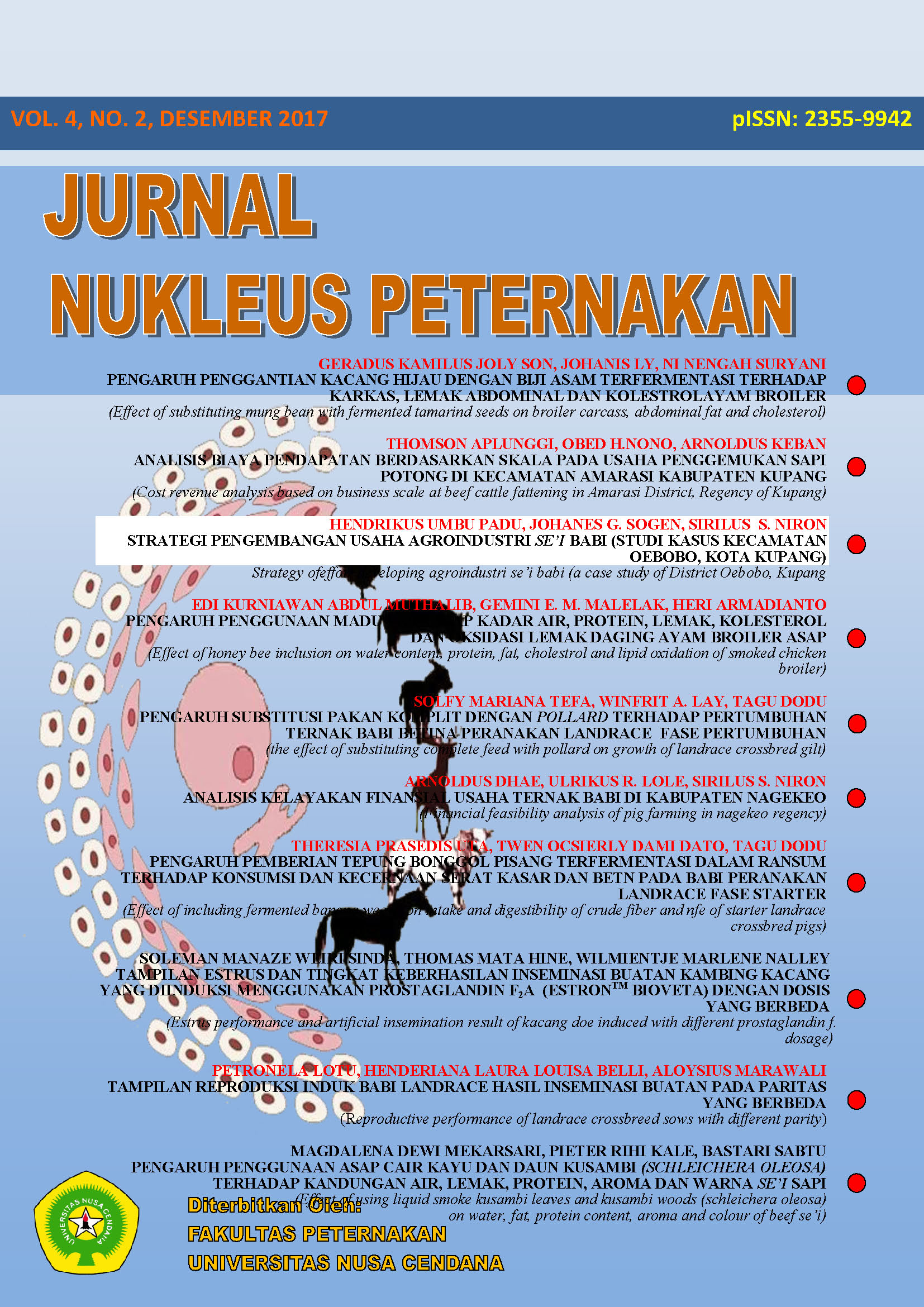 How to Cite
Uta, T., Dami Dato, T., & Dodu, T. (2017). PENGARUH PEMBERIAN TEPUNG BONGGOL PISANG TERFERMENTASI DALAM RANSUM TERHADAP KONSUMSI DAN KECERNAAN SERAT KASAR DAN BETN PADA BABI PERANAKAN LANDRACE FASE STARTER. JURNAL NUKLEUS PETERNAKAN, 4(2), 155-162. https://doi.org/10.35508/nukleus.v4i2.825