KAJIAN TAMPILAN UKURAN TUBUH AYAM F1 HASIL PERSILANGAN BEBERAPA STRAIN AYAM JANTAN DENGAN AYAM BETINA LOKAL SABU PADA UMUR DELAPAN MINGGU
Johny Nada Kihe

universitas Nusa Cendana

Djegho Yohanes

universitas Nusa Cendana
Keywords:
strain, persilangan, ukuran tubuh
Abstract
The purpose of this study was to examine the appearance of body size of F1 chickens from a crosses between several strains of roosters and local Sabu hens at age weeks old. The  method used of the research was an experiment using Completely Randomized Design (CRD) with three treatments (P0 = Sabu chicken male × Sabu local females, P1 = Kate chicken male× Sabu local females, P2 = laying hens × Sabu local females) and four replications,. The material of the research  was 15 chickens (three males and 12 females) and 48 chickens. The variables were length of shank, chest circumference, body length and wing span. The research showed that the average of measurements of crossbreds of P0, P1 and P2 such as shank were 4.30±0.42 cm, 4.03±0.15 cm and 4.75±0.12 cm; chest circumference were 13.93±2.17 cm, 11.63±0.40 cm and 16.45±0.83 cm; body length were 22.90±3.31 cm, 18.17±1.21 cm and 24.80±1.64 cm; wing span were 18.70±0.78 cm, 16.03±0.91 cm and 21.43±0.76 cm. The result of variance analysis showed that the treatment had highly significant effect (P<0.01) on all parameters measured. In conclusion, the best body size appearance in eight weeks old of chickens were obtained from crossbreds of  laying cocks × local female Sabu.
ABSTRAK
 Tujuan penelitian ini yaitu untuk mengkaji tampilan ukuran tubuh dari ayam F1 hasil persilangan antara beberapa strain ayam jantan dan ayam betina lokal Sabu pada umur delapan minggu. Metode penelitian yang digunakan adalah percobaan menggunakan Rancangan Acak Lengkap (RAL) dengan tiga perlakuan (P0 = pejantan ayam Sabu × Betina Lokal Sabu, P1 = Pejantan ayam Kate  × Betina Lokal Sabu, P2 = Pejantan ayam Petelur × Betina Lokal Sabu) dan empat ulangan,. Materi yang digunakan adalah 15 ekor ternak ayam (tiga pejantan dan 12 betina) dan 48 ekor ayam keturunan. Peubah-peubah yang diukur adalah panjang tulang kering, lingkar dada, panjang badan dan rentang sayap. Penelitian menunjukkan bahwa silangan dari P0, P1 dan P2 menampilkan ukuran tulang kering 4.30±0.42 cm, 4.03±0.15 cm dan 4.75±0.12 cm; lingkar dada 13.93±2.17 cm, 11.63±0.40 cm dan 16.45±0.83 cm; panjang badan 22.90±3.31 cm, 18.17±1.21 cm dan 24.80±1.64 cm; rentang sayap 18.70±0.78 cm, 16.03±0.91 cm dan 21.43±0.76 cm. Hasil analisis sidik ragam menunjukan bahwa perlakuan berpengaruh sangat nyata (P<0.01) terhadap semua parameter. Kesimpulannya penampilan ukuran tubuh terbaik pada ayam umur delapan minggu didapat dari perkawinan silang antara pejantan petelur dengan betina lokal Sabu.
Downloads
Download data is not yet available.
References
Budiarto BA 2015.Ukuran Tubuh Hasil Persilangan Ayam Kedu dengan Silangan Sentul Kampung dan Resiprokalnya Umur 0 sampai 12 Minggu.Skripsi. Fakultas Peternakan, Institut Pertanian Bogor, Bogor.
Daulay MAC. 2015. Ukuran Tubuh Hasil Silangan Ayam Kampung Ras Pedaging dengan Ayam Pelung Sentul Umur 2-10 Minggu.Skripsi. Fakultas Peternakan Institut Pertanian Bogor, Bogor.
Das SD, Chowdury SD, Khatun MA, Nishibori M, Isobe N, Yoshimura Y. 2008. Poultry Production Profile and Expected Future Projection In Bangladesh. Word's Poultry Science Journal. 6(4): 99-118.
DiwyantoK. 1994. Pengamatan fenotipik domba priangan serta hubungan antarabeberapa ukuran tubuh dengan bobot badan.Tesis. Program Pasca Sarjana.Institut Pertanian Bogor, Bogor.
Djagra IB. 2002. Memilih Sapi Bibit. Laboratorium Ternak Potong dan Kerja Fakultas Peternakan. Universitas Udayana, Denpasar. Bali.
EnsmingerMA. 1992. Poultry Science (Animal Agriculture Series).3th Edition. Interstate Publisher, Inc. Danville, Illinois.
Fayeye TR, Ayorinde KL, Ojo V, Adesina OM.2006. Frequency and influence of some major genes on body weight and size parameters of nigerian lokal chicken. Livestock Res Rural Dev 18: 1-8.
Fourie PJ, Neser FWC, Olivier JJ, van der Weathuizen C. 2002. Relationshipbetween production performance, visual and body measurements of youngDorper rams. South African Journal of Animal Science.32 (2): 256-262.
GasperszV. 1992.Teknik Analisis dalam Penelitian Percobaan.Volume 2. Tarsito, Bandung.
Herren R. 2000.The Science of Animal Agriculture.Ed ke-2.Delmar, New York (US).
Kurnia Y. 2011. Morfometrik Ayam Sentul, Kampung dan Kedu pada Fase Pertumbuhan dari Umur 0-12 Minggu. Skripsi.Fakultas Peternakan. Institut Pertanian Bogor, Bogor.
Kusuma AS. 2002. Karakteristik sifat kuantitatif dan kualitatif ayam Merawang dan ayam kampung umur 5-12 minggu.Skripsi.Fakultas Peternakan IPB, Bogor.
Lee CLFYP, Lee ZH, Huang YS, Huang HH. 1993. Heritability and genetic correlation of egg quality trains in Taiwan,s local chickens. AJAS Journal 6 (3): 433-440.
Mariandayani HN, Solihin DD, Sulandari S, Sumantari C. 2013. Keragaman fenotipik dan pendugaan jarak genetik pada ayam Lokal dan ayam Broiler menggunakan analisis morfologi.JurnalVeteriner. 4 (14): 475-484.
NishidaTK, NozawaKK, Mansjoer SS, andMartojo H. 1980.Morphological dan genetical studies on the Indonesian native fowls. TheOrigin dan Phylogeny of Indonesian Native Livestock.The Research Groupof Overseas Scientific Survey.Page : 78-83.
Nozawa K. 1980. Phylogenetic studies on native domestic animal in East and Southeast Asia. Tropical Agriculture Reseach Center, Japan 4 : 23-43.
PamungkasFA. 2005. Beberapa kriteria analisis pendugaan bobot tetas dan bobot hidup umur 12 minggu dalam seleksi ayam Kampung.JITV 10(4): 281-285.
Rangkuti NA., 2016. Identifikasi morfometriks dan jarak genetik ayam Kampung di Labuhanbatu Selatan, Jurnal Peternakan Integratif. 3 (1) : 96-119.
Soeparno.1998. Ilmu dan Teknologi Daging. Cetakan Pertama. Gadjah Mada University Press, Yogyakarta.
Sartika T, Iskandar S, Prasetyo LH, Takahashi H,Mitsuru M. 2004.Karakteristik genetik ayam Kampung, Pelung, Sentul dan Kedu Hitamdengan menggunakan penanda DNA mikrosatelit : I. Grup pemetaan padamakro kromosom. Jurnal IlmuTernak dan Veteriner. 9 (2) : 81-86.
Subekti K, dan Arlina F. 2011. Karakteristik genetik eksternal ayam kampung di Kecamatan Sungai Pagu Kabupaten Solok Selatan.Jurnal Ilmu Ilmiah. 14 (2): 74-86.
Telupere FMS, Kihe JN, Naitboho RA., 2017.Korelasi fenotip beberapa sifat produksi F1 hasil persilangan antara ayam Lokal dengan ayam Ras Petelur ISA BROWN.Jurnal.Seminar Nasinal Peternakan III. Undana Press. ISBN: 978-602-6906-29-8.
Wilson LL, Roth HB, Zle JH,Sink JH.1997. Bovine metacarpal and metatarsal dimension: Sex effect, heritability estimaste and realition to growth and carccas characteristic.JournalAnimal Science.44: 932-938.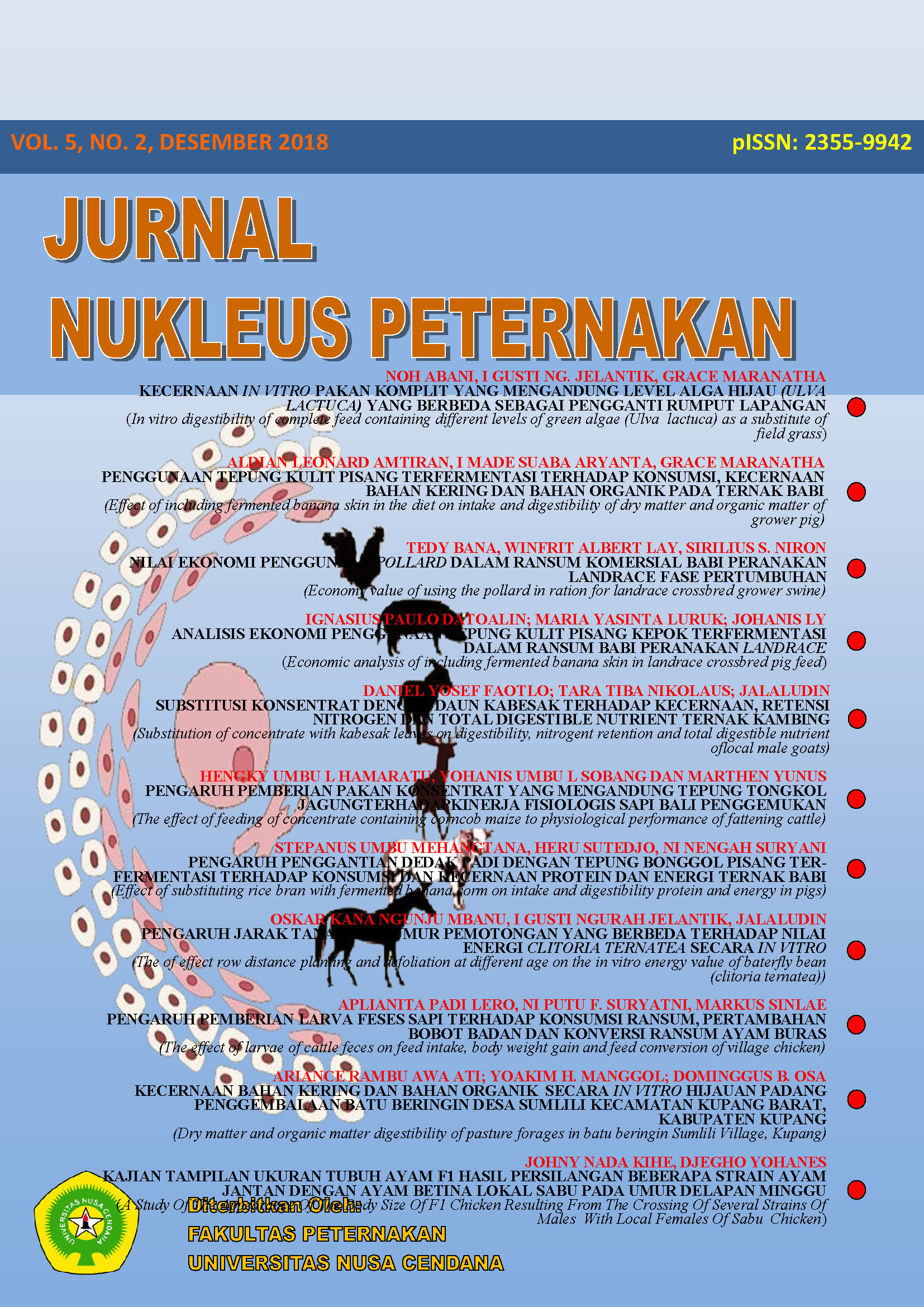 How to Cite
Kihe, J., & Yohanes, D. (2018). KAJIAN TAMPILAN UKURAN TUBUH AYAM F1 HASIL PERSILANGAN BEBERAPA STRAIN AYAM JANTAN DENGAN AYAM BETINA LOKAL SABU PADA UMUR DELAPAN MINGGU. JURNAL NUKLEUS PETERNAKAN, 5(2), 163-169. Retrieved from https://ejurnal.undana.ac.id/nukleus/article/view/850