Kajian Interpolasi Dua Dimensi dalam Tabel Nilai Kritik Sebaran F Berbantuan Program Matlab
Irna Karlina Sensiana Blegur

Universitas Nusa Cendana
Keywords:
Interpolation, F-Distribution, Matlab
Abstract
The purposes of this research are to examine how to perform two-dimensional interpolation for determine the value of the F distribution, to make a two-dimensional interpolation program using Matlab and reviewing the comparison of the methods used (manually and program). This research was conducted by using literature study approach. The results of this research are:  first, the two-dimensional interpolation in F distribution table can be done using the successive univariate polynomial interpolation. Two-dimensional interpolation formulas can be made by referring to the general form of Lagrange and Newton's interpolation polynomials. Second, a two-dimensional interpolation program assisted by Matlab that is a program that can determine the intermediate value of a function in two variables using the Lagrange and Newton's polynomial interpolation formula has been created. Third, based on the final results, there is no difference shown by the two methods used. Judging from the process, two-dimensional interpolation using the Lagrange polynomial method has advantages in simplicity of programming, but requires a long time in manual completion. While the Newton polynomial interpolation method has advantages in the simplicity of the manual work process, but it requires a long time to make the program.
References
Etter, D. M., Kunicky D. C., & Hull, D. 2003. Pengantar Matlab 6, terjemahan. PT Indeks kelompok Gramedia : Jakarta
Hadi, S. 1995. Metodologi Research Jilid 3. Metodologi Research Jilid 3. Yogyakarta: Andi Offset
Hanselman, D. & Bruce L. 2000 . Matlab Bahasa Komputasi Teknis, terjemahan. Andi Offset: Yogyakarta.
Karris, S. T. 2004. Numerical Analysis using Matlab and Spreadsheets, edisi kedua. Orchard Publications : California.
Kiusalaas, J. 2005. Numerical Methods In Engineering With Matlab. Cambridge University Press: New York
Kosasih, P. Buyung, Ph.D. 2006. Komputasi Numerik Teori dan Aplikasi. Andi Offset : Yogyakarta.
Muhadjir, N. 1998. Metodologi Penelitian Kualitatif. Yogyakarta: Rake Sarasin.
Quarteroni, Alfio, Riccardo Sacco dan Fausto Saleri . 2007. Numerical Mathematics, edisi kedua. Springer : Berlin.
Walpole, R. E. 1995. Pengantar Statistika Edisi ke-3. PT Gramedi Pustaka Utama: Jakarta.
Yang, W. Y., Cao, W., Chung, T. S., & Morris, J. 2005. Applied Numerical Methods Using Matlab. John Wiley & Sons: Singapura.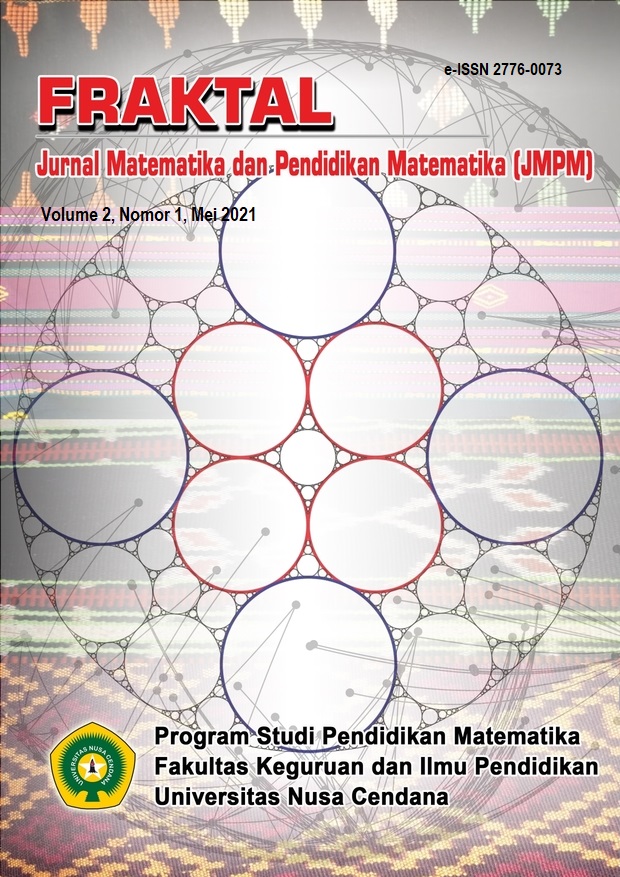 How to Cite
Blegur, I. (2021). Kajian Interpolasi Dua Dimensi dalam Tabel Nilai Kritik Sebaran F Berbantuan Program Matlab. FRAKTAL: JURNAL MATEMATIKA DAN PENDIDIKAN MATEMATIKA, 2(1), 64-79. https://doi.org/10.35508/fractal.v2i1.4034
Copyright (c) 2021 FRAKTAL: JURNAL MATEMATIKA DAN PENDIDIKAN MATEMATIKA
This work is licensed under a Creative Commons Attribution-NonCommercial-ShareAlike 4.0 International License.
Hak publikasi atas semua materi naskah jurnal yang diterbitkan/dipublikasikan dalam situs E-Journal Fraktal ini dipegang oleh dewan redaksi dengan sepengetahuan penulis (hak moral tetap milik penulis naskah).
Ketentuan legal formal untuk akses artikel digital jurnal elektronik ini tunduk pada ketentuan lisensi Creative Commons Attribution-ShareAlike (CC BY-SA), yang berarti Jurnal Fraktal berhak menyimpan, mengalih media/format-kan, mengelola dalam bentuk pangkalan data (database), merawat, dan mempublikasikan artikel tanpa meminta izin dari Penulis selama tetap mencantumkan nama Penulis sebagai pemilik Hak Cipta.
Naskah yang diterbitkan/dipublikasikan secara cetak dan elektronik bersifat open access untuk tujuan pendidikan, penelitian, dan perpustakaan. Selain tujuan tersebut, dewan redaksi tidak bertanggung jawab atas pelanggaran terhadap hukum hak cipta.