Pengembangan Media Pembelajaran Berbasis Android Pada Materi Sistem Persamaan Linier Dua Variabel Untuk Siswa Kelas VIII SPMN 2 Kupang
Yesri Jesika Teikuar

Pendidikan Matematika, FKIP Universitas Nusa Cendana

Juliana M. H. Nenohai

Damianus D. Samo

Universitas Nusa Cendana
Abstract
Technological developments in the field of education require teachers to be more creative in creating technology-based learning media by utilizing Android. Therefore, this study aims to develop an Android on the material of a two-variable linear equation system for class VIII students of SMP Negeri 2 Kupang that is valid, practical and effective. The method used in this research is the R&D method and the model used is the ADDIE development model. The data collection techniques and instruments used are interviews, questionnaires and tests. The data analysis techniques used are field study analysis techniques, validity analysis techniques, practicality analysis techniques and effectiveness analysis techniques. The results showed that the developed media met the criteria of being valid, practical and effective. The average total validity by material experts is 4.58, practitioners are 4.65 and media experts are 4.25, "very valid". The average total practicality of the teacher is 4.75 and the students where in the small class trial is 4.63, in the large class trial it is 4.43 "very practical". The percentage of completeness in small group trials obtained results of 100% "very effective", in large group trials obtained results of 81.25%, so android-based learning media is very feasible to use
References
Jupri, A., Drijvers, P., & Van den Heuvel-Panhuizen, M. (2015). Improving grade 7 students' achievement in initial algebra through a technology-based intervention. Digital Experience in Mathematics Education, 1(1), 28-58.
Priangga, Y. S. (2017) Pengembangan Media Pembelajaran Berbasis Aplikasi Android Untuk Memfasilitasi Kemampuan Pemahaman Konsep Siswa SMP Kelas VIII Materi Sistem Persamaan Linear Dua Variabel.(Skripsi). Program Studi Pendidikan Matematika, Fakultas Sains dan Teknologi, Universitas Islam Negeri Sultan Kalijaga Yogyakarta, Yogyakarta.
Rosenberg, M. J. (2001). E-Learning: Strategies for Delivering Knowledge in The Digital Age. McGraw-Hill Companies. USA.
Setiabudi, D.H., Tjahyana, L.J., & Winsen. (2013). Mobile Learning Application Based on Hybrid Mobile Application Technology Running on Android Smart-Phone and Blackberry. International Conference on ICT for Smart Society (ICISS), Jakarta, June 2013, 1-5.
Sudjiono, A. (2010).Pengantar Statistik Pendidikan. Jakarta: PT Raja Grafindo Persada.
Sulisworo, D. (2012). Enabling ICT and knowledge management to enhance competitiveness of higher education institutions. International journal of Education, 4(1), 112-121.
Surya, M. (2006). Potensi Teknologi Informasi dan Komunikasi dalam Meningkatkan Mutu Pembelajaran. Makalah dalam seminar Pemanfaatan TIK dalam Pendidikan. Pustekkom: Jakarta.
Tamonob, M. S. (2021). Pengembangan Aplikasi Matrix Classroom Berbasis Android Pada Materi Matriks Untuk Meningkatkan Hasil Belajar Siswa Kelas XI SMA Negeri 2 Kota Kupang (Skripsi). Jurusan/Program Studi Pendidikan Matematika, Fakultas Keguruan dan Ilmu Pendidikan, Universitas Nusa Cendana Kupang, Kupang.
Yuliana, R. (2017). Pengembangan Perangkat Pembelajaran dengan Pendekatan PMRI pada Materi Bangun Ruang Sisi Lengkung untuk SMP Kelas IX. Jurnal Pendidikan Matematika, 6(1), 60-67.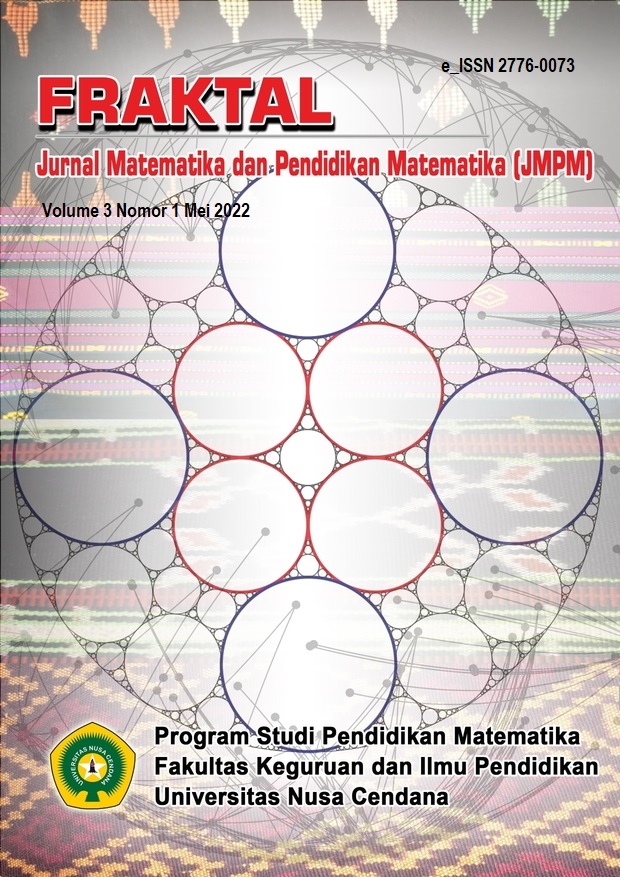 How to Cite
Teikuar, Y., Nenohai, J., & Samo, D. (2022). Pengembangan Media Pembelajaran Berbasis Android Pada Materi Sistem Persamaan Linier Dua Variabel Untuk Siswa Kelas VIII SPMN 2 Kupang. FRAKTAL: JURNAL MATEMATIKA DAN PENDIDIKAN MATEMATIKA, 3(1), 25-38. https://doi.org/10.35508/fractal.v3i1.5629
Copyright (c) 2022 FRAKTAL: JURNAL MATEMATIKA DAN PENDIDIKAN MATEMATIKA
This work is licensed under a Creative Commons Attribution-NonCommercial-ShareAlike 4.0 International License.
Hak publikasi atas semua materi naskah jurnal yang diterbitkan/dipublikasikan dalam situs E-Journal Fraktal ini dipegang oleh dewan redaksi dengan sepengetahuan penulis (hak moral tetap milik penulis naskah).
Ketentuan legal formal untuk akses artikel digital jurnal elektronik ini tunduk pada ketentuan lisensi Creative Commons Attribution-ShareAlike (CC BY-SA), yang berarti Jurnal Fraktal berhak menyimpan, mengalih media/format-kan, mengelola dalam bentuk pangkalan data (database), merawat, dan mempublikasikan artikel tanpa meminta izin dari Penulis selama tetap mencantumkan nama Penulis sebagai pemilik Hak Cipta.
Naskah yang diterbitkan/dipublikasikan secara cetak dan elektronik bersifat open access untuk tujuan pendidikan, penelitian, dan perpustakaan. Selain tujuan tersebut, dewan redaksi tidak bertanggung jawab atas pelanggaran terhadap hukum hak cipta.