HIDROPONIK BASKOM BAGI KAUM PEREMPUAN RAYON 12 GMIT POHONITAS KOTA KUPANG
Elsy Elisabet Hangge

Universitas Nusa Cendana

Andi Kumalawati

Universitas Nusa Cendana

Judi K Nasjono

Universitas Nusa Cendana

Dantje Sina

Universitas Nusa Cendana
Keywords:
Hidroponik baskom, pertanian lahan sempit, sayuran hidroponik
Abstract
Abstrak  
Ketersediaan lahan di daerah perkotaan saat ini untuk pertanian terbatas, karena peralihan lahan menjadi perumahan dan fasilitas umum yang menunjang di daerah perkotaan. Sedangkan kebutuhan bahan pangan, khususnya sayuran bagi kebutuhan konsumsi rumah tangga terus meningkat. Di saat pandemi covid-19 yang sedang mewabah, maka perlu meningkatkan daya tahan tubuh dengan mengkonsumsi sayur sehat. Kegiatan program kemitraan masyarakat ini, mencoba mengenalkan kepada masyarakat khususnya kelompok Anugerah kaum perempuan rayon 12 Gereja Masehi Injili di Timor (GMIT) Pohonitas Manulai II Kota Kupang tentang pemanfaatan lahan terbatas menggunakan sistem hidroponik baskom untuk menanam sayur guna pemenuhan kebutuhan konsumsi sayur rumah tangga. Metode hidroponik dapat dikembangkan dan diaplikasikan disektor rumah tangga atupun skala besar untuk peningkatan perekonomian masyarakat. Sistem hidroponik baskom relatif mudah untuk diterapkan di kalangan Ibu rumah tangga, karena sistem penanaman sayur tidak menggunakan media tanah melainkan menggunakan media air bernutrisi yang diletakkan dalam baskom, sehingga sayuran dapat tumbuh dengan baik karena akar menyerap unsur-unsur hara yang diperlukan. Hasil kegiatan memberikan pemahaman dan pelatihan tentang pentingnya mengoptimalkan lahan pekarangan agar mandiri dalam menghasilkan kebutuhan sayuran sehat untuk konsumsi rumah tangga. sehingga diharapkan dengan pelatihan penanaman sayuran menggunakan metode hidroponik baskom dapat memberikan solusi penyediaan sayuran sehat pada lahan terbatas di daerah perkotaan.
Abstract  
The availability of land in urban areas is currently limited for agriculture, due to the shift of land into housing and supporting public facilities in urban areas. Meanwhile, the need for food, especially vegetables for household consumption needs continues to increase. During the COVID-19 pandemic, it is necessary to increase endurance by consuming healthy vegetables. This community partnership program activity tries to introduce to the community, especially the Anugerah women group of the 12 Evangelical Christian Church in Timor (GMIT) Pohonitas Manulai II Kupang City about the use of limited land using a basin hydroponic system to grow vegetables to fulfill household vegetable consumption needs. The hydroponic method can be developed and applied in the household sector or on a large scale to improve the community's economy. The basin hydroponic system is relatively easy to implement among housewives, because the vegetable growing system does not use soil media but uses nutritious water media that is placed in a basin, so that vegetables can grow well because the roots absorb the necessary nutrients. The results of the activity provide understanding and training on the importance of optimizing the yard so that it is independent in producing the needs of healthy vegetables for household consumption. so it is hoped that the training of vegetable planting using the basin hydroponic method can provide a solution for providing healthy vegetables on limited land in urban areas.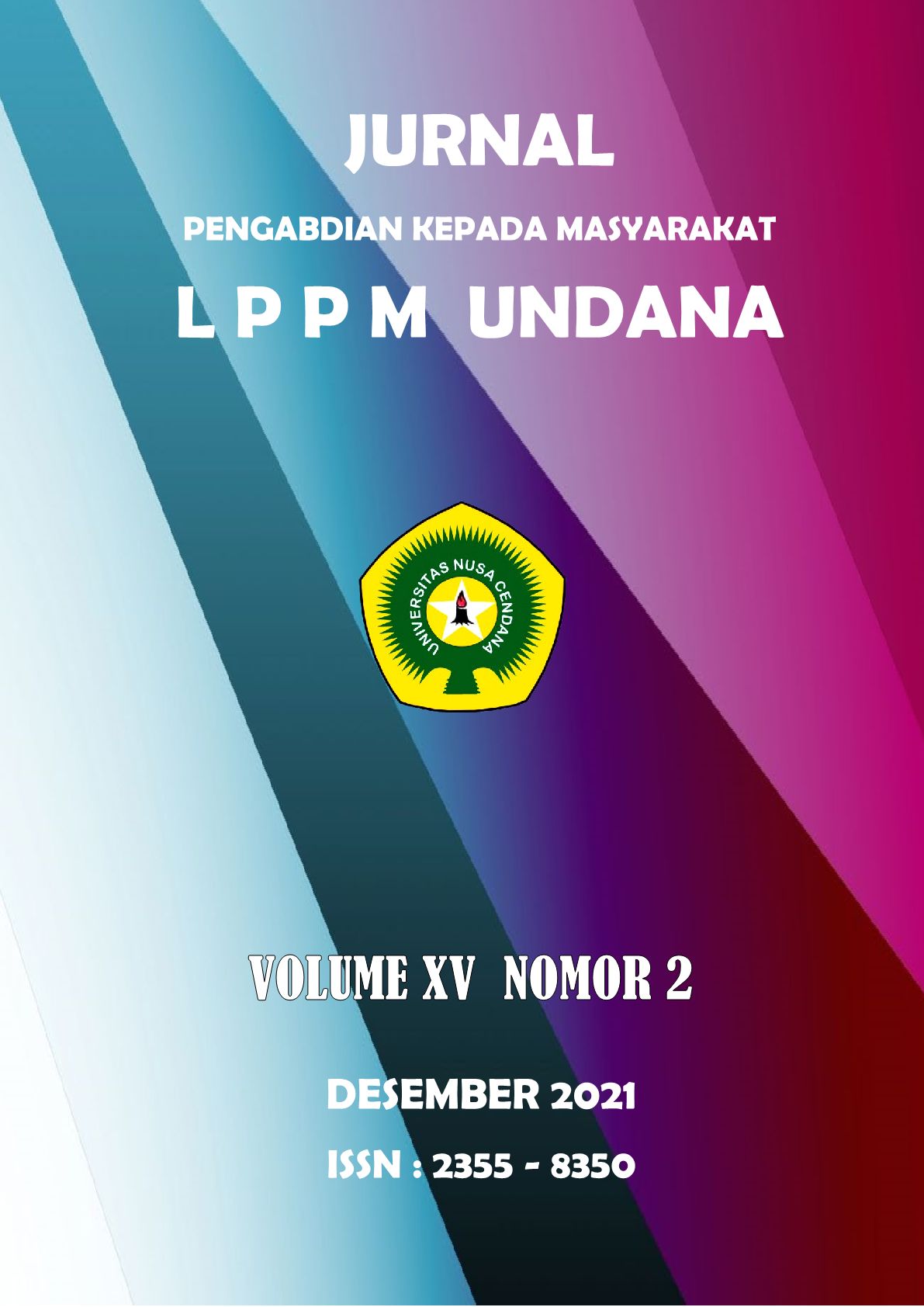 How to Cite
Hangge, E., Kumalawati, A., Nasjono, J., & Sina, D. (2021). HIDROPONIK BASKOM BAGI KAUM PEREMPUAN RAYON 12 GMIT POHONITAS KOTA KUPANG. Jurnal Pengabdian Kepada Masyarakat Undana, 15(2), 13-21. Retrieved from https://ejurnal.undana.ac.id/index.php/jlppm/article/view/6050